2020 will forever be etched in history as a year that turned the world upside down. The pandemic followed by the global lockdown changed the face of every organization across all industry verticals. The year ushered in the future of work, and remote working became the buzzword. At Classic Informatics, we had a roller coaster ride in 2020, but nonetheless, it was a productive and great year.
As 2020 comes to an end, here we are, sitting back and recollecting the memories of the year. Let's see a recap of the year and recollect the events that made it unforgettable.
2020 Was All About Remote
The first two months of 2020 were like any other year but soon came March and things went topsy turvy as the coronavirus hit all aspects of businesses across the globe. The future of work arrived earlier than expected and everyone went into isolation, leading to a boom in remote working.
The pandemic upended our way of working too but couldn't deter our determination to perform and deliver quality services. We immediately adapted to remote working and embraced the future of work. After weighing everything and analyzing the situation for the first three months, we announced a year-long work from anywhere policy.
We Embraced Work From Anywhere
Classic Informatics was one of the first companies that announced work from anywhere policy during the pandemic for a year. We had adopted remote working before the nationwide lockdown but considering the situation and analyzing the factors, we rolled out the work from anywhere policy. This offered greater flexibility and a location-agnostic solution to everyone.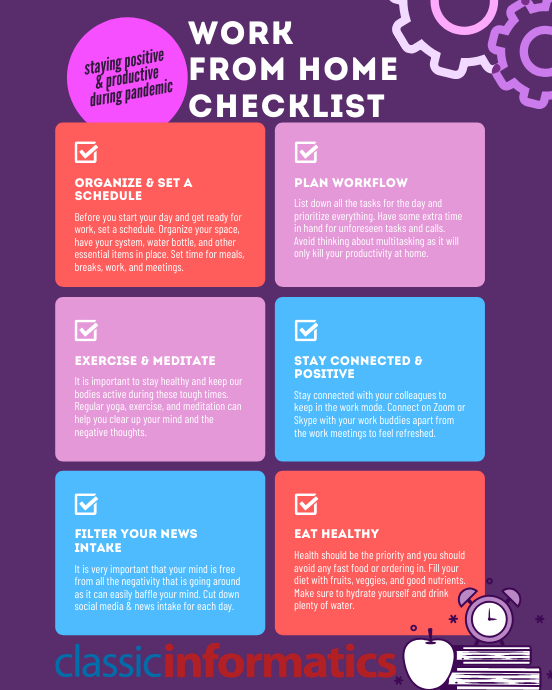 Switched To Virtual Chit-Chats
Classic culture is something that the organization and its employees have always prided on. And even the pandemic couldn't rob us of the pleasure of our chit-chats and get-togethers. So, we obtained Zoom licenses and had virtual chit-chats with over 150 Classicites at one time. While we yearned for everyone's physical presence like the earlier times, virtual chit-chats did enable us to bring together teams from both Gurgaon and Chandigarh locations.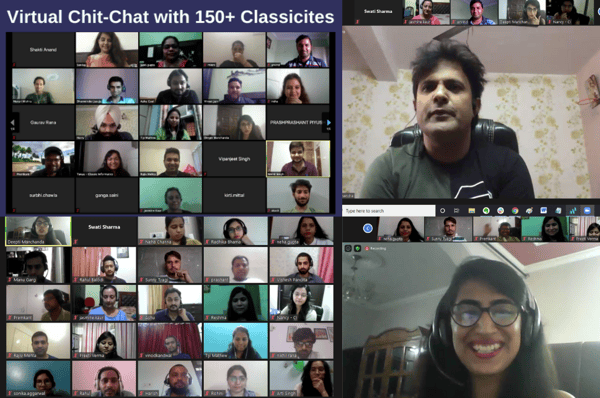 We Adapted To All-Remote Hiring & On-boarding
The pandemic and lockdown halted our growth but not for long. As soon as businesses realized the new norm and we gained some projects, we started expanding our teams again. But things weren't the same as before. While we used ATS like Freshteam before, now we had to be completely digital and virtual in hiring. Our HR team was spontaneous in adopting the all-remote hiring and on-boarding process. Virtual interviews were conducted and new hirings were made in different teams to take care of each project.
We Celebrated Each Festival Virtually
Starting in 2020, we had a full celebration for Lohri on the office premises. Then came Holi and everyone gathered together to talk about their own ways of celebrating the festival, singing songs, and making merry, keeping social distancing measures in mind. However, this seemed like the last get-together of the year as soon after, the lockdown was announced. Everyone went to work from home. But that couldn't stop us from celebrating the upcoming festivals.
Independence Day 2020: The first festival that we celebrated virtually was Independence Day. Though it was a virtual meet, most people were in the patriotic spirit and wore traditional clothes like earlier times for the day. We sang some patriotic songs, shared shayaris, and had a fun time with everyone. We invited Volunteer Performances (playing instruments, singing, reciting poems, etc.) for the day and were surprised by so many performances. To test the knowledge about our country, we had a small quiz and surprisingly our teammates know pretty well about the country!

Diwali 2020: Diwali is indeed one of the most awaited festivals of the year and this year was no different. We had all the fun and games like any other year but virtually. The festivities began with some words by our CEO. Soon, we began with the Tambola, a traditional game played during Diwali among friends and families. The game with a twist and everyone played with full enthusiasm. Winners received prices and vouchers.

This was followed by some awesome performances by kids which were some of the best portrayed with such confidence. Next, we had some cool games like guessing the song or movie title from emojis, collecting Diwali items within a limited time, and many more. All in all, the lockdown couldn't stop us from enjoying and celebrating Diwali as we have always done.
We Rethought Communication
Going through several reports and research studies, we knew that communication among teams was the worst hit during remote working. We even held a survey in May where 25.93% of respondents said that communication was challenging in remote environments. We were quick in finding a resolution and upgraded our Slack plan to allow seamless communication. It catered to every aspect of communication from messaging and calling to video calling, screen sharing, and group calling. One can also add apps or integrate other tools with Slack now to enjoy one source of communication. Apart from that, we also obtained Zoom licenses to bring over 150 members together for our virtual meets, chit-chats, and celebrations.
We Adopted A New Tracking Tool
Another addition to the list of remote working tools was WebWork Tracker. This tool helped us keep a track of what every team member was doing while working remotely. It is an easy-to-use tool that allows us to keep a track of employee productivity and also track time for each task or project. We can create teams, assign time for each project, and check the level of productivity. Even for client-side projects, this tool works wonders in tracking time and commitment for each project.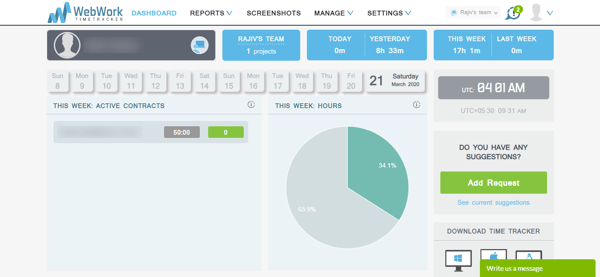 We Became Fully Agile
We have been agile practitioners since 2017 and have always been functioning in a way that allows us the freedom to work and excel in it. 2020 was certainly the year where remote working and agile booms. We work in sprints and have our work planned for at least a week in advance. There is no room left for any confusion. As we entered into remote working, this agile methodology of working enabled us to be prepared and work as required without any added pressure. We believe in macro-management instead of micromanagement and were able to work even more effectively on this path in 2020. Agility became imperative in 2020 and we managed that very well.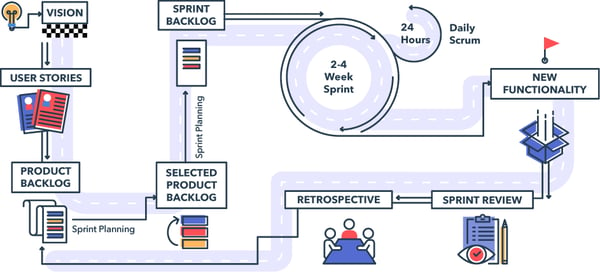 We Prioritized Documentation
Documentation holds an important place in our organization and its way of working. At Classic Informatics, we believe that documentation provides the much-needed transparency in remote working. In 2020, we emphasized more on documenting every work that we do. Be it through daily check-ins or a round-up of things done by the end of the day, managers always knew what their team members had done each day without having to ask. Moreover, they could easily access any document they required through the common channel where everyone documented work without asking around. We used Basecamp for this and even Google Sheets and Google Drive helped us in documenting everyone in one place.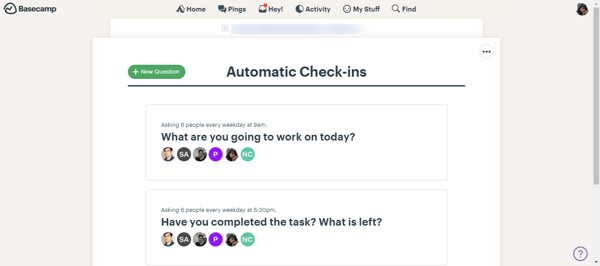 We Brought Everyone On Basecamp
This was one of the first steps that we took after announcing the work from anywhere policy. We created a Classic Informatics HQ on Basecamp for all our company-wide announcements and sharing other important docs with the people. We could schedule events, make announcements of new joiners, or even have files and documents in the repository for anyone to access. Any announcements, notes, and other stuff could easily be communicated with everyone on HQ. It was also integrated with our Slack general channel to get quick notifications.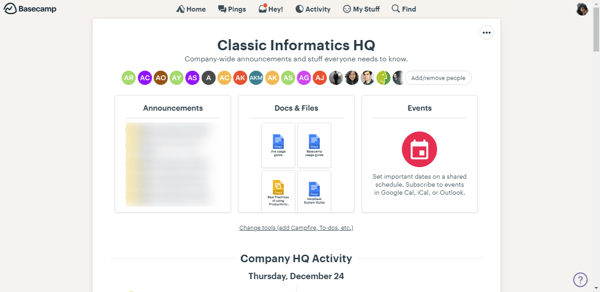 We Automated Query Resolution
One challenge that we faced in remote working was resolving the queries that anyone had around their system, tool, tracker, or anything else. So, we came up with the automated query resolution system with Zoho HelpDesk. Anyone could easily raise an issue regarding any issue they face with their work. Once the issue is raised, it would automatically be passed on to the assigned expert who would then resolve it.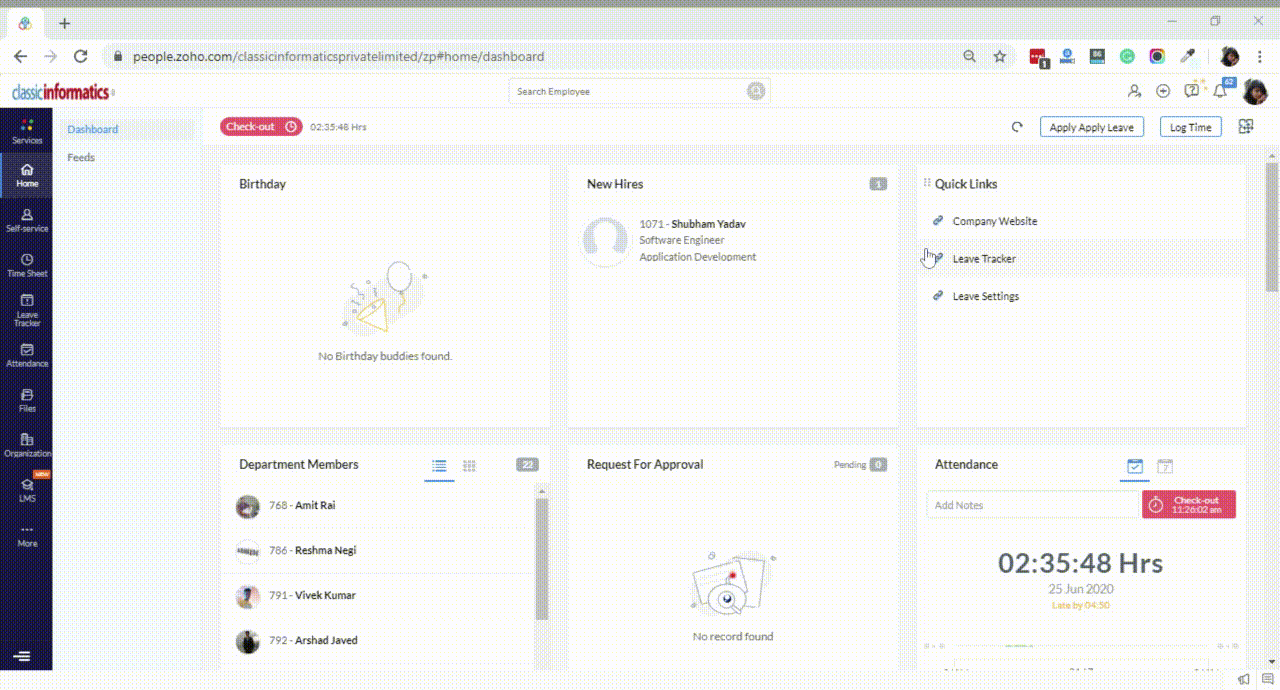 We Ran Many Fun Contests
When working in the office, boredom was one of the last things to hit an individual. But remote working raised this challenge. So, we came up with fun contests to keep everyone engaged and keep competitive spirits alive. Be it blog competition, or other fun games during our chit-chats, it all helped beat the monotony of working from home.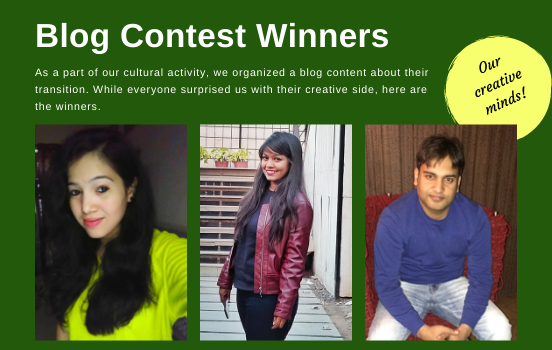 We Organized Training Sessions
Many of our team members were new to the remote working tools that we had implemented for smooth collaboration and productivity. So, we held training sessions with different teams so that they could familiarize themselves with the tools and their tips and tricks. The files with everything about the tools are also present in our Basecamp HQ for anyone to access whenever needed.
Classic Informatics Turned 18
In 2020, Classic Informatics reached yet another milestone in its journey and completed 18 years in service. We had a virtual get together on the occasion and everyone shared their experiences and journey they had with Classic Informatics. From our senior members who have been with Classic Informatics from the start to the newly joined members sharing their experiences. We all walked down the memory lane and re-lived their journey through their excerpts that they shared.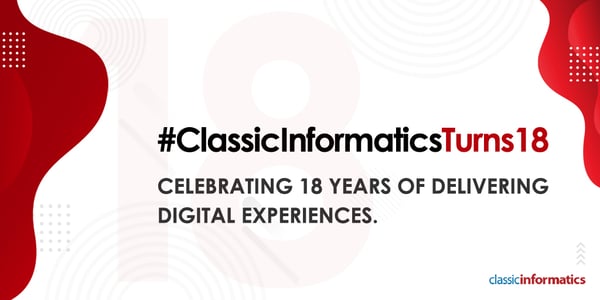 Classic Informatics Received Accolades
We have been one of the top companies on Clutch and have been receiving accolades from them year after year. This year too, Classic Informatics was listed among the top 1000 B2B Companies Globally by Clutch. Apart from that, another achievement that we would like to highlight is that during the lockdown our CEO, Mr. Rajiv Mehta was invited to speak about remote working amidst the nationwide pandemic by a leading News channel named NewsX (Direct News Private Limited). The show titled #HowToWoHo had CEOs and experts across different industry verticals sharing their thoughts on remote working.
Classic Informatics Did It's Bit To Help People
2020 was a really tough year for everyone. Being a responsible organization, we did our bit to help people during this pandemic. We pledged to donate Rs. 3 Lakhs per month to different NGOs, orphanages, and other places. Our main aim was to help the frontline warriors, migrant workers, and others in need during tough times. Apart from that, we also donated systems to children in an orphanage so that their online studies were not hampered during the lockdown.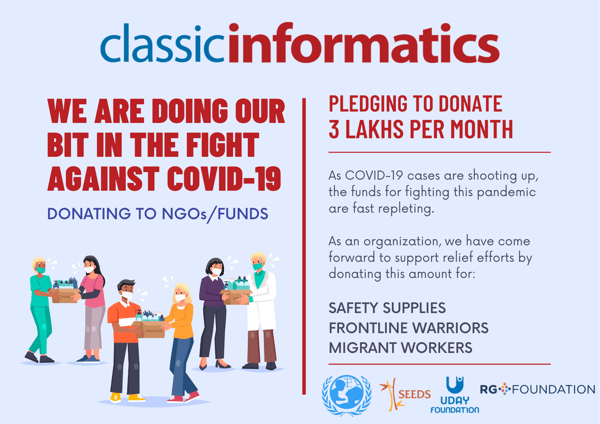 Classic Informatics Became Drupal & Hubspot Solutions Partner
Classic Informatics has gained complete expertise in Drupal last year and proudly became a Drupal Certified solution provider. We have been helping many SMEs, enterprises, and start-ups from across the globe with building portals and communities using Drupal. In 2020, we became certified Drupal contributors.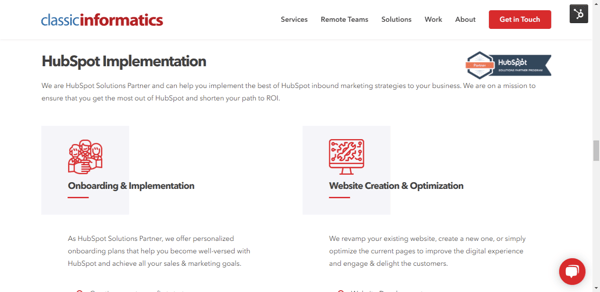 In addition to that, we also became a certified Hubspot Solutions Partner. We had migrated to Hubspot in 2019 and gained expertise in the same this year. Being a Hubspot Solutions Partner means we are qualified to offer all Hubspot solutions like migration, onboarding & implementation, website creation, marketing & sales automation, and much more.
Classic Informatics Improved Its User Experience
User experience has always been a priority for us at Classic Informatics. We have been continuously analyzing our site and going through the heatmaps to improve the UX. Be it the content, CTAs, or the navigation, we updated everything to make sure our visitors never felt baffled. The new navigation was seamless, concise, clear, and easier to navigate.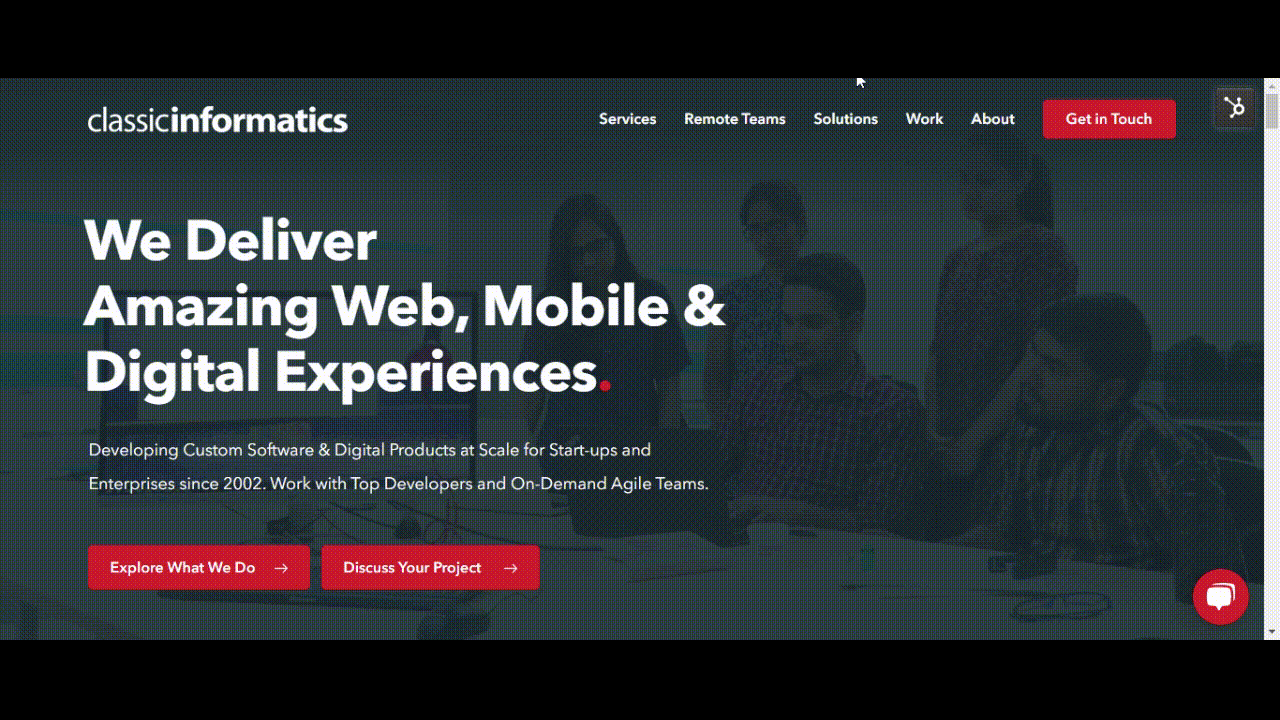 Classic Informatics Continued Growing
Growth has been a constant at Classic Informatics. We have never shied away from expanding our family and adding new experts to it. While the hirings paused for some time, we continued to hire new technology experts and other members to offer the best to our clients. Both the teams at our Chandigarh and Delhi locations got new developers, engineers, quality analysts, and many other experts. Not just on the team aspect, we also grew in the technology aspect. Our teams gained full expertise in Vue.Js and delivered complete projects on this technology. Apart from that, we also took over many projects revolving around GraphQL.
Classic Informatics' Top Performing Posts 2020
Classic Informatics managed to churn out some great content during the year. Here is a round-up of the blogs that you guys loved the most:
It's A Wrap!
2020 was indeed an unforgettable year and many things happened in the year. We continued to get more projects on end-to-end development and focused on gaining expertise in the new state of the art technologies. We have high hopes from 2021 and aim to deliver bigger projects with newer technologies. We will be moving more towards managed product development and helping companies develop world-class products. We'll also be focussing on Artificial Intelligence, Data Science, and Blockchain in times to come.