For all those who are planning to outsource, you can Download our Software Development Outsourcing Guide and read it on the go! Check out the guide and find answers to all your questions about outsourcing software development.
2020 may turn out to be a pivotal year in the IT outsourcing marketplace. It has become a new norm now. Outsourcing has easily managed to reshape the way businesses work with their enormous benefits. Due to this trend, enterprises are now moving ahead with innovative strategies.
"Digitalization and globalization are rapidly evolving customer expectations and demand a shift in how leaders responsible for logistics approach outsourcing strategy," says Courtney Rogerson, Senior Principal Analyst, Gartner.
Last year, the IT outsourcing industry was worth $92.5 billion that is 7 billion more than in 2018.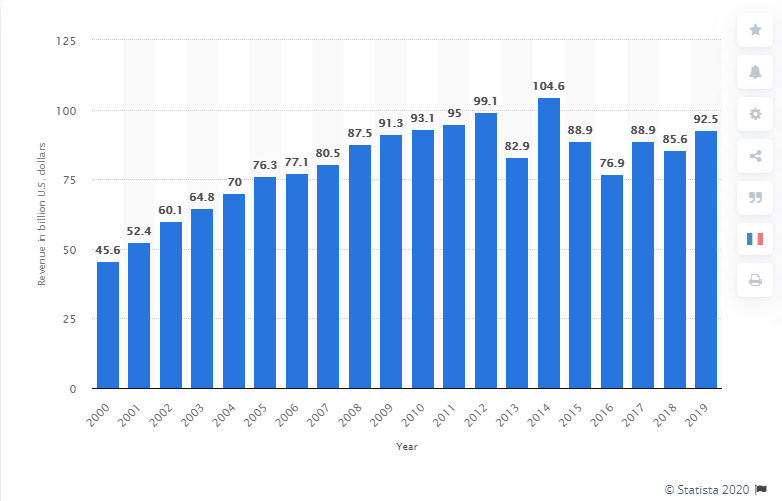 The outsourcing market continues to grow at an unbelievable rate while empowering industries.
New capabilities, like cloud computing, software-as-a-service, mobile device web access, and data center virtualization and consolidation, are significantly changing both the possibilities and the complexities of outsourcing IT functions.
In 2020, companies will aim at implementing new technologies to engage users thereby optimizing internal processes. Most business leaders today believe that it's their responsibility to the organization to seek savings by finding outsourcing providers who can offer excellent and specialized IT services at lower costs.
Statistics show that, in fact, the market size of the outsourcing industry in the US in 2020 is $132.9 billion and it is going to grow by 1.6% the same year.
Factors To Consider When Making Right Outsourcing Decision
Before you decide on which outsourcing company to partner with, read about these vital factors that can help you in taking the right outsourcing decision.
Cost Involved
One of the reasons behind making an outsourcing decision that business entrepreneurs laid more focus on is the cost required to carry out the same tasks within the organization. The cost incurred in hiring employees, buying IT resources, workspace could get a bit heavy to handle financially and outsourcing is the only option left with us.
Also, if outsourcing tasks are not organized smartly, this could result in costlier as compared to the in-house operations. Thus, you need to analyze and examine thoroughly how much are you investing in hiring an outsource team versus the cost involved in hiring in-house employees, IT infrastructure expenses, and others. After all, outsourcing should be a profitable decision.
The pace of delivering work
Not only investment but the duration of making the product ready to market also holds great importance. For instance, if an outsourcing company fails to meet the deadlines, it can lead to major bottlenecks.
If an outsourcing company gives you the outsourcing services at a low cost but takes double the expected time, then you might not have made the right decision. You need to ensure that the outsourcing company adheres to the promised quality and timeliness. One of the ways to do this is by making your queries clear beforehand.
Inspect the technology being used
The IT resources and technology play an important role in gaining efficiency and high speed of completing tasks. It applied to your outsourcing partners as well. The technology and resources used are to be considered prior to when you choose to outsource.
Ask your outsourcing partner about the tools and technologies they are going to use for your project and how capable are they of handling all your outsourcing needs?
Are they using the latest technologies or the older versions?
It's wise to clear these questions before making the outsourcing decision.
Coordination between teams
Seamless Communication between onshore and offshore teams plays a key role when developing a software product ready to market.
Imagine how chaotic and hampered the workflow would get if your outsourcing team works during the daytime and your in-house team operates at night or vice versa.
In such a case, the coordination between teams gets cumbersome.
The time zone, cultural environment, language are the factors that need to be considered first before managing and outsourcing development teams.
Your outsourcing provider should be competent enough to understand your requirements in clear terms so that there are no delays in the completion of your project.
The Service Level Agreement
The SLA is considered the most crucial document when doing outsourcing. Always ensure that everything is written clearly on it. There should be no confusion left for any party involved in it. Also, there should be no ambiguity in the level of quality required for delivering services.
High-risk factor
Outsourcing your business operations to a third party involves high-risk factors as the outsourcing partner takes complete ownership of the project. Before making the right outsourcing decision, you must go through the entire details of the outsourcing company and hire the best experience and expert team that empowers your business and validate the risk involved.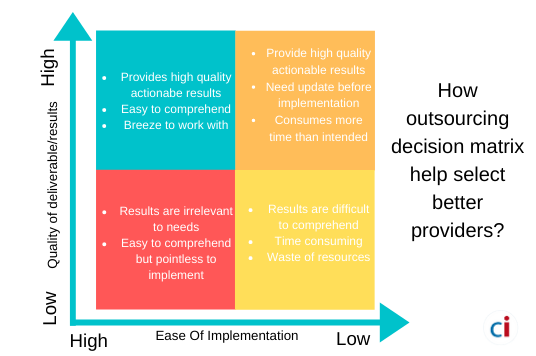 Compare various outsource providers
One factor to consider while thinking about the amount of investment is whether the team or individual you are hiring is asking for the best money in the market.
And of course, you cannot compromise on the quality and reliability in order to save a little. But still, there are chances you could find the same and credibility and efficiency at a comparatively lower cost.
The level of flexibility
Check if the outsourcing provider you have chosen is rigid or flexible. It is crucial for the provider to understand your needs and provide all possible solutions.
Reliability
Before making an outsourcing decision, make sure to visit the outsourcing provider place. Checking on the infrastructure, back-ups for downtime, safeguards, and the availability of the staff will give you a fair idea about the reliability of the provider. Make sure to not completely place your trust in everything that is presented on paper. Personally visit the site to check if everything is also present on the floor.
I hope the above key factors may help you make the right outsourcing decision and also to get you the best outsource partner.
Success Stories Of Big Companies
Some big and popular companies won't be here today without outsourcing. Let's check out how they taste success with outsourcing.
WhatsApp
Before being purchased by the tech giant Facebook in February 2014 for $19 billion, Whatsapp used to be a small-sized enterprise with a capacity of just 5 part-time and 30 full-time employees. Most of them are located in Russia and working remotely at a low cost.
Later on, the company has scaled, and the developers were then relocated to Mountain View, California. The company never make millions if they don't opt for this approach.
Alibaba
It's a myth that is believed quite often that the U.S or Europe are the only countries from where resources are being outsourced. It's definitely not true.
Alibaba, the Chinese giant e-commerce company used to outsource IT development to the U.S. They prefer outsourcing to the U.S. as the skillset and experience they are looking for are scarce in China. On the contrary, they are easily available in North America.
The outsourcing approach helped the e-commerce venture to scale its business even after strict government restrictions and fierce competition from eBay.
Procter & Gamble (P&G)
Not only emerging startups or small enterprises can practice outsourcing, but big product companies like P&G can also follow this approach to boost revenues.
P&G manages their business operation for years with in-house development teams. But, one day, they decided to outsource their research and development activities to accelerate innovation.
After implementing outsourcing, they were shocked to see the results as it boosted up to 60%. The revenue generated from over 400 products exceeded &10 billion. At present, about half of P&G profits comes from collaborating with several outsourcing partners globally.
Slack
Slack was first started its business with just a small in-house team. However, when the company started thinking to outsource, they hired the design firm MetaLab to rework the company's logo, website, and app.
By implementing an outsourcing approach, the company earned $221 million last year and had over $900 million in cash. At present, Slack has around three million paying customers and about eight million users overall.
Today, the company is valued at about $10 billion.
Bottom Line
The ability to outsource IT processes across the spectrum, from end-user support functions to the IT infrastructure itself, has created a new world of possibilities for competitive advantage and levelled the playing field for both start-ups and established multinational companies.
Ignoring the benefits of outsourcing like cost savings, enhanced expertise, and flexible sourcing may put CIOs at risk of falling behind financially and of stumbling into a competitive situation.
Rushing into the outsourcing decision without clear goals can result in misaligned expectations, increased management overhead. So, to avoid putting your project at risk considers the factors affecting your product outsourcing and make the right outsourcing decision.