For all those who are planning to outsource, we have put together a guide to help you outsource product development. You can Download Outsourcing Product Development Guide for FREE and read it anytime, anywhere!
Travis and Garrett (founders of Uber) would never have thought that one day they would become the owner of a $17 billion company. Even the AirBnB founders, who earlier used to rent mattresses at $80, would never have envisioned owning a business worth $38 billion.
All the billionaires today survived as they faced challenges that every startup has to face. But despite facing those challenges (low budget, scarce resources, fierce competition, and so on.), they found a solution to overcome all of them. They worked bravely and understood what was required to execute the startup app, software, or other AI product idea and also stood out from the the 90% startup failure ratio.
The best and smart decision they took was outsourcing software development.
Today, in the current era of remote work, we are seeing increased use of distributed teams across the global tech startup scene. Many successful startups like Slack, Skype, and BaseCamp have all outsourced their product development at some time in their lifetime.
So, if you are owning a startup and want to know about outsourcing, this article will definitely help you in understanding the 3W's (what, why, and when) of outsourcing software development.
What Does Outsourcing Product Development Signify?
Outsourcing product development refers to hiring remote developers or a team of software developers to perform a niche task or function. As the name implies, product development outsourcing is defined as outsourcing activities related to digital product development as well as its maintenance.
The product outsourcing development activities include research, design, prototyping, MVP development, coding, testing, and launch as per the client's requirements.
Great products are there to change the world. With outsourcing product development services, most startup solution seekers follow to develop a product and launch it in the targeted market. Still, there are many doubts and queries that come across in the mind of entrepreneurs who are planning to outsource their product development.
Is Outsourcing the Right Path for You and Your Startup?
Before searching for the answer to this question, let's first check out these questions.
Do you have any in-house talent who owns the necessary skills to handle a task independently?

If not, how you can invest your cost and time to bring the role in-house?
Entrepreneurs often underestimate the time, energy, and costs associated with making in-house hires. To help you answer this second question and make the decision that is best for your startup, we've laid out the advantages of outsourcing that startups can enjoy while outsourcing products.
How Outsourcing Product Can Benefit Startups?
For any startup, the initial roadblock is developing a robust business plan with the available capital efficiently. The second is building a product development team that has top-notch expertise and tech skills to create the product and is ready to market it fast.
This issue can be easily resolved by hiring dedicated teams or remote developers for your product development.
Outsource your product to an experienced outsourcing company having experienced developers who will develop the product as per your requirements while sitting in a different geographical location.
Here are some outsourcing benefits that startups can avail when outsourcing products:
#1. Reducing Risks by Implementing Regular Checks and Feedbacks
When you get a second opinion on your product design, it reduces the risk during the development process. It allows flexibility to a certain level and tries to have flexibility on the features of your product.
When the product is properly designed, built, tested, and finally launched, you should keep a track of the audience's response. You can then add features in the next version. Concentrate on the core functionality and then the problem that it solves.
#2. Agile Methodology and Offshoring
By integrating agile methodology and offshoring into software development process, your business will start getting amazing results. Under the assistance of experienced pool of software professionals and collaborating with the top offshore developers, startups can now adapt changes faster and get instant feedbacks.
#3. Less Time On Hiring And Onboarding
You do not have to spend precious time recruiting new people to your business; this allows you to focus on other important core areas (research, ideation, etc.) of your business. For example, in Silicon Valley, it takes 1200 hours to hire a 12-person tech team.
#4. Access To Deep Knowledge And Experience
One of the main reasons startups should outsource software product development is that by engaging an outsourcing agency, you are getting much more than just software development. Startups get a complete package of expert and experienced professional team that works on your product development from end to end.
#5. Costs Savings
Cost reduction is the biggest advantage of outsourcing. Outsourcing software development helps businesses save costs by 30%. Lower operational and labor costs are among the primary reasons why companies choose to outsource.
Software development outsourcing helps your organization transform fixed cost to variable cost which ultimately provides you with significant cost benefits. Software outsourcing results in greater economies of scale and makes it cheaper for companies to build their product.
#6. Competitive and Efficient
In a world of rapidly changing technology, outsourcing is a cost-effective solution that enables you to implement the right technologies right away, allowing you to go to market more quickly and stay competitive in your industry.
Outsourcing helps you develop high-quality and efficient products faster. Software outsourcing facilitates your business to focus on core areas and get an ample amount of time to build efficient business strategies that help you stay ahead of the competition. You can also follow the best software development strategies to gain a competitive advantage with this practice.
What Factors to Consider When Outsourcing Product Development?
Startups that outsource product development should consider various factors before making the decision to outsource software development:
Outsourcing cost vs. insourcing
Cost is undoubtedly one of the biggest factors to consider when you are planning to outsource your product development. Software outsourcing proves to be more cost-effective and efficient as compared to insourcing. Outsourcing saves your development cost by up to 30%.
For companies, it is a less costly affair as they don't have to pay different salaries to different members. Instead, you will be giving them a specific amount to the company providing development services. By analyzing the outsourcing vs in-house development methodologies and costs, you can analyze the cost savings as well.
| Factor | In-house development | Outsourcing |
| --- | --- | --- |
| Cost | Higher because of hiring in-house developers | Lower because of large talent |
| Time to market | Slower as hiring talents is time taking | Agile and quick |
| Technology Expertise | Limited | Unmatched and Endless |
| Flexibility | Low flexibility | Extreme flexibility and adaptive approach |
| Communication | Face to Face clear communication | Difficult to manage due to time gap and language |
| IP Security | Highly secure | Threat to intellectual property |
Product Complexity
The next factor to consider when outsourcing a product is the nature of the product. A simple product or MVP development may not require a huge expert product development team to materialize while a complex product, SaaS application development may require greater specialization and expertise to develop and launch in the market efficiently.
As per your product type, features, and requirements, you can choose the type of software outsourcing company.
Technical Requirements
New technologies are introduced in the industry every now and then. It is a possibility that your product may require the latest technology stack.
If you are not laced with the technology stack that suits your startup firm, hire developers for startups and it will be the best option for you.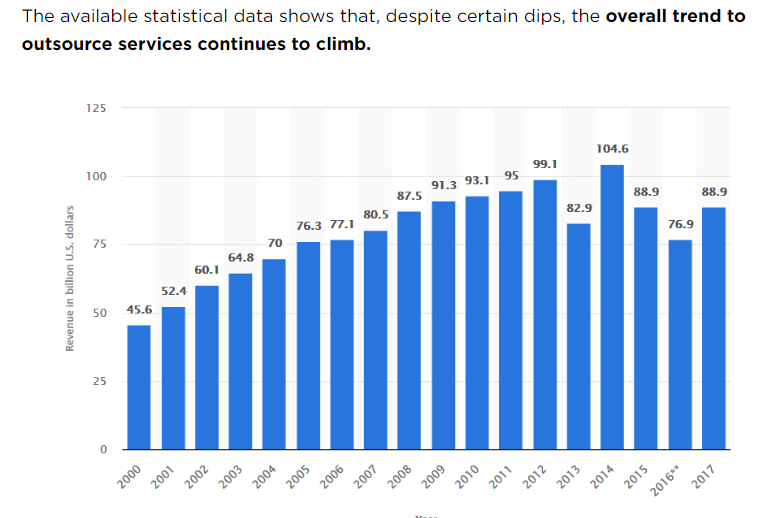 Tips that will Help Startups Succeed in Outsourced Product Development
Now that you know whether you should outsource or not, how it can be beneficial for your startup, and what factors you should consider before outsourcing, let's also discuss some tips that might help you succeed.
Clear Definition Of Product Scope
The way you define your product's scope and how well you are able to present it to the outsourcing company determines how successful your venture would be. While you are hiring developers for creating your product, make sure that you are able to convey your idea to the remote product engineering team in a clear and detailed way.
Choose The Best Product Engineering Outsourcing Company
The company that you choose as your outsourcing development partner in India has a huge impact on how your product turns out to be. You should ask them all the right questions and screen them like an in-house hire only.
Browse Their Products & Check Testimonials
Not just asking the questions and ticking off everything from the outsourcing due diligence checklist, you also need to browse through the products that the company has developed before. This would help you understand if they are capable of creating the product that you require or not.
Create Wireframe & Explain
For a startup to set up a product team, you need to create a very crisp and clear wireframe for the outsourcing company. Defining a software scope can help you create a wireframe more efficiently. It should contain the following:
Outline of the product
User-interface
API integration for internal products
API integration for the user portal
User-testing
Unveil new product to the small test group
Set issues to define your product
Set key metrics and evaluate the success of the product
Link Payment Checkpoints With Product Milestones
Now that you have set the milestones for your product development, it is important that you link these milestones with payment checkpoints. This would ensure a smooth and quicker product development.
Elucidate The Terms of Ownership & Other Compliances Upfront
The next tip ensures that you are being legally compliant with your country's and the offshore country's laws while outsourcing. For example, while outsourcing to India, you should be mindful of the policies and government acts put in place for it in the country. Elucidating all the terms and getting non-compete, non-disclosure, ownership, etc. in writing is important for success.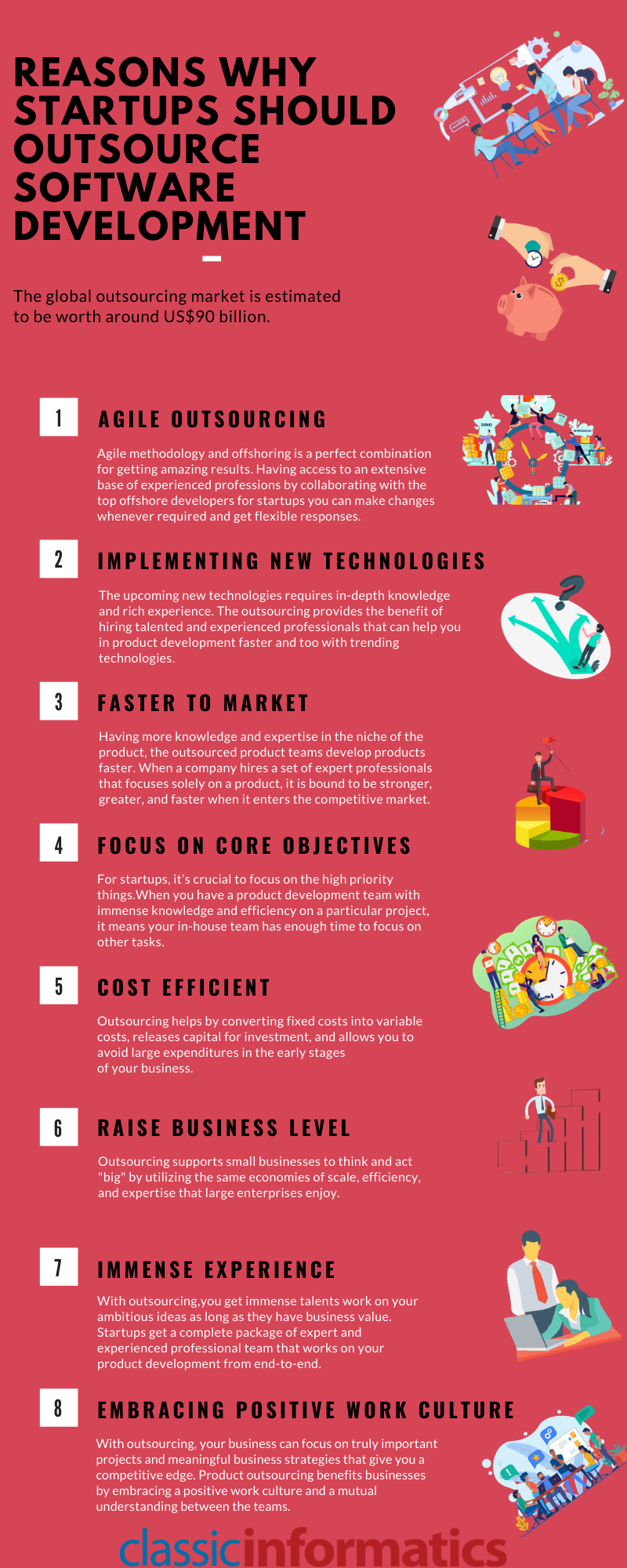 Putting it all Together
When a company chooses a software development partner for outsourcing its digital product development, it helps them mitigate risks, onboard experts, and compete in the market with tech expertise.
However, it is very important to search for a outsource product development company and thereby balancing quality, cost while ensuring that you maintain confidentiality, security, and control over the project.
Outsourcing not only helps in hiring an expert professional team but also improves communication capabilities, provides suitable financial packages and technical expertise. The major reason why offshore product development has become a popular option is it can get businesses through temporarily difficult times.
Also, it can save money and is not a one-side-fit-all option. So, it can be concluded that is a boon for startups of all types.
So, are you looking to outsource your startup product? Here are some key benefits of outsourcing software development that you can get with Classic Informatics :
Flexible hiring models
Advanced technical project consultation
Agile methodology and timely project delivery
Expert talented professionals
Classic Informatics provides expert agile teams to all kinds of startups for their software development needs. Be it a SaaS product, digital platform, CMS platform, or any AI product, we can partner with your startup to build the digital next with you.