Updated on 30th November 2021.
In today's digital era, consumers have gone far beyond simply buying products and expect an engaging shopping experience. The customers are now more focused to have an inevitable and seamless shopping experience. Their demands are now becoming the goals of business enterprises. If you are a startup or looking to change your existing platform, there are many options to choose from.
The two biggest digital e-commerce platforms that are running in the race neck-to-neck are Magento and Shopify.
In this article, we will make a deep comparison of Magento and Shopify and help you decide which is the most suitable platform for your startup.
Choosing the right digital e-commerce platform is quite a challenging and tough task for a business to fulfill customer needs and to deliver a memorable customer experience. It also helps streamline operational efficiency and create new growth opportunities for them.
Take a look at the statistics to see how eCommerce sales are expected to grow in the coming years.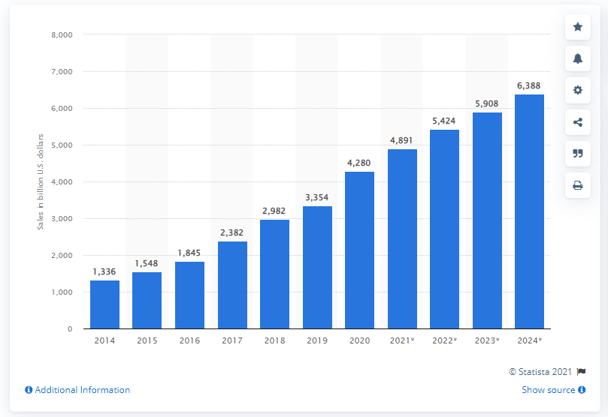 Magento2.X- A Brief Introduction
Launched in 2007, Magento is an open-source eCommerce platform best known for its flexibility and scalability helps Magento developers create eCommerce websites. Magento comes with the latest version 2.0 Magento open-source and Magento commerce. It is the most secure, user-friendly with a huge module library. The platform facilitates to develop inevitable user experience and create engaging shopping experiences.
Magento Open Source: An open-source platform that helps build and develop a unique online store.

Magento Commerce: The premium paid version of Magento is recommended for merchants and developers who are looking for an all-in-one cloud solution to optimize the performance of store websites and boost store sales.
As of June 2021, Magento has acquired a 1.1% market share of all websites that use known content management systems.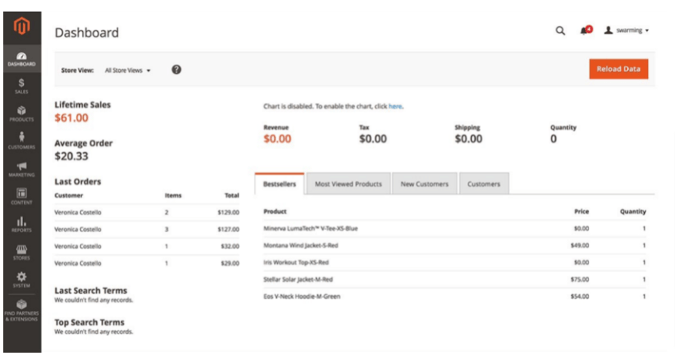 Features of Magento 2. x:
Magento 2. x is studded with features like:
Great User experience
Magento's responsive front-end design makes it easy to browse on all devices. This responsive design also enhances the user experience.
Faster Performance
The latest version of Magento 2 loading time is way faster than the previous versions. The load time of the homepage, category pages, and product pages is less than 1.5 seconds without using the front-end cache.
Quicker and streamlined Checkouts
The checkout process has become easier and faster with the help of the new and streamlined checkout. Checkout is available for guests without registration and the latest Magento 2 automatically identifies registered customers based on their email addresses.
Cheaper and Easier Extension Updating
Magento comes before Drupal and WooCommerce for eCommerce development. Installing new extensions and modules has become simpler and cheaper as compared to Magento 1.9.x version. The process has become simpler, as well as the front-end development, and the functionality can be easily modified.
Simpler navigation
Admin navigation is simplified and modernized in Magento2. The new admin interface is a welcome feature for those who don't own Magento developers. There are more than 250,000 active eCommerce sites powered by Magento, as of 2020.
Pros Of Magento:
Wide variety of themes available
Open-source platform and free to use
Manifold Magento 2 extensions
24*7 Phone support
No specific tech expertise for Magento commerce
Huge community
Flexible platform with lots of customization options
Cons Of Magento:
Time-consuming to install set up
The cost involved while setting up your store
Steep learning curve
Difficult to learn for beginners
Out of 1,385,764 websites worldwide powered by 140 trending technologies, Magento accounts for 155,611 websites, Magento 1. x at 148,183 websites, and Magento 2. x at 8,502 websites, with them ranking at numbers 2, 3, and 26 respectively after WooCommerce of IBM.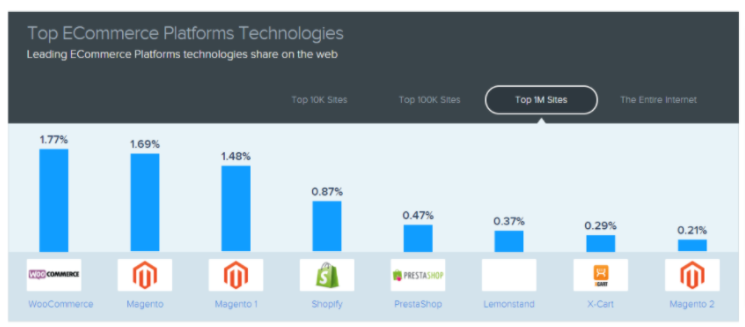 A Closer Look At Shopify
Shopify is an eCommerce platform that helps businesses create their online stores the way they want. Shopify is a secure eCommerce software that allows easy creation of different pages with an inbuilt online editor.
It helps integration of local language support and customize online stores. There are two versions available: Shopify and Shopify Plus.
Shopify: A hosted solution that allows online stores to customize online storefront, sell products, run, and grow e-commerce businesses.

Shopify Plus: A multi-channel platform that supports a higher level of customization.
Features of Shopify:
Shopify is studded with features like:
Easy To Setup And Use
The Shopify platform is easy to set up and use. The platform offers the software and hosting needed for website launching. The admin interface is user-friendly while the user interface is compelling.
Visually Appealing Online Store
The Shopify platform comprises a variety of professional templates that facilitates the creation of unique and visually appealing online stores. It helps to create a store with a rich UI and exceptional UX.
App Integrations
The platform supports easy customization and integration abilities as it can integrate with apps in no time. With this, the seller can easily add some extra features and functionalities to his store and boost revenues.
Security and Reliability
Shopify offers security and reliability. Security is essential for online business as it deals with the critical personal and financial information of the customers. Both these features are taken into consideration with this hosted solution that takes care of upgrades and maintenance.
Excellent Loading Speed
It facilitates reliable infrastructure with optimized hardware and software. This gives the platform a super-fast loading speed and the e-commerce made on it loads in a matter of seconds.
Powerful Marketing Tools
Shopify is a complete e-commerce platform that offers SEO features along with advanced eCommerce analytics. It also offers more marketing tools such as custom gift cards, discount coupons, store statistics, and more.
Easy Payment
The store owners can easily set up the payment gateway with Shopify. The platform facilitates the Stripe payment option, which gives buyers the liberty to do transactions without making extra fees.
SEO Friendly
Shopify improves the ability to design landing pages. It has a big distinguishing factor from other e-commerce platforms.
Pros Of Shopify:
Extensive app store for website expansion
Multiple checkout and payment options
Large community
Tonnes of impressive responsive themes
A comprehensive eCommerce builder
Great customer support
Easy to access
Cons Of Shopify:
Huge pricing of themes
Integration of apps make it more complex
Fees involved with every transaction
Difference between Magento2.x and Shopify
| | | |
| --- | --- | --- |
| Factor | Magento 2. x | Shopify |
| Language used | Magento uses PHP language to build an eCommerce platform. | Shopify uses a coding language called Liquid to build an e-commerce platform. |
| Type of service | Shopify is a software-as-a-service, commonly known as SAAS, meaning users pay a monthly subscription fee to access the Shopify software. | Magento Community software is free for everyone. They also offer an Enterprise edition, the cost of which will depend on the specific needs of your online store. |
| Hosting | Magento is a self-hosted solution, so users will have to pay a third-party hosting service. | Shopify is hosted by the company |
| Integration | Magento integrates with all existing applications (e.g. CRM, CMS) and systems (e.g. ERP, PIM, AMS). A Magento offers the scalability to handle complex integrations. | Integration with other systems can be done through the Shopify API. |
| Business System | With Magento, you can centrally manage B2B, B2C or both with dedicated brand stores. | Shopify focuses on B2C and can handle simple requirements. So, for rapid expansion, say B2B, Magento is more suitable than Shopify. |
| Type of Interface | Magento allows you to fully customize your checkout experience/shopping car | Credit card and checkout pages customization capabilities include settings provisions and templates but more features are yet to be introduced in the basic plan. |
| Compatibility | Compatibility with third-party solutions and additional digital tools makes Magento, an easy choice for enriching customer interaction with your brand. | Shopify supports simpler product catalogs and regular functionalities that are required by small e-commerce companies. |
Facts and Figures of Magento and Shopify
Similarly, since the beginning of 2020, many of Magento's competitors have either stalled or continued to lose their market share. This can be easily demonstrated via Google Trends. Here, we've put together a chart that depicts the level of interest in Magento's more direct competitors since the beginning of 2;.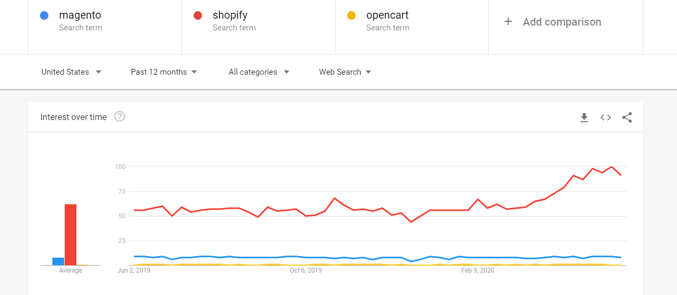 It's also important to remember that Magento is more of an e-commerce system than a standard CMS. See how the websites are distributed among all these e-commerce technologies.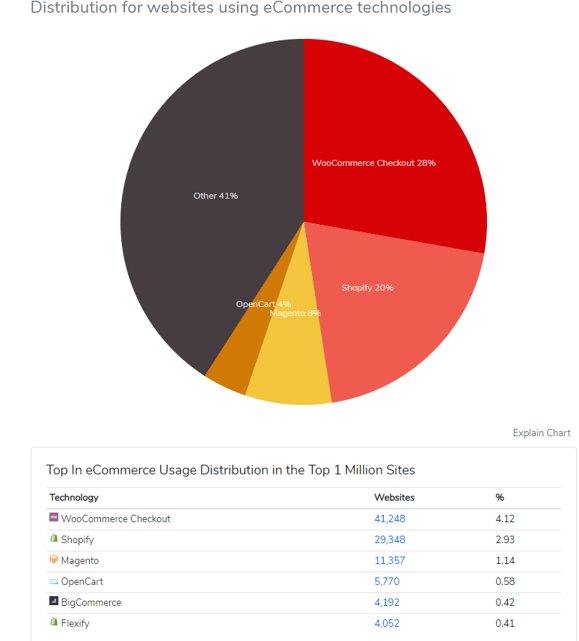 Source: Trends
Which one of them startups should choose?
Magento and startups are the perfect combination for each other that enables startup businesses to flourish in a competitive environment. This is because the numbers say so. According to market surveys, Magento holds close to 26% of the market share. More than 250,000 online stores are powered by Magento. Big brands such as Ford, Land Rover, Nike, Pepe Jeans, and Samsung use Magento.
1. Customization and easy Integration
The biggest advantage of choosing Magento is the high level of customization it offers. Startups can design their Magento eCommerce store that best fits their business requirements and customers. Also, it can be easily integrated with existing systems and multiple third-party tools such as Google Analytics, MailChimp, Springbot, etc.
2. Mobility
Using Magento e-commerce platforms, startups can compile native applications for mobile devices (iPad/iPhone/Android) that carry an HTML 5 interface. Developers can easily develop mobile websites that easily connect to the website.
With the enhanced mobility functionalities or features, it is possible to introduce drag-and-drop and slide-and-zoom functions on the mobile website with enhanced mobile features.
3. Ready to use Extention
Magento e-commerce platform facilitates ready-to-use extensions while eCommerce websites development. This helps startups in the website development and developers to deliver fast response times to their customers.
4. Seo friendly
Magento is considered the best eCommerce platform for startups that offers various SEO-friendly URLs to businesses. It also generates customized meta descriptions, meta keywords, Google sitemap, etc. that are required to enhance the e-commerce sites online search engine rankings.
That's why Magento is an ideal e-commerce platform for SEO and online marketing.
Real-life Applications of Magento and Shopify
Land rover
Land Rover is a brand that specializes in SUVs and all high-class vehicles. They also have a website offering clothing for men, women, and kids. To raise their performance in online stores, they updated their web store to Magento 2 and added it to their main site. The perfect website layout and design, and user-friendly navigation go well with its brand name. This is what we called inevitable customer experience.
Graze
Graze, a leading healthy snack food brand in the world officially launched Magento 2 for its website in the beta version. The site theme focuses on making a strong presence and it stands out Magento web development because of its commitment to brand uniqueness and image-focused approach to e-commerce.
Who is the future of Commerce - Magento or Shopify?
After having a deep comparison between Magento2.X and Shopify, we have seen several different factors that should be carefully considered when choosing the best eCommerce platform for your business. What works best at what kind of situation depends on your goals, business requirements, budget, expertise, and time.
Each e-commerce platform comes with its own advantages and disadvantages. If you're looking to develop an online store with more features and scope for scalability, and customization, Magento is a better option. Also, Magento 2's improved features make it a great choice for developing an outstanding website. By considering the above benefits of the Magento e-commerce platform, it would not be wrong to say that it is the best eCommerce platform for startups in the existing time.
On the other hand, Shopify is best if you're looking to design a more simplistic website that requires little commitment and maintenance overall. This makes it the perfect choice for new businesses without the budget or technical knowledge.