Almost two decades ago, with the introduction of the internet to the Cosmos, McLuhan's Global Village became a reality. Since then the existence of anything and everything virtually has kept the world entirely occupied.
In December 1995, 16 million users worldwide were on the Internet, and till July 2018, this number has exponentially grown to 4,208 million users. Growth in the internet realm is not just limited to users anymore. Now, it goes way beyond the user touchpoint.
According to Internet Live Stats, "there are over 1.5 billion websites on the World Wide Web today." Therefore, the demand for web development services is increasing too.
Another significant addition in the year 2001 was made to the internet with the introduction of "Drupal." In November 2015, Drupal 8 was released, and with it, the dynamics of website development evolved again.
However, a lot of websites are still using Drupal 7 as a Web Application Framework for their online Back-End assistance.
With past technologies becoming obsolete, have you ever wondered of Migrating to Drupal 8 recently?
Things to Consider Before Migration
Before you finalize on migrating to Drupal 8, here are the two things that you need to take care of:
The Purpose of The Website:
Migrating from Drupal 7 to Drupal 8 is easier and swift in case you are using it for your blog or business as most of the functionalities and coding are available in almost every version of Drupal.
The Theme of The Website:
Drupal 8 exercises TWIG - this is highly adaptable, and it rightly guards the rendered website pages. But porting the website theme from one version to another would not be easy. Here, you definitely will be needing the help of a Drupal 8 expert.
Reasons Why You Must Switch to Drupal 8
If Drupal 8 is for you then below-mentioned pointers will help you make the right decision without killing any further time:
Sticking Around Sometimes Is A Liability
As technology is taking its toll daily, investing both; time and money in Drupal 7 for accessing more features and functionalities is a waste. Today, you may not want to migrate and take leverage of Drupal web development services; however, later or sooner, you will be

investing in Drupal 8

.
If you are a smart technology player, you will avoid paying twice for the same services - one, for upgrading Drupal 7 now and second, after Drupal 7 becomes extinct, purchasing Drupal 8.
Evolving Newness
Drupal is considered to be the best amongst the other Content Management Systems available in the market today. However, it has a wide range of versions, and each of them outshines the another.
As the older versions of Drupal become obsolete gradually, understanding the following information will make the migration easier -
No protection sheet is available against hacking if your website is attacked as it will be difficult to find programmers who will be working for an older version of Drupal.
Protecting the website from cyber attackers and fraudsters will be your job as no security updates or pop-ups will be provided.
After being hacked, some programmers may help you out with reviving the website, but the cost of investment is huge - ideally, not affordable by everyone.
With Drupal 7 being the dominant player in the web development sphere till 2015, Drupal 8 was introduced with more than 200 amazing features to knock down the old version.
What's Hot in Drupal 8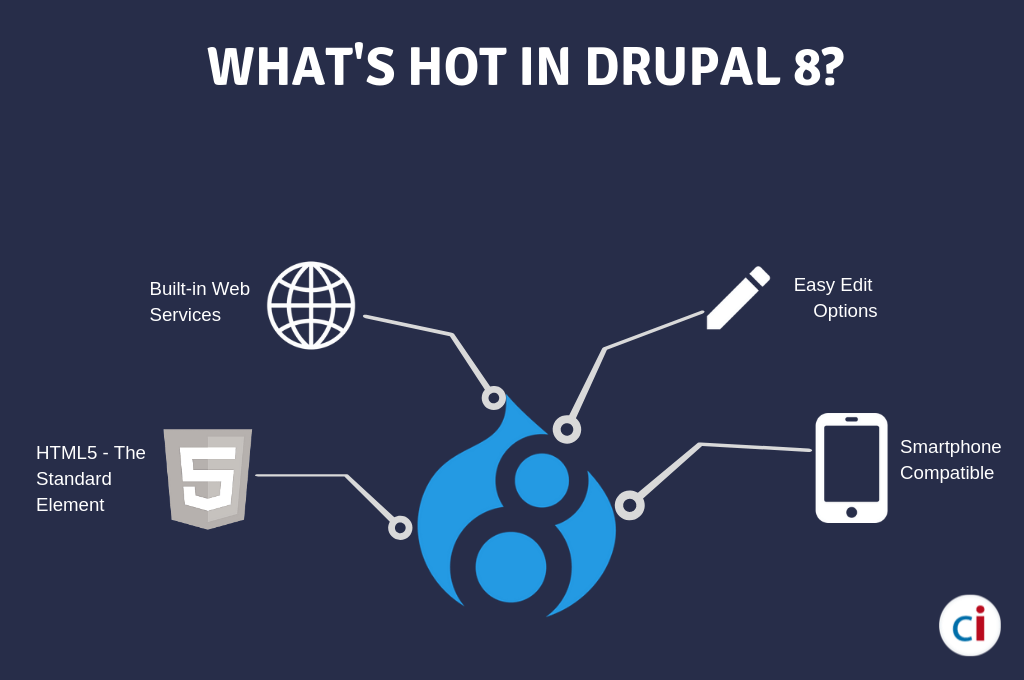 Following are a few popular features of Drupal 8 that none can avoid:
HTML5 - The Standard Element
With the introduction of Drupal 8, HTML5 has now become the standard element of website development services. HTML5 - by default is used by developers to write web pages. This removes the hindrance of performance, harmony, and coherence with smartphones.
Smartphone Compatible
Drupal 8 development for the first time has made any website development software mobile-friendly. From theme to admin menu, everything on Drupal 8 is smartphone compatible. Also, the tables are a proper fit into the pages. If you want to build a mobile-friendly website using Drupal 8 then hire Drupal programmers today.
Final Words
Still, if you are not able to conclude, then following positives related to it will help you out:
The size of your website is not letting you migrate: Regardless of the size of the business, Drupal 8 fits-in everywhere. All the modules in Drupal 8 support any type and scope of the website. From Government of Bermuda, TIMEX, The Economist, Grammy, Honda Brazil, BBC Store, Bruno Mars, World Economic Forum, London.gov.uk, Lady Gaga, to Georgetown University are already using Drupal 8.
Custom Modules

:

If your website uses a lot of custom modules, then these need to be migrated from Drupal 7 to Drupal 8. However, the coding is a lot different in both the versions. Drupal 8 has a coding foundation based on '

Object-Oriented Programming'

which is a much more sorted way of programming as compared to the past versions.
Complex Functionality: If your existing Drupal 7 website is complex and needs expert aid then hire Drupal Programmers

to examine your website and walk you through the entire migration process.
The website is the digital soul of any business. Therefore, if it is complex and does not help in showcasing the vision of the business then ultimately the business is going to suffer. A tour through a messy website will borderline the need for migration. Finally, Considering Drupal 8? Get in touch today!