For all those who are planning to outsource, you can Download our Software Development Outsourcing Guide and read it on the go! Check out the guide and find answers to all your questions about outsourcing software development.
For any company to ride the wave of change and successfully emerge on the other side of the unprecedented times, shifting its technology gears is imperative. It's not just the need of the hour but the way to survive the digital commotion.
Today, every organization, be it a startup, SMB, or a well-established enterprise is riding the digital wave and transforming the global market altogether. However, not every organization has tech-expertise, local tech talent, or the funds to go for this disruption. It needs someone to take care of its network monitoring, security, data backup, data warehouse, process execution, and much more to succeed in this digital-first world.
Hiring an IT outsourcing company can come in handy and cost-effective in such cases. With IT outsourcing, companies across all scales and sizes can aim for their digitalization or digital transformation.
IT outsourcing gives you access to scan global talent and move beyond localized tech skills

IT outsourcing helps you keep a tab on your IT costs and reduce them exponentially

IT outsourcing provides you with an uninterrupted flow of IT services to ensure your systems and processes experience minimum downtime

IT outsourcing gives your company the ability to adapt to the dynamic business environment and quickly respond to any changes

IT outsourcing also means you can be more competitive and gain an edge with the latest services from around the world.
As these benefits make you even more confident in your decision to outsource IT services to an external vendor, leaving you at this would mean leaving you hanging in midair.
We are also going to help you make the right choice if you are searching for an outsourcing company.
Top 10 IT Outsourcing Companies
As companies started realizing the benefits of IT outsourcing, the demand for these services grew. And as the demand escalated, so did the number of IT outsourcing companies. Today, the digital ecosystem is overcrowded with so many web development companies that it can be overwhelming for you when you decide to outsource.
We are making this easier for you.
In this write-up, we have compiled the top 10 IT outsourcing companies that you can approach. We've chosen these companies on the basis of some important factors that any company would look for. These are:
Operational expertise

Team size

Worldwide scope

Flexible working methodology

The price or outsourcing costs

Cost savings on outsourcing

Services offered

Tech or digital advancement

Experience in the industry
We have shortlisted some names of the top companies for outsourcing software development or IT outsourcing based on the factors mentioned above. So, let's read about each of these companies to understand their work and which one would suit your requirements the best.
1. Classic Informatics
A global web development company, Classic Informatics has made its mark in the IT market worldwide. It is a leading IT outsourcing company in India that has served over 500 clients across more than 30 countries. The company follows an agile way of working to deliver value to all its customers.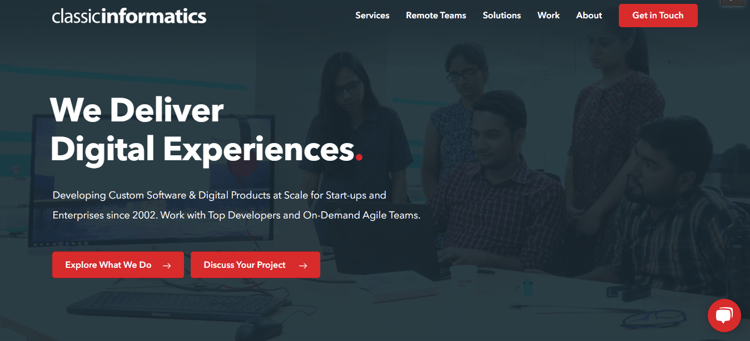 Classic Informatics has made its way into the top 10 IT outsourcing companies in India owing to its quick adaptation to the latest technologies and its personal approach to each project. The company serves businesses across all scales - from startups and SMEs to product companies and enterprises. It also offers on-demand services that match its client requirements. One can get custom products, on-demand teams, dedicated developers, or fully managed projects from it.
Whether an organization is aiming for digital transformation or looking for a digital partner who can take care of its IT needs, this company does it all. It can offer user-centric business solutions or services that range from custom software development, product development, mobile app development, SaaS product development to Cloud & DevOps, CMS solutions, digital transformation, and much more. The company offers digital solutions to companies across all industries like healthcare, e-commerce, travel, logistics, sports tech, fintech, etc.
Years Of Service: 18+
Headquarters: Gurugram, India
Expertise: Product Engineering, Digital Experience, Custom Web Development Solutions
Team Size: 300+
Average Fees: $25 - $49 per hour
Website: classicinformatics.com
2. FortySeven Software Professionals
Working mainly for the regulated industries and companies with complex software requirements, FortySeven Software Professionals is in our list of top IT outsourcing companies. As the name suggests, this company offers software professionals for all the IT needs.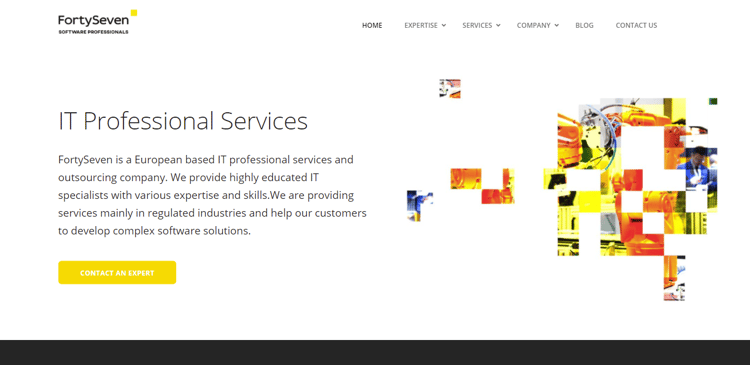 The services of FortySeven Professionals span across 40+ industries. The company helps businesses solve their tech challenges with the latest technology solutions. The services it offers extend from automation & robotics and high tech solutions to enterprise applications and information security. One can find complete outsourcing and outstaffing solutions.
FortySeven Software professionals can help companies of all scale with software engineering solutions like DevOps services, web application development, mobile application development, software testing, etc. It also offers IT consulting and audit services to companies. It has successfully completed over 110 projects that span 40 industries.
Years Of Service: 13+
Headquarters: London, United Kingdom
Expertise: Cybersecurity, Information Security Audit, Security Monitoring Automation
Team Size: 300+
Average Fees: $25 - $ 100 per hour
Website: fortyseven47.com
3. Gorilla Logic
For companies looking for a custom software development partner, Gorilla Logic is a firm they can join hands with. The company promises to offer skilled professionals (tech-savvy Gorillas) who adapt to the client's timezone to offer speedy development. The company is agile and unstoppable when it comes to accelerating the time-to-success. Whether one has fast-moving timelines or fast-changing requirements, this company offers agile teams and professionals to accommodate it.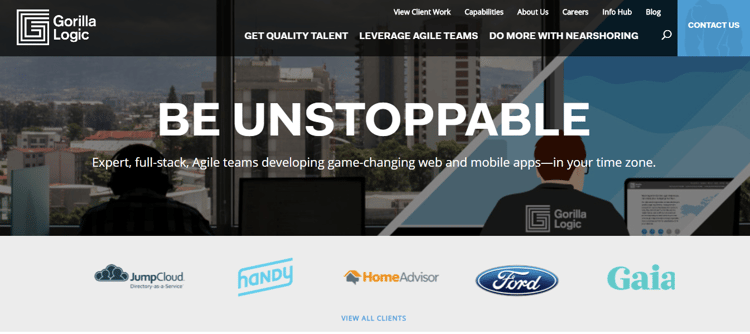 Talking about the services that the company offers, one can get all types of IT services from this IT outsourcing company in 2021. Whether you need services for UX/UI, mobile, DevOps, backend, security, data, IoT, web, or anything else IT related, this company can tackle all. One can hire great talent from this firm that follows a client-focused approach to solve all critical problems.
Years Of Service: 15+
Headquarters: Medellin, Columbia
Expertise: Skilled Professionals, Agile Teams, Nearshoring Services
Team Size: 500+
Average Fees: $50 - $99 per hour
Website: gorillalogic.com
4. FATbit Technologies

FATbit Technologies is an India-based software development company. It commenced its operations in 2004 and has 17+ years of experience working with clients from the US, Canada, UAE, and other countries across the globe. It has helped businesses of all sizes to actualize their vision through innovative and affordable products and services.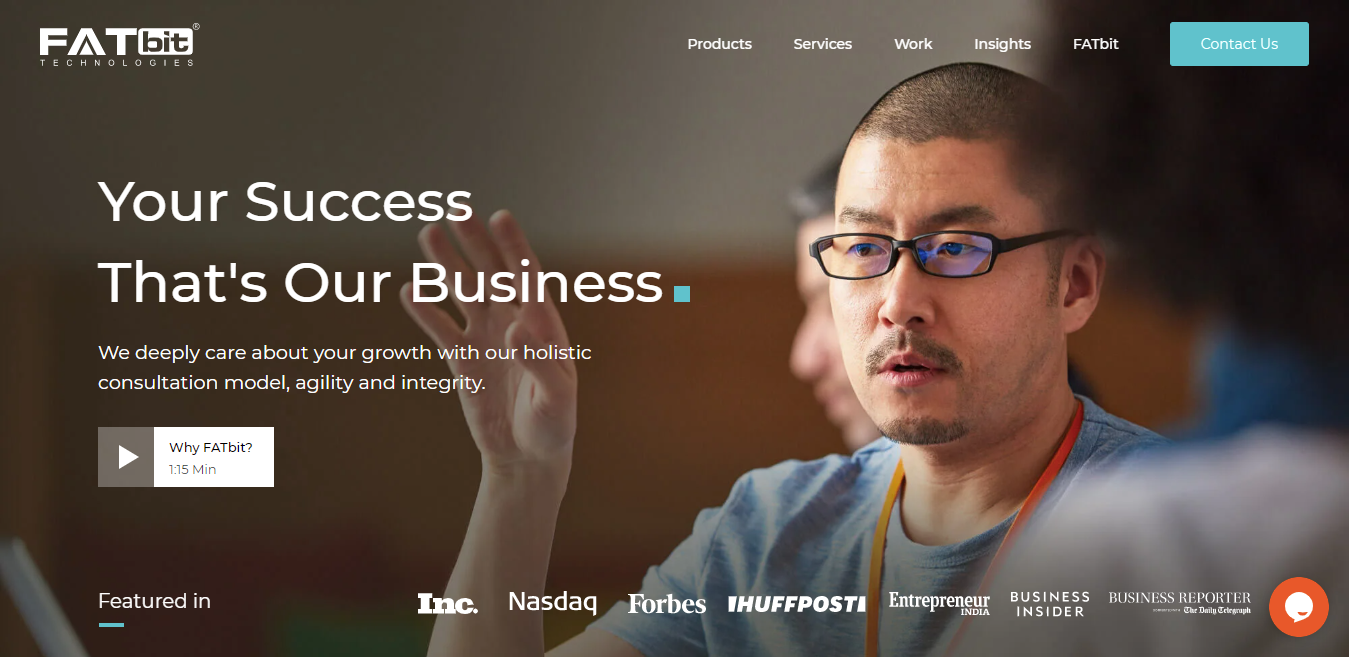 Apart from being featured in business publications like INC, Huffpost, Forbes and others, it has received excellent ratings on sites like Clutch(4.9) and DesignRush(4.9).
FATbit offers scalable and fully customizable turnkey eCommerce marketplace solutions like Yo!Kart, Yo!Coach, Growcer, Yo!Rent and VivoCabs. These solutions are backed by 1-year of free technical support by the company.
Additionally, FATbit also offers custom web development, mobile app development, IT consulting and Digital Marketing services.
Years Of Service: 17+
Headquarters: Mohali, India
Expertise: Marketplace Solutions, Product Engineering, Custom Web Development Solutions, Web & Mobile Application Development, UI & UX Design, Reputation Management and Business Consultation.
Team Size: 200+
Average Fees: $25 per hour
Website: fatbit.com
5. Hyperlink Infosystem
Known as a leading web and mobile app development company, Hyperlink Infosystem has been offering world-class IT services to clients across the globe. This company offers clients different engagement models to suit each requirement. One can get the dedicated model, fixed price model, or the on-site development model to fulfill the varying IT needs.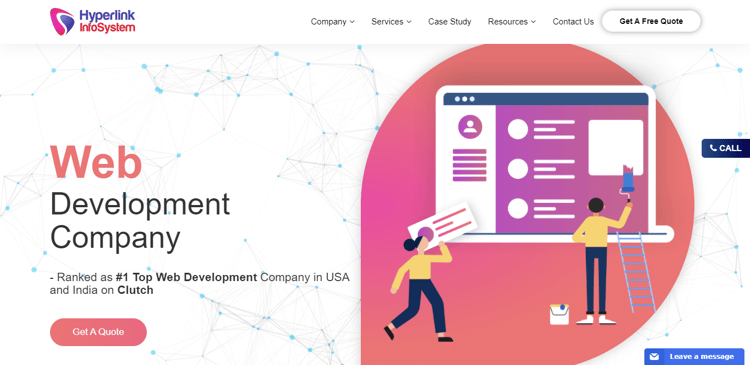 It has a broad spectrum of services that make it a one-stop solution provider for all those looking for any tech expertise. Be it mobile app development, web and CMS development, eCommerce solutions, mobile game development, IT services, VR app development, TV app development, or blockchain technology, the company offers it all. One can get dedicated resources for development as well as teams to include as an extension of the in-house crew.
Years Of Service: 8+
Headquarters: Ahmedabad, India
Expertise: Web & Mobile App Development, AI Development. Blockchain Development
Team Size: 200+
Average Fees: $25 per hour
Website: hyperlinkinfosystem.com
5. Ibexlabs
Comprising a team of disruptive thinkers, Ibexlabs is among the leading IT outsourcing companies for all those looking for cloud solutions. They know that cloud technology is expanding rapidly and is enabling businesses to stay competitive through this change. The company helps its clients build scalable and agile infrastructure through DevOps and AWS.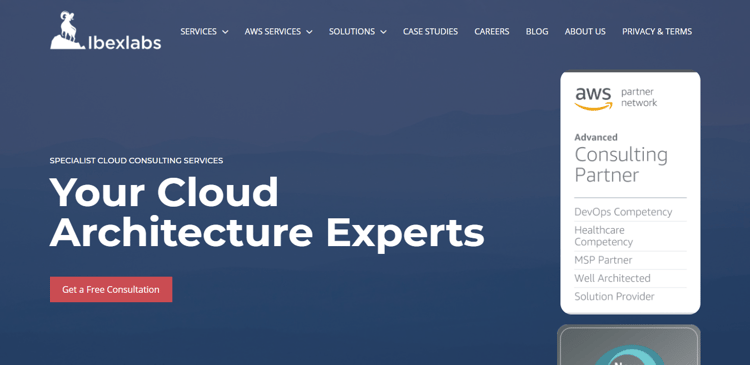 Ibexlabs is an AWS Certified Consulting Partner that helps companies overcome their technology challenges. It analyzes systems to find pain points and transforms the infrastructure into a more digitally advanced one for accelerated growth. One can get DevOps consultation, well-architected consultation, and managed service consultation from them. They can offer complete solutions for Magento, WordPress, and HIPPA compliance managed cloud services.
Years Of Service: 8+
Headquarters: Hyderabad, India
Expertise: Cloud & DevOps, AWS Services,
Team Size:50
Average Fees: $100 - $149 per hour
Website: ibexlabs.com
6. inVerita
Promising to help you 'Extend your team with the right people', inVerita is a company that has been serving its clients for many years. It is an IT outsourcing company that uses the latest technology stack to build software solutions for companies of all scales.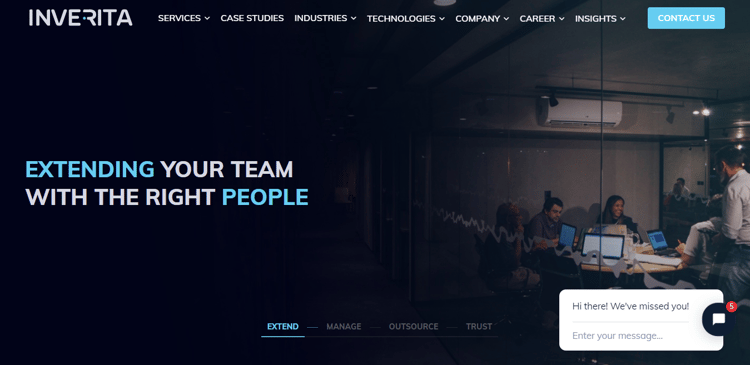 The company uses time-tested strategies and work practices to deliver value to its clients. It is contacted for a wide range of IT services like cloud & DevOps, custom software development, mobile app development, product design, UX design, software product development, and much more.
The company aims to become the leading IT service provider in Ukraine. It offers a number of engagement models to suit the varying needs of its clients. One can form time & material partnership, get a dedicated development team, or form fixed price partnerships with the company to get the work done. With inVerita, one can get the best technology stack that includes both foundational and emerging technologies like .NET, Javascript, Android, iOS, Flutter, etc. It serves companies across different industries like fintech, logistics, retail, real estate, e-learning, trading, insurance, and transport management.
Headquarters: Lviv, Ukraine
Expertise: Product Design, Cloud & DevOps Services, IoT Development, Project Management
Team Size: 50 - 250
Average Fees: $25 - $49 per hour
Website: inveritasoft.com
7. Maven Wave Partners
The next company to make it to our list of top 10 IT outsourcing companies is Maven Wave Partners. The company ranks in the first position for IT services by Clutch. Maven helps companies transform digitally with unmatched IT solutions built on the cloud. It serves different industries like financial services, infrastructure, healthcare, manufacturing, retail, etc.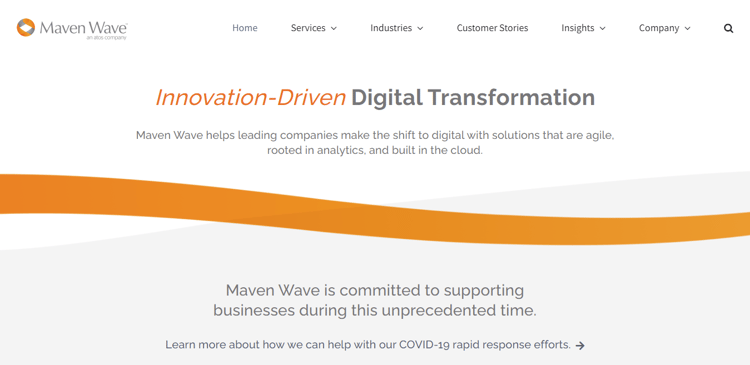 With Maven Wave, companies can rest assured to partner with a firm that will help them address the complex challenges of digital transformation and succeed. With services like cloud & mobile apps, enterprise collaboration, digital experience & design, etc., this firm promises exponential growth. Whether a company is looking for a digital shift, move to Google cloud, growth-hack, or get X-factor talent infused in their firm, this organization can offer expert assistance.
Headquarters: Chandigarh, India
Expertise: Digital Transformation, Enterprise Collaboration, Digital Experience & Design
Team Size: 200+
Average Fees: $100 - $149 per hour
Website: mavenwave.com
8. QBurst
Another name to be added in our list of top IT outsourcing companies in 2021 is QBurst. This is an India-based IT company that is offering complete technology solutions to help companies become future-ready. It is focused on delivering and delighting its customers through its services. The company offers a complete implementation crew to help its customers gain a competitive edge. One can find skilled professionals like software architects, data analysts, UX designers, DevOps engineers, web developers, mobile developers, system administrators, and many more.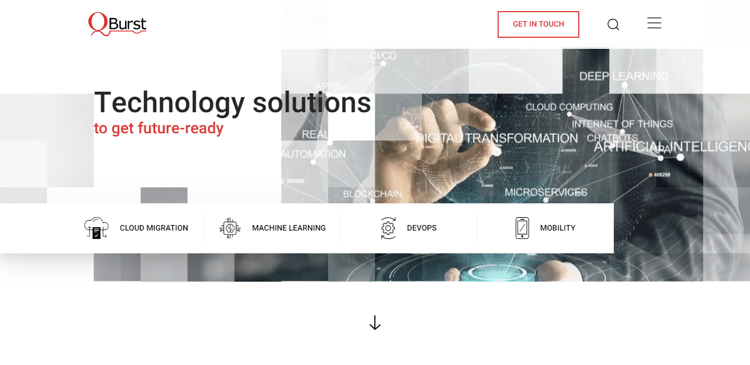 QBurst is proud to have over 75% of its customers coming back to it for more business. From consultation and conceptualization to visualization with UX designers to product engineering and quality assurance, the company offers it all. The services include cloud, DevOps, monitoring, cybersecurity, data, app development, and much more.
There are a number of IT solutions that the company offers to all its clients. These include IoT, chatbots, RPA, RTLS, blockchain, gamification, eCommerce, ECM, eLearning, etc. The IT vendor has assisted many companies in their digital transformation initiatives with cloud migration, AI solutions, DevOps adoption, and mobility.
Years Of Service: 15+
Headquarters: Trivandrum, India
Expertise: Cloud Migration, DevOps Adoption, Mobility, Artificial Intelligence Solutions
Team Size: 1,000+
Average Fees: $25 - $49 per hour
Website: qburst.com
9. Skelia
Building cross-border IT teams, Skelia has been offering staff augmentation services to companies worldwide. The company provides powerful teams to organizations to skyrocket their growth. One can also get on-demand services from the company like testlabs for apps, mobile labs for commerce, and relocation for staff.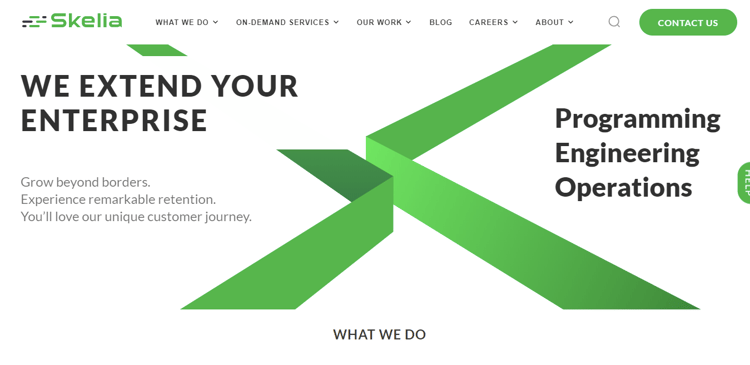 It claims to provide the best profile match, transparent pricing model, and complete control whether transferring teams or providing cross-border teams. From startups to Inc 500 companies, this company's clientele covers them all. It serves all industries like eCommerce, software & cloud, IoT, and digital media.
As they specialize in providing cross-border teams, they have a wide portfolio of the expertise that these teams hold. One can get their teams for software development, QA & testing, product R&D, electrical/mechanical/process engineering, CRM/ERP implementation, PLC?SCADA development, international software deployment, and much more.
Years Of Service: 11+
Headquarters: Trivandrum, India
Expertise: Team Transfer, Cross-Border Team,
Team Size: 250+
Average Fees: $25 - $49 per hour
Website: skelia.com
10. Softweb Solutions
Promising to 'Transform Your Tomorrow', Softweb Solutions is a leading IT company that offers complete digital solutions. It delivers best-of-the-breed solutions to help companies transform digitally. This company has been in the industry for long and served over 600 clients that include everyone from startups to Fortune 500 companies, spanning 1400+ projects.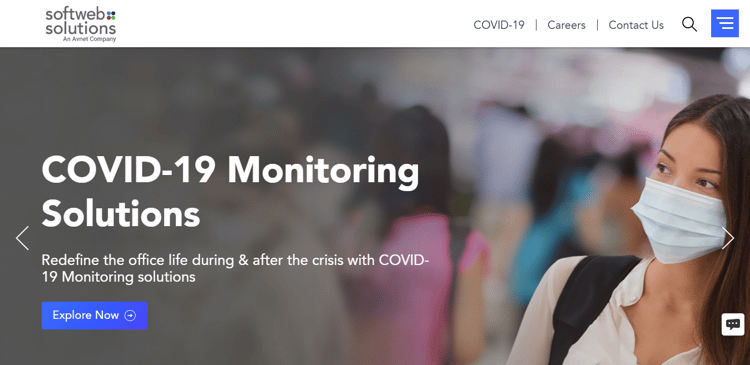 Working with all types of clients, the company has gained experience in delivering strategy, design, R&D, and engineering solutions. It has been able to write multiple codes in all languages. From mastering the foundational languages to technology services like IoT and RPA to delivering AI and Data Intelligence solutions, it offers all.
Softweb works on innovative technologies to offer tech expertise and robust processes using creative thinking. The company has embraced technologies like data science, Internet of Things, deep learning, and conversational UX to deliver a competitive edge to all its clients. It offers smart solutions, IoT platforms, data platforms, bot platforms, and complete IT solutions using the latest tech.
Years Of Service: 18+
Headquarters: Ahmedabad, India
Expertise: Digital Innovation, AI & Data Intelligence, Technology Services, Business Solutions
Team Size: 500+
Average Fees: $150 - $199 per hour
Website: softwebsolutions.com
Closing Lines
This was all about the top 10 IT outsourcing companies that we believe can help you in your digital endeavors in 2022. All of these organizations have won good ratings on review sites and data-driven platforms. You can go through their portfolios, experience in the market, and their average fees to make a more informed decision. With this write-up, we hope we have cleared your confusion and can help you make a decision faster.