India is a growing IT hub. The IT services sector recorded a CAGR growth of 11.37% between 2013-18 when the revenue grew from INR 72,721.6 billion in 2013-14 to INR 1,13,600 billion in 2017-18. Export of IT services has undoubtedly been the top contributor here. There are thousands of software development companies in India that are offering IT services to clients abroad.
And the majority of these IT companies are not just limiting themselves to offering end-to-end product development. They also provide remote developers on hire for hourly, monthly, and even long-term contracts. As a result, remote developers from India are not just expertise-holders but also have a proven record of delivering quality.
Save Costs
Outsourcing can save money for all types of firms. And when you decide to hire remote developers from India, there is a huge price gap that you can see between what the developers in the US, UK, or other countries charge per hour and what Indian developers take. The cost factor is, in fact, one of the most prominent reasons compelling so many companies to hire developers or outsource to India.
Here is a cost comparison table as shared by Clutch.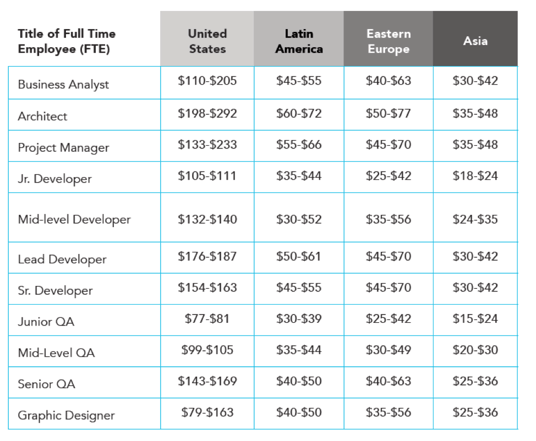 Here, you can easily see that even mid-level developers in the United States charge anywhere between $132 and $140 per hour. On the contrary, when you hire developers from India, a mid-level developer would cost around $25-$30 per hour. This would save about $100 per hour from your developer cost.
India, being a developing country, offers developers at a much lower cost. You can get even senior developers, project managers, graphic designers, and all others required for your software development or technology needs at a much lower cost.
Apart from that, there are several other costs that you can save on hiring offshore developers. If you hire in-house talent, you have to pay them added benefits, paid leaves, compensation, and much more. All of this is saved when you hire remote developers.
Get Faster Development
Time is of the essence when it comes to launching something new. Mounting competition has created pressure to build a product faster. Hiring local talent could increase the time to market. You might have to set up a complete in-house team, build the IT infrastructure, and even spend time training the developer.
Hiring remote developers saves time. You hire them for particular hours and describe the task that is to be done. Most companies get contracts signed before initializing the task. They work for the particular tasks assigned to them for the paid hours. This ensures that the development is done faster without any wastage of time.
In addition, in-house developers might get distracted by other smaller tasks in the office, which might extend the development process. Remote developers dedicatedly work on a single project, which saves a lot of time.
Favorable Time-zone
Another great advantage of hiring developers from India is that you can take advantage of the time zone. There is an approximate difference of 9.5 hours in the Indian and East coast timing and is 12.5 hours ahead of the West coast. This gap can be proactively used to get round-the-clock development work done.
How?
You have an in-house team that works in your time zone. When they take off from work, the remote developers in India get started with your work. This ensures that you get round-the-clock work on your project.
Moreover, you can even have an overlapping gap where you can collaborate with the remote developers, communicate your requirements or even hold meetings to monitor progress.
Access To Unlimited Talent
Many people say that outsourcing is synonymous with India. Indeed, India could be called the hub for offshore development - be it for building teams, outsourcing product development, or hiring remote developers. And one of the main reasons behind that is the unlimited talent pool.
India has the second-largest population in the world, out of which 67% would fall in the 15-64 age group by 2025. To be more precise in terms of software development and engineering, each year, India produces over one million engineering graduates from over 3500 engineering colleges, the highest in the world. In fact, Statista states that over 880.35 thousand students are enrolled in Computer Science Engineering in the year 2021.
No wonder you get unlimited talent when you decide to hire remote developers from India. You will be spoilt for choice if you choose to hire developers from India. There are thousands of companies to choose from, in addition to the many independent developers present in India.
High-Quality Standards
Most of the companies planning to hire offshore developers hesitate as they feel it might hamper their productivity. However, the standards of working and quality are pretty high in India. There are government guidelines as well that bind the company to offer quality in terms of codes and other things.
There is huge competition in India owing to the large number of software developers working in the IT sector. They know that clients have a lot of choices and can easily cancel the contract and put them off the project if quality expectations are not met. This makes the developers more focused on delivering quality.
In fact, when it comes to outsourcing contracts, most clients' CTOs include a quality clause in the contract itself. The payment depends on the quality of work done. This encourages them further to deliver at par with the quality expectations.
Indian software development companies adhere to global standards of quality. The majority of the companies have quality certifications like Capability Maturity Model (CMM), International Standards Organization (ISO 9000), Six Sigma Quality Certification, Total Quality Management (TQM), and Customer operations performance centre (COPC).
When you hire remote developers from offshore development companies, you also get the benefit of having a project manager and delivery manager continuously monitoring the work. The quality of work delivered by their developers affects the company's reputation in the market, and they make sure it exceeds the client's expectations.
Export-Friendly Government Policies
The government of India ensures that more business is brought into the country from foreign lands. Hence, it has announced several policies and acts to promote foreign trade, be it in the form of product development outsourcing or hiring developers. From the IT Act 2000, the Specific Relief Act 1963, the Indian Contract Act 1972, to the Foreign Exchange Regulation, and much more, the Indian government has some great acts and policies for those planning to hire from India.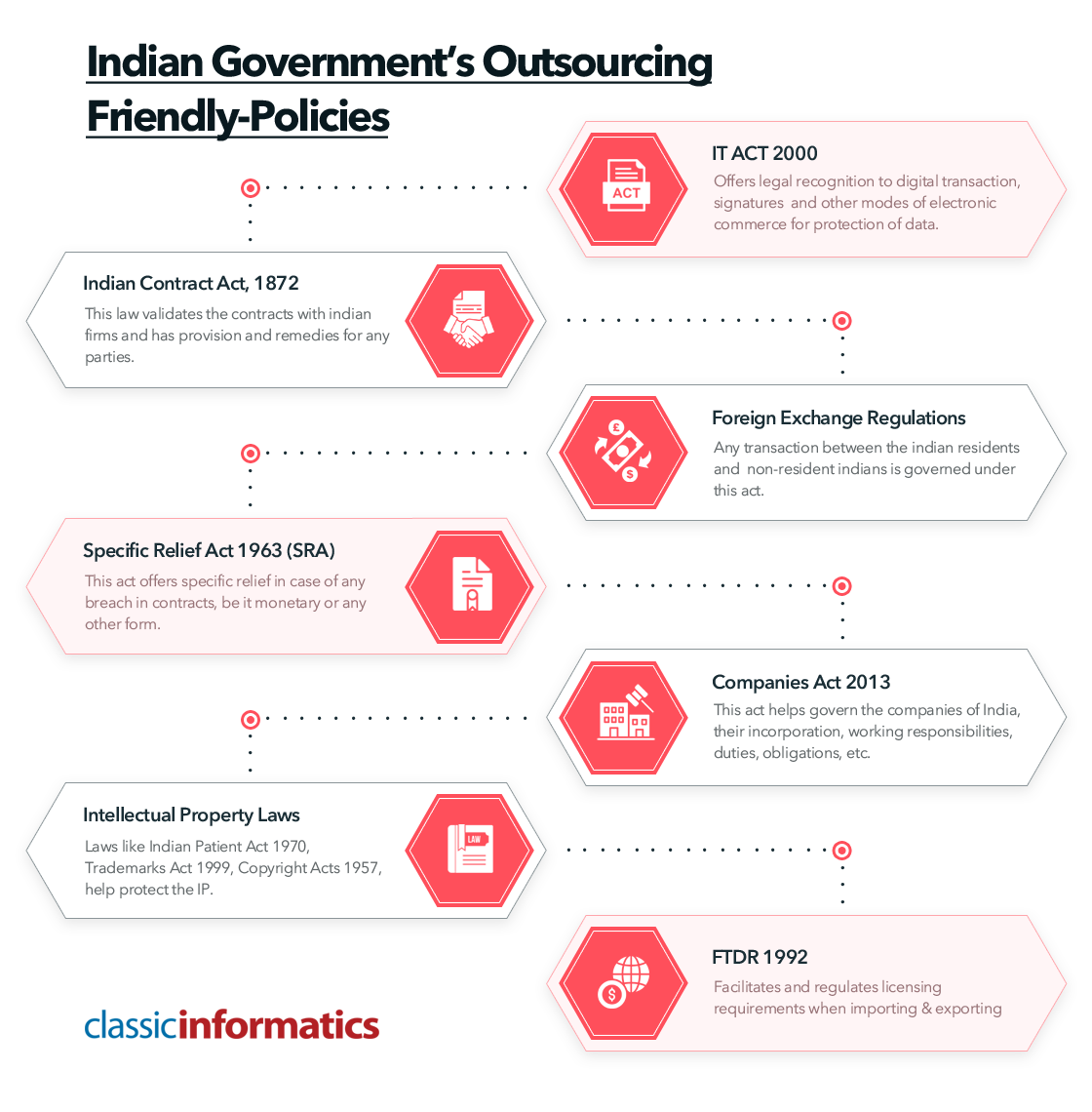 Ease In Communication
India ranks second in terms of countries with the largest English-speaking population. There are millions of Indians that speak English, and with this language becoming the first medium of communication in most schools and colleges, the communication gap is all set to diminish.
You can expect developers from India to speak fluently in English and discuss your project requirements as and when required.
In fact, over 194 million Indians speak English, and 3.1 million IT graduates pass out from engineering institutes each year. All of these are majorly English-speaking professionals. One can be rest assured to have easy and seamless communication with the remote developers.
When hiring developers from Indian offshore companies, one can rest assured that they will get developers who have been scrutinized for their communication skills. This helps eliminate the communication barrier even more.
Flexibility To Scale
As India boasts of a vast talent pool, there is no shortage of developers. You will always have the flexibility to add as many developers to your team as you require. When you choose an offshore IT company to hire your remote developers from, this flexibility only increases.
They have a number of developers with different experiences and expertise. You can easily hire as many developers from them or scale down your team as required.
Extensive Technical Expertise
Another benefit of hiring remote developers from India is that there is extensive technical expertise available here. Whether you need someone who is an expert in some latest programming language or want a person with certification in AI, data science, ML, blockchain, or any new technology, you can find one here. In fact, the majority of the prestigious IT institutes in India like the IITs, IIITs, and others are also offering certificate courses and diploma courses in new technologies like data sciences, AI, etc.
Focus On Business Goals
For startups and mid-sized companies with a handful of members, any new project could add a huge strain on the in-house team. This might deter them from focusing on their business goals and the company's vision. By hiring remote developers from an Indian software development company, you can rest assured that they will offer you much more than just developers. You will get assistance in improving your product while plugging the required technology gap.
Some Stats To Prove Why India Is Best For IT Outsourcing
We just discussed some of the top reasons why you should hire remote developers from India. But that's not all. There are several statistics that have proven time and again that India is a preferred location for hiring outsourced talent. Here are some stats that prove the same:
Each year, over one million students graduate from Indian engineering colleges.

2020 studies show that over 4.5 million workforces of India are employed in the IT sector

As per the 2017 Asia Pacific Occupier Survey Report, over 80% of the Indian outsourcing companies are planning to increase their headcount.

By 2022, 40% of the Indian workforce is expected to enhance their skills and contribute to the development process.

India has the second-largest English-speaking population globally, which ensures that there is no communication barrier.

C SharpCorner report even states that India is expected to have the most software developers, exceeding the United States, by 2023.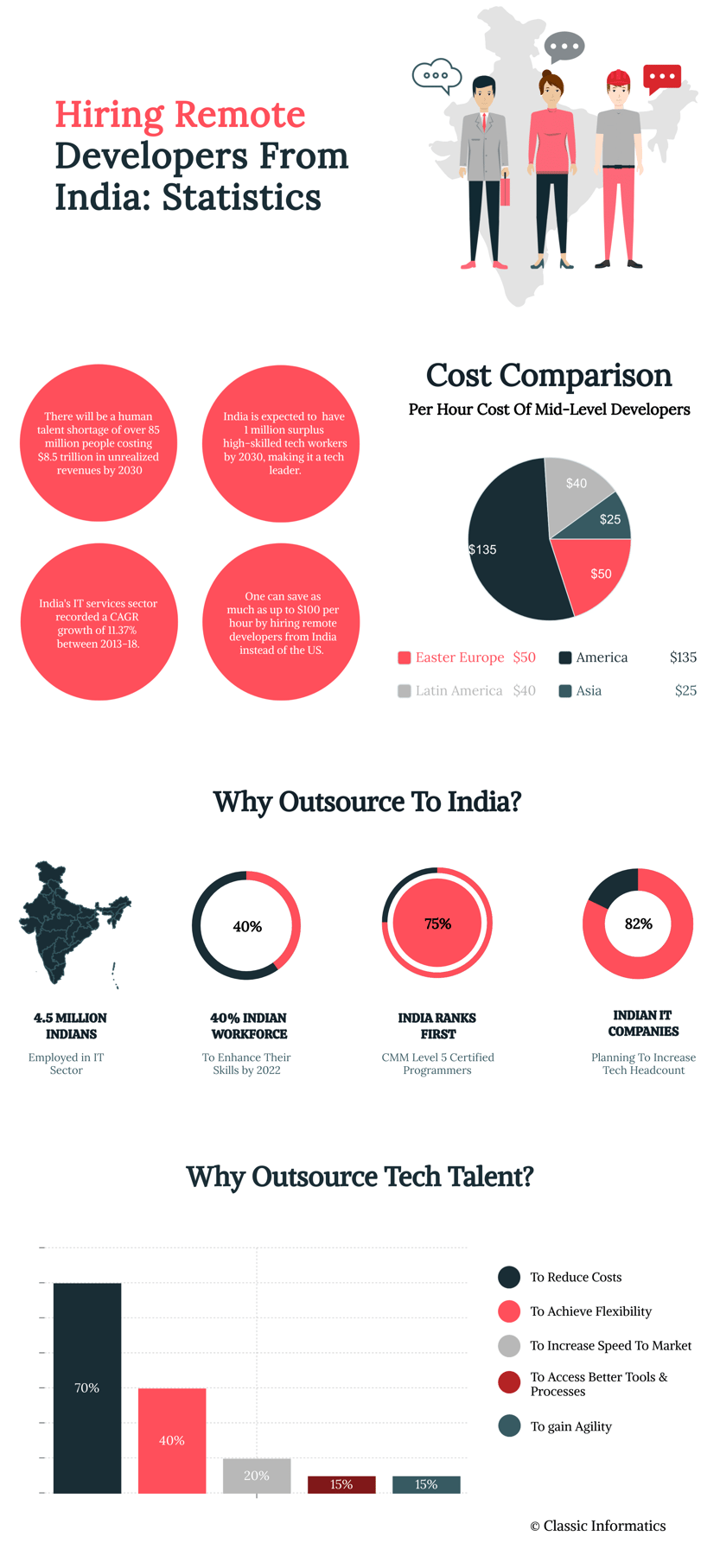 ---
Things To Keep In Mind While Hiring
Hiring remote developers could be a challenge for many. However, if you are aware of all the things that you need to keep in mind, hiring remote developers would become excessively easy. All you need is to stay alert and focus on the hiring process.
Here are some of the things you can check in the developer or the company you hire remote developers from to make things easier.
Experience as Remote Worker
While experience in the development field is essential, this is not the only experience one should look out for when hiring remote developers.
A developer's experience with remote working is an important thing that anyone planning to hire one should look for. Not everyone is able to work with an offshore team. They need to have a manager in their physical location, supervising their work and assisting them in case of any issue during development.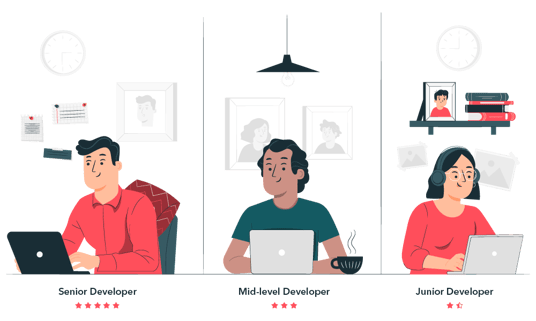 There is always the option to question the developers beforehand regarding their experience with remote working. While conducting the interview, you can ask them about their way of working with remote teams or how they collaborate. This would even help you analyze if the remote developer were able to adapt your company's work ethics and culture.
Another way to ensure that experience in remote working doesn't affect the hiring is to hire from digital agencies or offshore software development companies. These companies have handpicked senior, mid-level, and junior developers who can assist in getting you the best remote developer in India.
They have project managers guiding and monitoring the work of each developer, whether they are working on a dedicated project or not. The managers ensure quality and compliances. Moreover, if you are hiring more than one developer from the company, you can have the arrangement to assign the project managers as the point of contact and discuss each requirement, progress, etc., with them. This ensures that you pay the price of hiring a remote developer without worrying about managing them. Additionally, you always have the freedom to choose the extent of control you have over the remote developers.
Working Hours & Time Difference
Another factor to keep in mind when hiring remote developers from India is the time difference and their working hours. There are several countries in India that offer time-zone flexibility, i.e., they are ready to adapt to your time zone. This means that if you need a developer to work alongside your in-house team, asking for time-zone flexibility could be a great option.
Contrary to that, there are software development companies in India that do not offer time-zone flexibility. However, there's a great advantage that you can clasp if you choose a developer who does not work in your time zone. You get a complete 24x7 working period. While your in-house team works in a specific time zone, the remote developers from India get started once they sign off. This means the development work of your product never stops.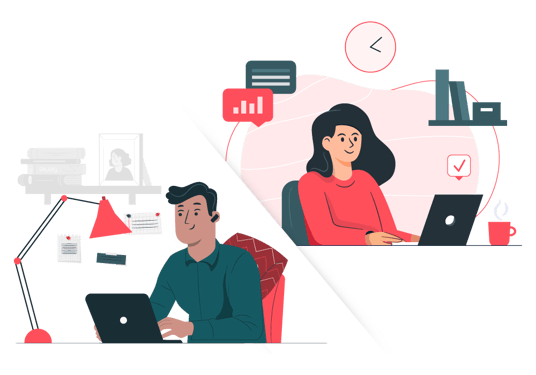 You can choose a bracket, either in the morning or during the evening, which overlaps with the remote developers to discuss the process, track development, and even share views through video calls or telephonic discussion.
However, it is imperative that you keep this time difference and gap or overlap in working hours in mind while looking for remote developers in India.
Skills To Look Out In Remote Developers
There are several skills that make great remote developers. While hiring one, you should never compromise on the skill set you are looking for. Moreover, you need to consider some important skills, which include both soft skills and technical skills. Let's have a look at the most important skills to look for in remote developers.
#1. Specific Programming Skill
This is the first thing that anyone hiring remote developers has is their knowledge in specific programming skills. They should be technology experts and have a love for trying out new things and being updated with the tech trends. This will help you get devs who love what they do and have the required technical skills to undertake any project with ease.
#2. Great Communication Skills
It is imperative that the remote developer you hire has impeccable communication skills. Otherwise, with the long distance between the two, it might get difficult to express requirements and convey feelings.
They should be confident in communicating with the project managers or the client. They should also be able to properly report the progress, issues, or any other requirements to the stakeholders.
#3. Self-Driven & Motivated
As remote developers are usually working away from the client's physical location, there will be no particular head supervising them on the ground level. This is why it is important that you make sure to hire self-driven developers as a part of your remote development team.
They should be proactive and enterprising in nature with a vision for the future and eager to move ahead and present their idea for improvements in the project.
#4. Time Management
In addition to being a self-driven or motivated individual, time management is yet another skill that remote developers need to have. While remote working ensures flexibility in time, there is a responsibility that comes along with it. Remote developers should be able to manage their time in a way that they are able to focus on work while enjoying the time flexibility. If the remote developer you hire isn't able to manage time well,
#5. Transparency
A big issue in remote development is when remote developers start hoarding information with them instead of sharing it with others. This is where the quality of selflessness or transparency comes in. They should be selfless in the fact that they are eager to share the knowledge that they've gained with the other members of the team.
#6. Problem Solver
Another skill that one should look for is the ability to solve problems. When hiring remote developers, this is an important skill to look for. They should possess the skill to quickly take action without wasting any time waiting for you to answer. This will save time. They should have the knowledge and the knack to find solutions without sitting around for someone to come and assist them.
#7. Interpersonal Skills
This is important for companies that are more worried about upholding their company culture despite hiring a remote team. With interpersonal skills, developers will be able to bond better with the other members without meeting them face-to-face.
Cost
Costs or budget is one of the biggest factors that compel businesses to hire remote developers from India instead of building an in-house team. So, it is imperative that you keep the cost of hiring remote developers from India in mind when making the decision. Let's understand the costs involved and how much you can save or pay when hiring remote developers for your project.
There is a growing difference between the per hour charge of developers in different regions across the globe. Here is a tabulated rate chart of remote developers in different regions: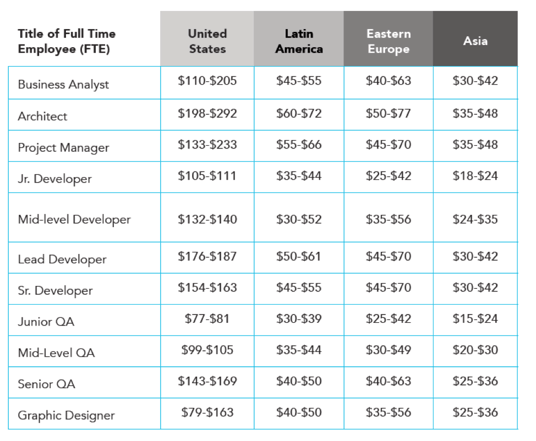 As you can see in the image, the costs of remote developers vary as their region moves from one part to another. While you find developers in Asian countries for as much as $15-$30, the price for hiring developers in other western countries could go over $100 very easily. This difference in charges asked by developers leads us to an important conclusion - the rate or fees of remote developers should be an important factor during the consideration phase.
You need to analyze the costs of hiring remote developers from India before you come to a conclusion. While lower rates such as $2 per hour or $10 per hour (which are quite common to attract more clients) might attract you, you need to be wary that you might have to compromise with the quality at such low costs.
When you are hiring developers from India, the hourly rate could be anywhere between $15-$30. However, this may vary based on several factors like:
Technology or specific skills you are looking for

Experience in the industry

Type of engagement you are looking for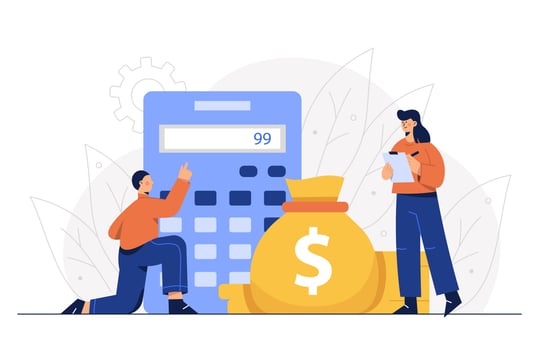 While hiring remote developers from India, ensure that you are paying them for what they bring to the table and not their region. Make sure there are no hidden costs in the outsourcing contract. Moreover, choose a software development company that offers a standardized price for remote developers. This way, you can ensure transparency.
Based On Company Size
When it comes to hiring remote developers from India or from any other country in general, the requirements or things to keep in mind may change depending on the size of your organization and the in-house team. As the size of the company starts increasing, the way one scrutinizes remote workers and the skills they look for in them also change.
Startups
Startups usually go for hiring remote developers from India as it fits their budget constraints and also accelerates their product launch. However, there are some questions that startups need to answer before they get started with finding their remote developer.
Do you have a technical co-founder or a CTO?
If you have one, you need not put in a lot of effort in hiring a remote developer from India. The technical co-founder or the CTO can analyze the complete requirements for the role and start hiring. If you don't have one, you need to hire a technical co-founder, CTO, or a technology partner first before starting to hire remote developers.
The web development companies in India can also help with the development part owing to their experience as technology partners. In many circumstances, you might even get a project manager (PM) along with the developers that you hire. If not, there is also always the option to request one from the offshore software development company you join hands with.
Do you have any technical experts on your team?
The answer to this question will help determine if you need to hire senior-level developers or mid-level and junior developers. If you have technical experts, a mix of junior and mid-level developers will be great for building the product. Moreover, the experts can handle the main part of the development while the remote developers can work on the coding part.
Is there a time constraint on your product launch?
If you are running short on time, hiring a developer from India would be a good way to accelerate the development. You can get in touch with the offshore development companies or agencies in India to hire fast. There are several software development companies in India that can help with hiring remote developers faster.
What is the development budget or the funding received?
Your budget determines the type of developers you hire for your project. You can hire dedicated developers if the budget allows, as that might cost around $25-$30 per hour. However, if the budget is still tight, one can always go for freelancers.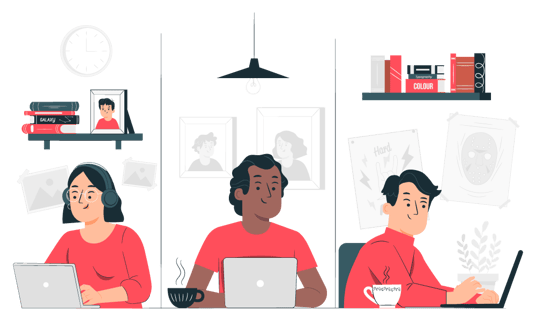 How much relevance does quality hold in your development?
The next question that startups should ask themselves is regarding the expected quality in terms of development. You need to find senior developers who can work on framing the requirements in terms of quality.
SMBs
The next in line are small and medium-sized companies. These are those companies that have a strength of around 100-500 people. These could be product companies, product agencies, or even independent firms looking to build their own products. Different types of medium-sized companies have different requirements when it comes to hiring remote developers.
#1. As Product Companies
This is where you have a product idea and need to hire developers to turn the idea into a functioning reality. You might need to accelerate the product delivery, acquire expertise, reduce product cost, or improve the product design/boost capabilities; hiring remote developers can be the ultimate cost-effective solution.
In such cases, you need to analyze the in-house talent and how much time they can spare for the product development work. You don't want to overwork and exert the in-house team. So you need to hire dedicated developers or technology experts to work along with your in-house team as an extension. They will work as an extension to your in-house team and assist in development.
#2. As Digital Agencies
This is where the firms are similar to the ones providing remote developers in India. Here, you have complete teams of developers, technology experts, and others available for your clients to hire. However, you need extra developers as there is a new project which requires a particular technology or more developers than those available in your team currently. It could be a bulk delivery, tech shortage, or faster delivery of the client project that can encourage a digital agency to hire remote developers.
You hire dedicated developers from India and get them to work on your client project. This way, you are able to fulfill your client's requirements without compromising on the quality of work. Whether you have a short-term or a long-term tech requirement, hiring developers from India can help fulfill it.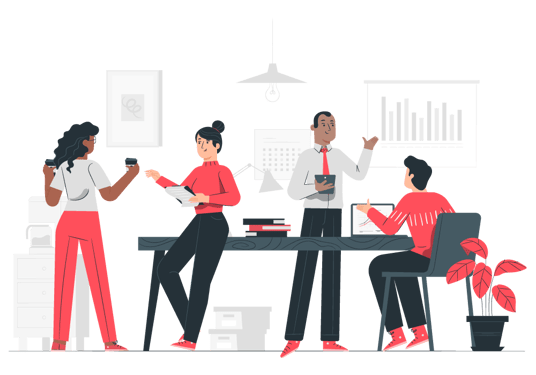 #3. As Individual Firms
If you have a product idea or want to launch a new product, hire remote developers from India or build complete remote teams. You could be from the healthcare industry, FinTech, government, marketing, logistics, technology, or any other industry. Hiring remote developers could be a great way to get started with the development.
Most of such firms do not have the required tech talent in-house and hire remote tech teams or individual developers. You need to analyze the current positions in the organization and look for the best fit to plug the technology gap.
Enterprises
You might already have an IT department in your organization, but your team might be lacking the tech expertise. You need strategic experts to guide your digital transformation initiatives.
For a large conglomerate looking to digitalize its legacy apps, hiring single app developers would not suffice. They would usually need deep technical insights to modernize and maintain their legacy apps.