Phil is exasperated. The American product startup guy is in a need of some extra resources that can complement the efforts of his team. But, his Startup lacks both office space and funds for an in-house talent hiring.
On the other side of the world, AB, a digital product agency based in Sydney is looking to expand their talent pool. They've recently closed an important deal and this new project will involve working with a new tech-stack- something their in-house development team is not familiar with.
In both of the above-mentioned cases, the requirement is for a team of tech experts who are not tied down by the location-criterion and can be hired quick! The requirement is for global remote teams that can be hired on a turnkey basis. That essentially means- greater skill-sets, self-organization, longer hours of operations, higher productivity, and timely delivery with your little to no involvement.
Having said that, working with remote teams is a discipline in itself. There are things that one has to keep in mind before starting to work with a remote tech team.
Read on to know more!
Fundamental Rules of Managing Remote Tech Teams
Working successfully with remote teams has several advantages. But there are certain rules to be followed. These rules ensure a smooth progress of the product development as well as avoid problems that might arise within the team.
Team composition: It is necessary to understand the team members - their strengths, weaknesses, sensitivities, and aspirations. That aside, maintaining a two-way transparency with team members is the key to managing the work efficiently. In general, the rule "hire people you trust and trust people you hire" is worth following.
Clarity of work: This includes the tasks to be done, the role to be played by each team member, and the expected completion at the end of a period. It requires a clear distribution of work, time, and space. A precise description and distribution of work among team members can help obtain the commitment of the delivery.
Correct use of technology: Various tools are available of late that can be leveraged to achieve effective team working. Team solutions should particularly package communication, collaboration and sharing tools, as well as management tools.

Achievement of teamwork: Teamwork is important. Ensuring that the entire team is on the same page, judicious use of member-time, leveraging leadership qualities of team members, and working around people sensitivity, are particularly important for all remote product teams.
Tips to Managing Remote Tech Teams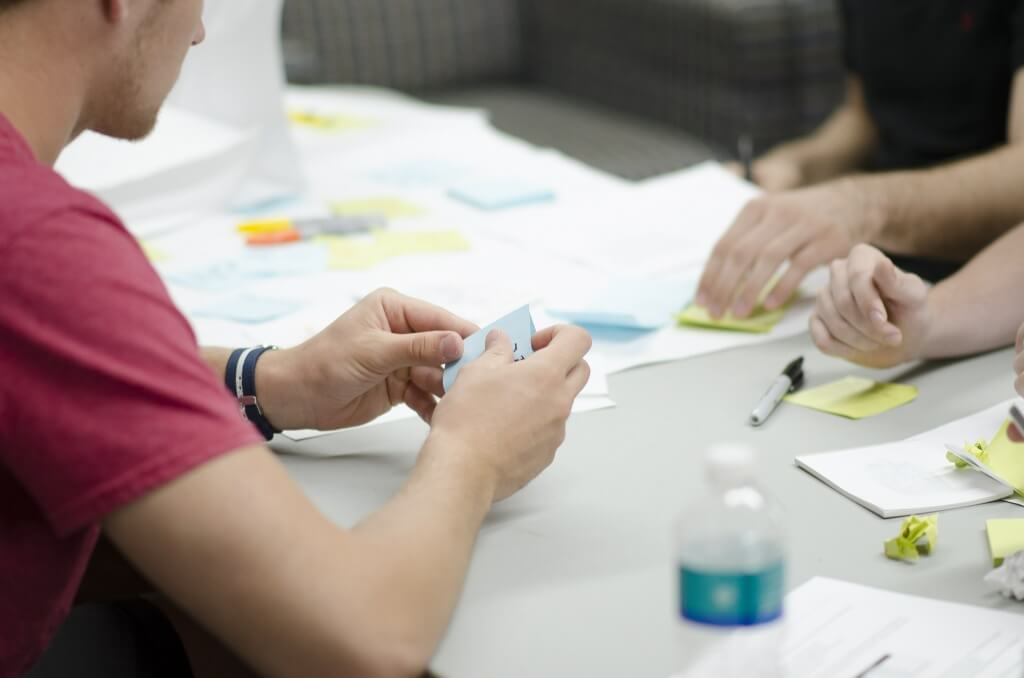 Communicating electronically, working through different time zones, in essence 'working virtually together'; has very well proven to come up as performance powerhouse. Remote teams bring a lot of benefits to the product agencies, but only when managed well.
Here are some tips that could help business owners set up and run a remote team successfully.
Setting Up Clear Projects and Work Plan
It is also necessary to ensure that the project and the work plan are clearly worded, and are allocated among team members as unambiguously as possible. This might not be a major issue in case of large agencies as they usually go for dedicated teams for each step of product development viz. Strategy-planning, Engineering, Marketing, Analytics, and Operations.
But, if you are a Startup or a small business, chances are that each of your team members might need to wear multiple work hats at once. As a result, they might face overlapping work and gaps. A clear work plan and allocation paired with effective communication is the key to tackle such confusions.
Resource Management
Identification and acquisition of resources (other than human resources), availability of hardware/software for all team members based on the role played, effective use of communication tools and shareware, and technology-application platforms are necessary.
Work Accounting
Frequent work accounting goes a long way to track progress, verify performance, set expectations and, communications, and achieve similar objectives. Use this tool for managing accounting projects
Leadership and Management
Setting the tone of the work and expectations, leading the team towards common goals, meeting targets on time, the delegation of authority wherever required, and most importantly communication on all these aspects are important.
Challenges in Managing Remote Tech Teams
While working with remote teams present a great opportunity to tap into an unbound talent pool spread across various time zones, it's not entirely without some significant challenges.
Some of them are listed below:
Sharing Company Value and Vision: Ensuring that the remote teams situated across various locations understand the company values, culture, vision, and act suitably is as important as ensuring the understanding of the other strategic aspects of the company, such as product vision and project roadmaps.
Team Knitting: The work from the point of view of collaboration in the workplace could be achieved to a great extent. But team knitting that brings people together (naturally possible in a real workplace) may not be easy and could require occasional travel.
Practicing Agile: Agile project management is premised on the existence of a relevant project team at one location to ensure that communication and understanding gaps are addressed and eliminated. For teams that are separated by time zones, it may be challenging to conduct sprint meetings. Without reminders, these can be easily missed.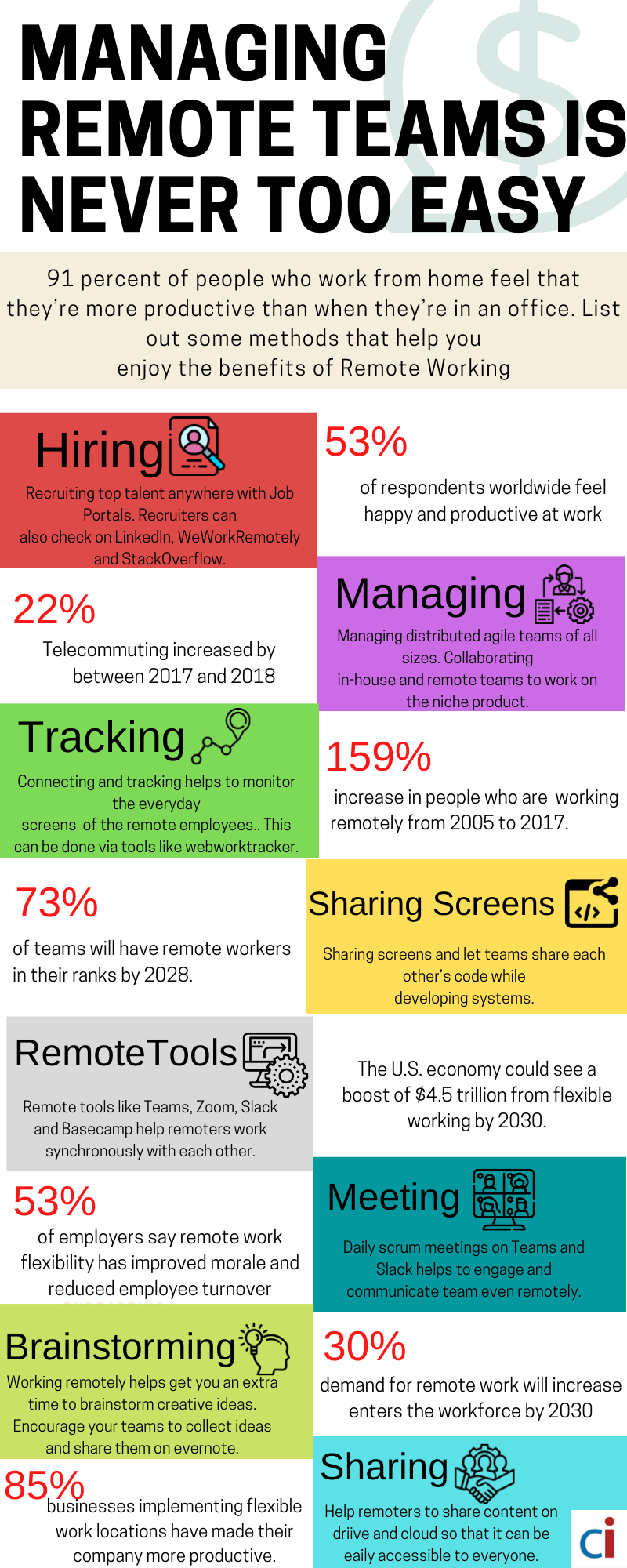 Remote Tech Team Management Tools
Remote tech teams working in a virtual environment is made possible with the advent of related technologies. These tools can be categorized into three types: collaboration tools, communication tools, and monitoring tools.
Collaboration tools: One of the commercial high-end tools used by large corporates is the Microsoft Team Foundation Server which provides a broad-scale configuration/collaboration for distributed development teams. On the open source side, there are several collaboration applications, the notable ones being GitHub (for mega-scale development code repository), Google docs for document management.

On the low-end, there are commercial-side collaboration solutions like Jira for project management, and Trello for virtual team environment. Any collaboration tool for remote team management must take care of various teamwork aspects such as project management, task management, configuration management of application code, document management, and team management. Solutions that offer one or more of these features can be viewed as collaboration tools. Depending on the objectives of the virtual teams, any of these could be used.

Communication tools: LogMeln and GoToMeeting are some of the solutions that provide virtual team meeting tools. There are many open source meeting tools like Apache Meeting, MConf, VMukti, and WebHuddle. Even popular large-scale free communication tools like Skype, Google Hangout, and AnyMeeting are often used as an alternative means of communication among virtual teams.

Monitoring tools: Teamwork monitoring, tracking, and performance management tools Like Microsoft Team Foundation Server have features that help in tracking the work. Centrallo, Trello, Pintask and even Jira have work monitoring capabilities. The progress of the work updated by team members from various locations can be used to monitor and track project progress for further actions like appraisal and assistance.
Summing Up
The enablement of virtual teamwork is one of the greatest gifts of information technology, especially for a globalized economy. With the teams and individuals connecting together from across the world, surfing on the ever speeding networks, work is possible round the clock- independent of travel and physical presence of people.
While remote teamwork may not be able to fully replace the real place teamwork, it still has several advantages and positive features. There are agencies that entirely use the real place teamwork model, while there are others that take the advantages of remote teamwork. Then there are many organizations that use distributed agile development teams where these two workplace models are mixed. The tools discussed here are useful and productive for most of the teams and any type of teamwork.