With process participants and customers continuously interacting with the systems, at any particular time, a business has hundreds of processes running simultaneously. Be it a small business or a large enterprise, it is the organization's ability to keep running multiple processes smoothly and efficiently, which makes it successful.
The key lies in working smartly rather than struggling to get things in synchronization and waiting to reach a phase of fulfillment. There are several tools for each purpose that can help them achieve business goals and get processes in sync without any chaos.
Nowadays, most businesses have started using various apps to run their processes in an easy and seamless manner. And why not. If this small investment can give them great returns in the form of high productivity, ease of working, and good value in the market, every business should go for it.
When we talk about business apps, iOS apps have become a necessity for a business, the reason being the increased use of iOS devices like iPads and iPhones by people.
In 2018, 45.1% of smartphone users in the US were using iPhones. Till March 2019, the number of users reached around 193 million, and now it is increasing not only in the US but also internationally in several countries. This makes sense for businesses to use iPad apps in order to develop healthy communication with the customers and increase their online business through apps.
In this article, we will talk about some most useful iPad apps for business that can prove to be helpful for your business. We have brought some useful and authentic information about the iOS apps available in the market straight from the industry leaders in the market of iOS apps that are doing something distinctive in the marketplace. Let's start with defining iPad apps.
What are iPad Apps?
An iOS app or an iPad App is a software application developed exclusively for Apple's iOS-powered devices like iPhones and iPads. iOS apps can be downloaded through Apple App Store and are designed to be run only on Apple's iOS mobile operating system that powers the iPhone and Apple's iPad and iPod Touch devices.
Considering the increasing inclination of businesses towards iPad apps, one can see several business apps being launched each day. Many entrepreneurs, with a startup app idea, consult a technology partner, technical co-founder, or simply an iOS app development company to turn their idea into a fully functional product.
But before you also come up with an idea and plan to join hands with a product development company to build your app, have a look at the best iPad apps that have been a favorite among businesses for some time.
Best iPad Apps for Business
Here are some great iPad apps that are performing outstandingly in the market and helping several businesses to achieve their goals.
Zonka Feedback is a leading customer feedback platform that provides a seamless way to measure and customer feedback. With Zonka Feedback's iPad Survey App, you can run surveys and feedback forms on the premise, and get offline feedback from customers.
You can choose from a range of Survey Templates available or design your own iPad Surveys. Pick from over 30+ question types, add survey logic, survey languages, and white-label your surveys.
As feedback starts coming in, view them in your collaborative Response Inbox, add notes and tasks. Set up real-time alerts for your team to stay notified of feedback and address issues before customers churn. Also, get access to in-depth, detailed feedback reports and analytics to help you get an instant pulse of customer feedback and sentiment.
How is this app helpful?
Zonka Feedback is useful for all businesses looking at taking customer, employee, and patient feedback or running surveys and research. Some popular use cases include Customer Feedback, Employee Feedback, Event Lead Capture, Patient Feedback, Market Research, Field Surveys.
USP of the App: Flexibility of surveys, real-time alerts, and actionable analytics.
Pricing of the App: Subscription starts from $24 per month onwards.
Key Features:
Measure the right CX Metrics: Ready to use NPS, CES, and CSAT Surveys to measure Customer Loyalty, Customer Effort and Customer Satisfaction

Offline Survey App: Run offline surveys and take on-premises feedback without Internet. Data auto-syncs once connected to the Internet.

Real-time in-depth reports: Snapshot, Response Insights, Location-based Reports, Overtime Trends, Word Analysis, and more - get detailed feedback reports with Zonka Feedback.

Custom Feedback Alerts: Set up custom alerts based on survey responses and conditions.
According to Michael Nuciforo, "Thrive acts like a CFO in your pocket, taking care of everything a business needs." Thrive is an integrated business banking, accounting, tax, and lending solution that acts as the financial operating system of a business. Thrive automates and simplifies the bulk of financial admin tasks for SMEs, saving time, increasing productivity, improving accuracy, and helping SMEs grow and succeed through smarter access to capital.
How is this app helpful?
It acts as a financial assistant and does the tasks related to finances automatically thereby saving a lot of time and cost.
USP of the App: It saves time and cost by automating all the time-consuming financial tasks like monitoring your expenses, reconciling bills, and paying invoices on time, which frustrate business owners and distract them from their core business.
Pricing of the App: Base Account - Free. Premium features such as automated accounting, turbo tax, and invoicing are charged monthly. Fees vary between $5 to $15 per month for each premium feature.
Key Features
Smart Business Account - A beautifully crafted business account and debit card designed for SMEs.

Automated Accounting - Delivers AI-powered accounting, reconciliation, and bookkeeping to save business owners' time.

Turbo Tax - Smart tax forecasts and GST tracking handled instantly to keep businesses in control.

Professional Invoicing - Issuing and management of invoices with one click including automated payment reminders.

Credit & Lending - Streamlined credit and lending based on past and projected business activity.
Tracy Sheen, the author of "The End of Technophobia: a Practical Guide to Digitising Business" and better known as 'The Digital Guide' for small business owners, tells that 'What 3 Words' is a navigation app with a huge point of difference. The creators of the app have gridded the entire planet into 3m squares and allocated 3 unique words to each of the squares. The user of the app types in the location they want to travel to and find the 3 words to describe their location. This can then be shared with delivery drivers, colleagues, etc.
How is this app helpful?
The accurate direction location means your delivery team will never miss the turn for the loading dock again. It offers precise targeting of the location.
USP of the App: The big USP is the 3m gridding. Essentially this is useful if you need something delivered to a stage door, a loading dock, or somewhere not easily found on Google Maps.
Pricing of the App: The app is free.
Key Features
It helps to share the exact location: You can share the precise location of a table at a cafe for a meeting.

It helps to share the direct route for the location: You can share a direct route to a loading dock or obscure delivery location.

It helps to instruct people to move for the location: Direct people to a specific doorway for meetings.
According to Alex Halford, Sole App is an accounting tool designed specifically for freelancers and sole traders to organize their finances without the confusing accounting jargon. With a simple, clean, and intuitive layout, Sole App is the small business owner's best friend that cuts out the pesky paperwork and puts users in control of their finances so they can focus on doing what they do best. It is available for easy download from the App Store (iOS) and Google Play (Android).
How is this app helpful?
It makes it simple for small business owners to manage their money from their mobiles
USP of the App: Simple, clean, and intuitive layout.
Pricing of the App: Price is $14.99 per month
Key Features
Generating and Issuing invoices: It allows the users to generate and issue invoices on the spot resulting in faster payment.

Collating receipts: It allows the users to collate receipts for tax time.

Tracking Cash Flow: It helps the users to track the cash flow of their small business.
As per Marl Hayes, the Head of Marketing at Kintell, 'Dragon Anywhere: Dictate Now' is one of the most useful iOS apps for small businesses. This app lets you instantly dictate your documents in real-time, create templates, and produce a solid set of notes for you to take away from any meeting.
How is this app helpful?
For small businesses, this app will save a ton of time, and a ton on secretarial bills.
USP of the App: This is especially useful for businesses who want a written log of the itinerary without reviewing the recording or searching through meticulously. Instead, you can compile the transcription, send it to your computer, and easily search for what you're looking for.
Pricing of the App: Monthly Subscription: $ 14.99 per month billed every month. Yearly Subscription: $ 149.99 per year billed once a year. Free Trial of one week is available.
Key Features
This app lets the users
Dictating Documents in real-time: The app lets the users instantly dictate your documents in real-time.

Creating Templates - It helps the users to create templates.

Preparing Notes: The app helps to produce a solid set of notes to take away from any meeting.
Boris Abazher, the CEO of Triare says that at TRIARE, they subscribe to Agile principles, and therefore an app like Trello often comes in handy. It's a visual Kanban-based tool for project organization. It is used across all platforms so that everyone stays informed when cards are assigned, updated, and completed. Although, they do not use it as a primary software for Project Management, but for visually collaborating with the teams.
How is this app helpful?
It is helpful for the Project Managers to maintain checklists, labels, and due dates to follow the progress and the team members stay updated.
USP of the App: The USP of Trello is its flexibility and a recognizable interface. Cards and columns can represent whatever you want.
Pricing of the App: Many of the core features are free. Business Class Membership which allows more control and organization features for admins costs $12.50 per person per month.
Key Features
Easy Data Export - The app facilitates easy data export.
Templates - It provides templates that help in Project Management.
Automation of Actions - It helps in automating the actions to be done.
Add Ons - It offers various add Ons/Power ups.
According to Holly Zorbas, the Assistant Editor at CreditDonkey, the app 'Full Contact' can synchronize and coordinate contacts from numerous channels. Regardless of whether your contacts are in Google, Exchange, or your telephone or PC's location book, Full Contact saves them across the board place for nothing. Full Contact can even add Twitter usernames to contact profiles inside the application.
How is this app helpful?
Full Contact helps to find contacts easily through multiple channels.
USP of the App
It can synchronize and coordinate contacts from numerous channels like your Contact lists, Google, Exchange, or your telephone or PC's location book, and saves them across board places.
Pricing of the App: FullContact Starter Plan: $99/month. FullContact Plus Plan: $299/month. FullContact Business Plan: Customized plans. Free Trial is available.
Key Features
Syncing all Data: Syncs all the contact from multiple channels.

Can also add Twitter Usernames with Contact Profile: It can even add Twitter usernames to contact profiles inside the application.
According to Chris Taylor, Marketing Director at Profit Guru, Concur is an incredible app for following costs and giving repayments to representatives. It could be hard for entrepreneurs in a hurry to keep receipts for every small and big transaction, so Concur improved on this interaction by making a snap and document receipt framework. At the point when a client needs to record a receipt, they snap a photo and it's consequently transferred to Concur's framework.
How is this app helpful?
The app makes the process of expense management and travel management easier. Tasks like generating expense reports, matching them with the invoices and receipts, and approving of expenses have been made easier and quicker with this app.
USP of the App: Concur Trust Platform is secure with PCI Compliance, ISO and SSAE 16 certifications and data encryptions. Details like credit card details are never exposed or stored in the mobile device, it gets saved in the SAP Concur data center.
Pricing of the App: Concur application is free but offers customized membership plans for better features.
Key Features
Expense Report Management - Helps in functions like capturing receipts with your smartphone and uploading them, preparing and approving/rejecting expense reports, and employee reimbursement of expenses.

Travel Management - It helps in tasks like booking flights, rail, or hotels from your iPhone or iPad, managing itinerary, adding car mileage to an expense report.
According to Ethan Taub, CEO of Goalry, one of the best iOS apps for business in 2021 is Slack. At Goalry, they have been using it to communicate between internal teams and also with a number of their clients. Slack uses a secure network and helps you to send files with ease.
How is this app helpful?
It is helpful in business communication and has helped businesses, especially in the pandemic period.
USP of the App: The USP is the secure network.
Pricing of the App: The app itself is free, however, if you want the most out of it you can pay for a premium membership.
Key Features
Chatting - Slack helps to communicate with individuals and teams through chat.

Audi and Video Calling - It facilitates audio and video call switch individuals and group call sessions

Chat Notifications - Chat sends notifications of chat. You can opt to receive or not receive notifications for chatting in particular channels/groups. You also get email notifications of slack when you are not online and miss a conversation.

Data Sharing - With Slack, you can share data in the form of documents, files, images, and links.

Track History - You can track chat history with an individual or a group.
David Baddeley, Director of Scottish Trust Deed suggests downloading Clubhouse. Clubhouse is a Project Management tool for agile teams to plan, build and manage projects. According to David, it is a great tool for extending your circle of professional business contacts through relevant, interesting conversations. It helps in finding others you want to connect with, and it will be a great way to present yourself and sell your own expertise.
How is this app helpful?
Helpful in planning, building, and launching new products.
Its simple structure keeps the software teams happy and productive.
USP of the App: The audio conversation is a real USP and can help to create discussion that may never have come about writing on somebody's posts.
Pricing of the App: Free Version is available for 1-10 users. Standard Plan for 11+ users: $8.50 per feature per user per month. Enterprise Plan for 11+ users: $10 per feature per user per month. Free trial is also available
Key Features
Ease of Use - It is very simple and easy to use.

Issue Management - It helps in managing issues, escalations, and their resolutions.

Easy Project Management - With its Gantt/ Timeline view, customized templates, and Kanban Board, it helps in functions like Idea Management, milestone tracking, and resource management,

Task Management - It facilitates task management with features like To-do list, time-tracking, percent-complete tracking, and creating subtasks.
According to Oliver Andrews, the owner of OA Design Services, there are a lot of business apps for the iPhone or iPad and among them, Microsoft 365 Office Suit is one of the best picks for 2021. It offers business email and also includes well-known applications such as Word, Excel, PowerPoint, and OneNote. It also provides you with several business services, such as Microsoft Teams and SharePoint.
How is this app helpful?
This app is very useful for many areas of business like Document Creation, File Sharing, Presentation Tools, Task Management, and many more.
USP of the App: It is one of the most used and ubiquitous office software on the market today, and it's the cloud-based version that makes it easy to use from your iPhone or iPad.
Pricing of the App: Microsoft 365 pricing starts at $5.00 per month, per user. You can also get a free trial but not a free version.
Key Features
Microsoft Bookings - A scheduling tool to book appointments and meetings.

Microsoft Briefing email - It looks for actionable tasks in Outlook and it includes the top results in the email. Displays meetings along with the links and documents attached.

Microsoft Forms - It enables the users to create quizzes and surveys and also import them to Microsoft Excel.

Microsoft Graph API - It helps the developers to integrate their services with Microsoft products including Windows and Azure.
According to Julian Goldie, the CEO of Goldie Agency, Asana is the best app for Project Management that is available for iOS, Android devices, and desktop. Asana supports everyone on your team to stay oriented and prolific. The app enables you to allocate tasks to anyone on your crew via their email address and incorporates capabilities to build whole projects with due dates, subtasks, and notifications to the emails of related employees so that everyone is on the very page.
How is this app useful?
Whether it is about organizing projects or setting deadlines or managing individual tasks, Asana is the app for that. This iPad application helps in tracking, monitoring, and planing sprints, tasks, and projects with ease and transparency.
USP of the App: This app will assist you to stay on the pinnacle of everything that is going on at your company while you're away while letting you know who on your crew might have some bandwidth for a new project.
Pricing of the App: Price is Free.
Key Features
Setting Goals - It helps to set goals, make strategies and track progress.
Build Timeline - It enables you to build a Gantt chart within minutes.
Portfolio Management - You can monitor the progress and status of key initiates in real-time.
Workload Management - You can track how much workload is with whom and of which project.
According to William Cannon, the CEO of Signaturely, Google Analytics is a comprehensive solution for desktop and is now available for Android devices, and iOS too. It is helpful to maintain track of everything on your website and who is visiting the website. Everything you'd demand from conventional Google Analytics is there: real-time data, behavior, conversions, procurement data, and audience insights. As users resume to access the internet on mobile devices it's pleasing to know that you can make certain that your website is functioning as it should be while you're on the run.
How is this app useful?
The app is helpful to maintain track of everything on your website and who is visiting the website.
USP of the App: Apart from providing real-gtime analytics of the traffic, the app also helps in setting and tracking goals. Setting up campaigns, Adwords, SEO reports is also pretty easy with this app.
Pricing of the App: Price is Free.
Key Features
Real-time data - It helps to monitor activities on your websites. In real-time as the reports are updated continuously.

Procurement data - You can collect data from external sources and combine it with the data connected via Analytics through a complete view

Audience Insights - It automatically surfaces insights from your data on the latest trends, key changes, and other opportunities.
Rina Georgieva, Co-Founder & CEO of Enterprise League tells that 'Enterprise League' is the fastest growing business platform for startups and SMEs, having acquired circa 100K users in 2020 alone. Powered by a smart search algorithm, companies get recommended business opportunities tailored to their preferences. Companies use the platform to take back control over their finances and operations, reduce business dependencies like relying on middlemen, limited clients, weak supply chain, and more.
How is this app helpful?
Using this app, 59% of member companies get an increase in sales within 3 months.
75% Higher chances of companies reaching out for a partnership 6x Decreased time communicating with companies that are clearly not the right fit.
USP of the App: It's the fastest way to drive new business your way. Smart automated access to collaboration opportunities tailored to each company's needs. You can instantly publish a BUY or SELL deal and find new clients or partners to work with.
Pricing of the App: Basic Plan - Completely Free. Standard Plan - £14.59. Premium Plan - £74..89, these plans give extra benefits including PR services for companies.
Key Features
Business Directory: this is the place where you can search for companies based on numerous criteria

Deal Zone: Looking for something specific? Companies can publish a Deal explaining exactly what they're looking for.
According to Dr. Rebecca Heiss, the founder, and CEO of icueity, the app 'icueity™' is a continuous, ongoing 360 awareness review app that provides users with valuable, anonymous feedback from people they trust. icueity allows you to select three most prominent traits of themselves, rate yourselves on a scale of 1-10 on those traits, invite your friends, family, and colleagues to rate you and give anonymous feedback, and then compare your ratings with their ratings given by your trusted people to be aware of yourself. Acuity then helps to improve those skills with the help of various resources.
How is this app helpful?
The app works as a self-awareness app with which people get to know about their strengths and weaknesses.

It helps the employees to improve skills and increases productivity.

It shows the opportunities for growth that help to develop leadership qualities.
USP of the App: Rather than only give once-year feedback to someone, icueity enables the agile, adaptable feedback at a cost-effective price that allows continuous self-awareness for all.
Pricing of the App: 7 day free trial. Price is $44.99/year or $4.99/month or reduced rates for B2B depending on company size.
Key Features
Extensive list of traits - It provides an extensive list of 100+ traits/skillsets to choose the top.

Choosing People you Trust - You can choose the contacts/groups for each poll

Proper Comparison - You can compare where you rank and where other people rank you.

Measuring self-awareness- You can measure self-awareness on an ongoing basis with gap trackers for each trait and a lifetime measure of awareness

Tracking of Growth - Stay on track for re-testing traits after development training with prompts for re-testing/reassessing growth
According to Alex Savy, the CEO and Founder of SleepingOcean, the app 'Things 3' is a great task manager and his favorite iOS App. It helps him and his team stay productive and on track with their projects. This app is quite intuitive and super easy to navigate around and has a beautiful minimalistic design too.
How is this app useful?
This app helps users organize the work and other things to make help them make the most of their day more efficiently.
USP of the App: Things 3 is powerful enough and allows me to organize the time and tasks in more detail.
Pricing of the App: Price: $9.99 for iPhone, $49.99 for Mac
Key Features
Project Management - It helps in managing tasks of Project Management.
Calendar Events - You can see your Calendar events alongside a neat view.
Checklists - You can create checklists for your To-dos.
Progress Tracking - You can track progress on your projects.
Task Management - You can manage tasks and also add subtasks.
According to Saniya from the company Pilota, the app TrendTok Analytics provides AI-powered analytics for brands and businesses on TikTok to find, catch, track and predict the new and upcoming trends that they can use to showcase their products on TikTok. Businesses have been thriving by using TikTok to showcase their products and offerings.
How is this app helpful?
With the app users can:
Find Trends in their niche, location, or by top creators.
Get personalized trend suggestions for their content using our AI.
Save trends in-app to use for content creation later on.
See the number of likes, comments, shares, and estimated trajectory for a trend.
Increase their view count 3-6 times.
USP of the App: The app helps the users to 3-6X their view count by using TrendTok Analytics on their content.
Pricing of the App: The app is free to download and use. The Pro version is currently on sale for $10/annual (normally $60/annual).
Key Features
Discovering Trends - It helps to find viral trends around you, in your category.

Personalized Trends - It curates a list of trends suitable for you to use in the next videos.

Analyze and Predict New Trends - Its Artificial Intelligence algorithm predicts whether a certain trend is going to rise or fall.

Save TikTok Sounds and Trends - Save trending TikTok music and sounds you like and use them anytime afterward while making a video.
James from Connectify says that Speedify is a connectivity tool and VPN that lets you use all your internet connections at once to make your online experiences faster, more reliable, and more secure. Whether at home, work, or on the go, you can combine all of your Wi-Fi, mobile data, public hotspots, satellite internet connections. Speedify stops streaming emergencies, because it not only improves your internet connection, but it automatically detects, protects, and prioritizes real-time streaming traffic such as video calls and VoIP calls, live streaming, and gaming.
How is this app helpful?
Speedify makes it possible to maintain internet stability if in case one of your internet connections drops out.

It improves the quality of video

It reduces lag in gaming, and doesn't slow you down like other VPNs.

It gives you an encrypted internet connection to keep your personal information and data safe from prying eyes.
USP of the App: It is the only VPN or software tool that lets you combine all of your available internet connections into one.
Pricing of the App: Pricing starts at $2.99 per month with a three year plan.
Key Features
Unstoppable Streams - Speedify automatically prioritizes streams over other network traffic so you avoid stuttering, buffering, and disconnects - perfect for streaming video, VoIP or video conferencing, and gaming.

Real-Time & Historical Statistics - Keep track of how your Internet connections are performing and gain more understanding as to how Speedify uses them to intelligently provide better Internet.

Channel Bonding - Speedify can bond any combination of Internet connections and will intelligently distribute your online traffic between them for optimal performance.

Advanced Encryption - Speedify uses the latest ChaCha- or AES-based encryption algorithms, depending on device support in conjunction with DTLS. Not even the most experienced hackers could snoop on the traffic going through our VPN servers.

No Interruptions - When you're using Speedify, you automatically have an internet failover software solution up your sleeve. All you need is at least two available connections and you're all set!

Specific use cases include remote work, gaming, live streaming, online education, traveling, RV and van living, privacy, and protection against censorship, among others. It's useful for anyone who uses the internet.
According to Kristen Bolig, the founder of SecurityNerd, Blue by ADT is a useful app for any business owner looking to beef up their security. Blue by ADT allows users to remotely monitor their business to keep their company safe. You can arm and disarm company alarms straight from the app. The app also lets you monitor a live stream of your business and download recorded clips in the event of a security breach. Moreover, it easily integrates with smart devices like lights, thermostats, and more.
How is this app helpful?
Blue by ADT also allows you to customize your business security.
You can manage and set up custom alerts. This setting allows you to receive emails or push notifications on your phone based on things like noise alerts or motion detection.
USP of the App: The USP of Blue by ADT is that you can handle all of your security needs inside the app. It eliminates the need to be at your physical storefront to activate alarms, change security codes, or review video feeds. You can protect your business on the go.
Pricing of the App: The app is entirely Free.
Key Features
Easy to Use Interface - It has an easy-to-use interface. You can check in on your camera feed, status updates, and notifications at a moment's notice.
According to Bao Nguyen, Vice President at KMS Technology, Grove HR is the best free HR platform for companies who want to do HR smarter, develop and build meaningful relationships with employees. Grove HR can reduce time wasted on manual HR tasks, be accessible on the go, and provide a digital space for employees to engage and connect authentically, even in the remote work setting.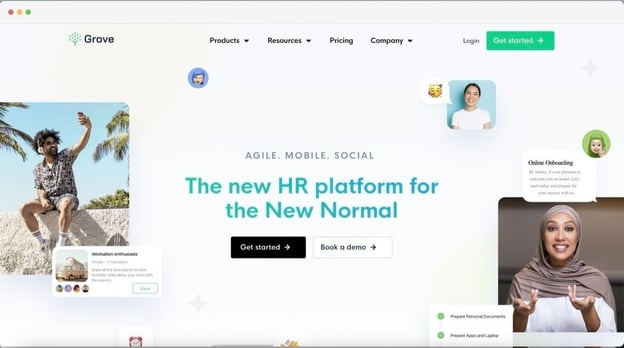 How is this app helpful?
Centralize and streamline all core HR processes from recruiting to performance management. Plus, it helps engage employees.



USP of the App: The USP of Grove HR is the full cycle HR solution on 1 single platform from recruitment, onboarding, time tracking, payroll, and more. It also has a 10/10 intuitive UI.
Pricing of the App: All core HR features are free. Employee Engagement and Performance Management modules are charged starting at $2.4 / employee / month
Key Features
Core HR: Including recruitment, onboarding, employee profiling, time tracking, leave management, payroll, performance management, and more

Mobile HR: A beautiful mobile-native app for your modern employees.

Social HR: Sprynkl - a digital space for employees to engage and connect authentically.
Build The Perfect iPad App For Businesses
We just scrolled through some of the best business iPad apps that have been making lives of so many corporations simpler. If you are also feeling inspired with this list and want to turn your startup app idea into a successful iPad app , now is the time to get started.
You can get in touch with the best iPad app development company to get started. Such companies can not just help you build the perfect app but also clear all your doubts surrounding the development process, technology selection, ideation, launch, and much more. Not just that, you can even hire mobile app developers to get started with the development process.
The right technology partner could help you scale your iPad app no matter what idea you have. And once your product is developed, you can see the dream of being among such list of best iPad apps.