What does your startup do to increase its profits? For most startups, the question remains where should they invest and focus first. It's always hard at the beginning. As an organization on a growth spurt, you need to establish a strong foundation. Aim to accumulate viable resources and invest in judicious use of resources.
Businesses often follow the method of 'outsourcing' to save both time and money with the intention of increasing their brand value at the same time. An interesting point here is that for outsourcing to work, you'll need to think of the IT outsourcing team as an extension to your organization than as an independent one. Being integrated will help in better decision making, something that we all look forward to when running a startup.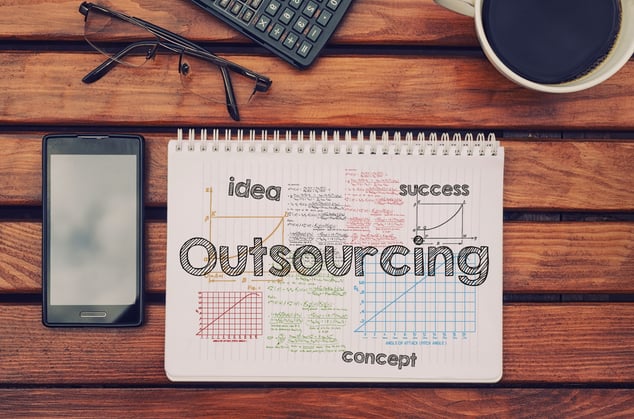 How Does Outsourcing Work?
Outsourcing web development, or any other project, helps reduce costs and time by transferring work outside the organization rather than completing it internally.
Here is how it works. If you're bad at baking a cake and you need to bake a dozen of them, don't bother yourself with the chemistry involved. You could rather approach someone who has an expertise in it and offer them a share of the sales in return.
Most startups for instance may not have a marketing team. Creating awareness and publicizing your product can be a tedious task and a very expensive one at that. How does an organization achieve the publicity they require with not experiencing a huge blow to their financial budget? It's simple, by simply outsourcing the task to an outsourcing company that has the expertise in that area. This would save both time and money for the organization.
Outsourcing Statistics
Finding the balance between cheap labor and quality work can be difficult for an organization. Many organizations look to outsource to India or other countries such as China, Philippines, etc. as they offer cheap alternatives. However, do not follow suit blindly – ask yourself if your startup really needs to outsource the work. Remember, there can be a considerable time difference which can work both to your advantage or disadvantage.
As an industry, outsourcing has observed a dramatic increase over the last decade, and recent statistics shows that more than 2 million jobs were outsourced in 2013.
• 43% of the IT sector was outsourced.
• 26% of the distribution is now taken care of offshore.
• 12% of call center jobs are found overseas.
• 38% of research and development (R&D) is taken care of by workers outside of the country.
Top companies like IBM, Dell and Cognizant all outsource by the thousands. In fact, IBM outsourced as many as 63,000 jobs in 2013.
Reasons to Outsource
So, why should you outsource? For startups, outsourcing offers a number of advantages. Your reason for outsourcing may not be the same as the multinationals. You're looking for growth and your reason for outsourcing should be to help you focus on the more important tasks, while getting increased returns. Here are three top ways outsourcing can help you.
• Lower operational and labor costs.
• Increase productivity.
• Freedom from Infrastructure and Resource Maintenance issues.
Tips for Newbies in the Industry
As a startup, you really need to look to maximize your returns. Here are some tips -
• Know what you are looking for
Think about what you actually need, who can do it for you and the stakes involved. Never jump into making contracts with suppliers who cannot offer the right returns.
• Do not go for cheap alternatives
As good as it seems to save some money and to go for one who is ready to settle for a lower price, more often than not it can turn out the wrong way. One of your objectives to outsource is to maintain quality. Without it, you can lose out on the project and have delays that were otherwise avoidable. With a low budget, you may not get a web or software development team who is experienced enough for your needs.
• Hire those who are Reliable
Nothing beats the satisfaction of obtaining good results from companies and individuals who get the work done in the way you wanted it. If you are not satisfied with the suppliers work, there is no point to continue.
• Certainty is important
Remember that your mother once told you not to jump onto the first thing that attracts you? Well, she was right. Do not pick your choice straightaway. Look at whom you can potentially outsource to and have a look at their portfolio. You can even get in touch with their former clients, asking them about their experiences.
• Communicate
Rome wasn't built in a day. You need to communicate well. The organization you're outsourcing software, web or mobile app development to needs to be familiar with the company's interests and understand what it requires from them to deliver optimum results.
• Check and review periodically.
Keep a check and review the progress done by the organization to ensure optimum utilization.. If the outsourced work is not meeting the standards set by you, you need to rethink your strategy.
Outsourcing Advantages Vs. Traditional Working Advantages
| | |
| --- | --- |
| Advantages of outsourcing. | Advantages of traditional working. |
| Cost effective and trusted to produce higher profits. | No threat to security and confidentiality of the company. |
| | Companies can exercise good control over their working staff and can make sure that they get their desired results with lesser delays. |
| Outsourcing enables the organization more time to strengthen their core business process. | Liability is ensured in traditional working methods. |
Treading Carefully
Outsourcing has now become one of the surest ways for fast development for newly established start-ups and organizations. If you're looking to scale up quickly, you may even be on the lookout of an outsourced partner who can help you with all your outsourcing needs. The approach can save time – many technological firms like Oculus Rift do the same.