86% of the companies
will run using SaaS apps solely after 2022. How can you hope this train and build a cost-effective SaaS product faster?
With budget constraints and shorter timelines, most product developments don't reach the fruition they were meant for. One way most startups, enterprises, product companies, and other SMBs are effectively transforming their product ideas into working products is by outsourcing product development.
Outsourcing provides them the freedom to scale whale eliminating any pressure of growth from the in-house teams. They can choose a product development outsourcing company and discuss their product ideas to get them started on building it. Apart from that, offshore product development companies can also on board in the middle of a product in case they need more tech support to scale and expand their product's features and functionalities.
Before jumping into the main considerations about outsourcing product development, let's start with a briefing about this process. Also, you will find out why so many companies are now joining hands with offshore product development companies.
What Is Product Development Outsourcing?
In layman's language, product development outsourcing means getting the product delivered by an external team sitting somewhere outside your region. Not only do you delegate the extra work to an external team, but you also add expertise to your product by outsourcing its development. For product development outsourcing, you need to analyze your complete product idea, technology gap, missing resources, cost, and other things to come to a decision. The offshore product development company acts as a technology partner, offering complete development services along with adding their expertise.
Watching the success stories of multi-billion products like Slack, Github, Whatsapp, Groove, and many more, several startups, product companies, enterprises, and other businesses are showing interest in outsourcing.
An experienced development partner
Reduced strain on the in-house team
Freedom to focus on the core business competencies and growth plan
Ease and flexibility to scale the product development teams up and down
Quicker development with round-the-clock work due to timezone differences
Lower cost of development as you save on added benefits, infrastructure, etc.
Enhanced capabilities with a fresh set of eyes and new perspective
Access to the latest technology without any compromises
Indeed, there are several reasons why outsourcing digital product development is fast gaining popularity. Yet, not everyone shares a positive experience about their outsourcing endeavor. For a successful outsourcing relation, especially when outsourcing product development, there are some things that one should keep in mind. Let's talk about them now.
Things To Consider When Outsourcing
Outsourcing is a beneficial practice used by businesses to achieve several goals. Be it growth, scalability, increased profits, reduced costs, or any other business goal, outsourcing can help businesses achieve it. However, when joining hands with an offshore product development company, there are some things you should consider first for a successful product endeavor. Let's read more about them.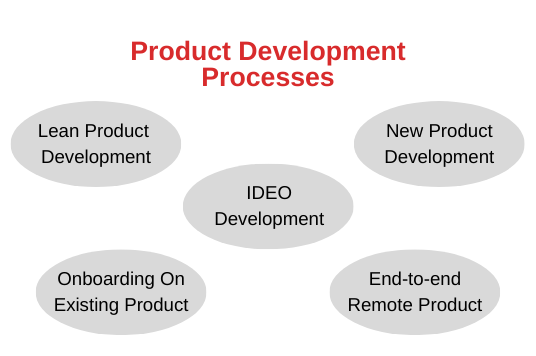 #1. Ability To Expand
A product may need just a small team of two developers, a quality analyst, and a project manager or it may need more developers, designers, testers, QA, senior developers, and much more. It all depends on the complexity of the product. However, even a single product may have varying needs.
So, before you choose a company to outsource product development, check out their team size and the tech-heads onboard their ship. This would ensure that they are capable of expanding as and when needed. They should be offering you the required team and have the technical expertise and the resources in place if you need to expand.
Think of it yourself:
Would it be convenient to look for new companies whenever you need to search for new tech talent for your product development?

Or would it be convenient if the company you are already outsourcing to has the ability to provide new developers or any new technology expert whenever you need it?
The second one is the more convenient choice. So, you must act smart and check out the company's ability to expand before getting into any outsourcing relation with them.
#2. Technology Capability
Any new product owner would want their product to be integrated with the latest technology. It could be artificial intelligence, data science, machine learning, automation, or any other latest technology. You would want your product to have some functionality of these techs in it to engage with your digitally-conscious users.
Hence, it is always advised to search for an offshore product development company with the technological capability you require. Otherwise, it could be a hassle looking for a technology partner or an expert in case you need to add new tech expertise to the product.
Not just the latest technology but also the technologies they are working on is imperative to look at. They should have the capabilities to work with the latest frameworks and the technology versions to ensure your product is up to date and does not find any security threat due to older versions.
Imagine if you are working with an offshore product development company and you need two data science experts in your team to add this latest functionality to your product. However, the outsourcing company you have joined hands with isn't capable of providing the same. This could be a setback for your product as either you would have to find an external expert or might have to let go of the feature for the time being.
#3. Development Methodology
The next parameter to check is the development methodology. There are different types of methodologies like waterfall, agile, kanban, etc. You need to check that the company you are joining hands with follows the same type of development methodology. It could create issues in the collaboration. You need to be sure that the external company's development methodology matches yours.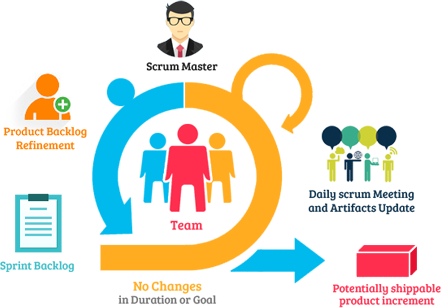 Agile is the working methodology of choice when it comes to getting work done by offshore or remote product development teams. Today's developers are usually agile practitioners that break the complete software development life cycle into different sprints. This ensures that each development sprint is done and reviewed by you.
#4. Past & Current Projects
This is one of the most crucial aspects of any outsourcing project. Whenever you start your search for an outsourcing company for product development, there is a pressing need to look at their past and current projects. You need to be sure that they have experience of working on projects similar to yours.
You need to check their portfolio to analyze if they are competent enough to work on a product with that level of complexity. There are several projects that any product development agency must have worked on. By checking their portfolio, you can ensure whether they have the required technical capabilities and expertise to handle your product's development or not.
#5. Product Complexity
When planning to outsource product development, the complexity of the product is the first thing to keep in mind. It is easier to outsource product development when the product isn't too complex or has a simple UI or doesn't have too many pages. However, when the product is complex and has more screens or integration of new technologies, you need to be more mindful of the outsourcing relationship.
Depending on the complexity of the product, you need to be more careful about the team you choose for your product development outsourcing. It should have the required tech talent, expertise, experience, and other requirements to build the complex product.
#6. Business Reputation
This one goes without saying. One should always check the reputation and the reviews received by the company. This would tell a lot about the level of trust you can have in them. Any reputed company offering product development outsourcing would have good reviews and rafting on different online review platforms. Moreover, check out the testimonials that they have added on their site to know how their clients feel.
Several fraudulent companies are now operating across the globe and looting businesses off their hard-earned money. You should be wary of such firms and ensure that you are joining hands with reputed firms only.
#7. Engagement Model
There are different engagement models offered by outsourcing companies. Some companies let you only hire dedicated developers. Others may offer you to build complete dedicated product teams. Others may offer you end-to-end product development. Depending on your requirements, you need to check what type of outsourcing company you want to join hands with and what type of engagement model they have.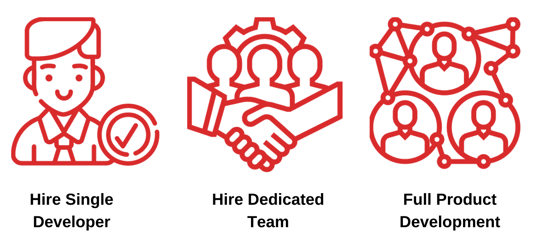 The best is to join hands with a company that has all three models. This way, you can have the flexibility to expand or scale down your team as per your business requirements.
#8. Point Of Contact
The next important consideration is regarding the point of contact. There are many outsourcing relations where you are asked to collaborate with the developers individually. This could cause hassle for many product owners or organizations getting their products developed at offshore locations. You need to check the point of contact they are offering for your outsourcing relation.
It is advisable to go with a firm that needs minimal supervision. The company you decide to outsource your product development to should have a project manager with whom you communicate regarding any type of requirement for your product. This would make collaboration seamless and much easier.
#9. Costs Included In The Contract
Driving down the development cost was one of the top reasons why organizations started outsourcing in the first place. That and talent shortage of course. However, in the past few years, saving costs lost prominence, and quality and agility in development took the front foot. However, 2020's global survey by Deloitte states that 70% of businesses outsourcing again consider cost as the primary objective driving outsourcing decision. Obviously, one cannot neglect this factor when planning to outsource product development.
When it comes to costs in outsourcing product development, there are some things that you need to analyze. Make sure you are clearing out all the costs included in your outsourcing contract. They might have hidden costs that might escalate the overall costs of your outsourcing venture. Usually, outsourcing costs include the following:
Cost of the fees/salary of the product developers on board the project
Cost of SSL certificate and outsourcing contract
Cost of knowledge transfer
Cost of hiring or finding the right offshore product development company
Cost of server management
Before outsourcing product development, one needs to keep all these costs in mind.
Start Outsourcing Product Development
Outsourcing is certainly a great practice to gain a competitive edge with a more cost-effective development. But you need to tick off all the points from your checklist before joining hands with any outsourcing product development company.
Classic Informatics has been appreciated by all its clients for offering unmatched quality at a cost-effective price. We offer all the engagement models that a product company, startup, or enterprise, could need for its product development outsourcing. They can build teams, hire developers as an extension to their in-house teams or get end-to-end product development outsourcing with us.
With over 300 technology experts on board, we can help build products of all scale. Apart from that, we keep adding new tech experts to our team to stay in line with the latest technologies and their newest versions. You can share your requirements and a slight idea of your product with us and we will get back to you within a few hours.