Apps have gone beyond being used just for communication, socialization, and gaming. Now businesses have started investing heavily in B2B Apps to organize their processes, fast-track operation, and offer a location-agnostic experience to its people, especially during remote working.
Mobile applications enable businesses to equip their teams with the right tools to connect with customers or even work as remote working tools to collaborate better. These Business apps help companies across all domains - software development companies, healthcare institutes, marketing firms, manufacturing companies, and much more.
Not only do these apps streamline processes but also make work more efficient and effective. Business owners are using apps to closely monitor various critical tasks like managing employees, taking quick business decisions, marketing products and services, managing sales, identifying risks, and so on.
According to The Wall Street Journal, the number of software apps deployed by large firms across all industries worldwide has increased 68% over the past four years, reaching an average of 129 apps per company by the end of 2018.
Here we have put together a list of 40 Best B2B Android Apps for your business in 2021 that can save your time, money, and improve your productivity.
Zonka Feedback is an easy and effective way to measure feedback, run surveys and create amazing Customer Experiences. With an easy-to-use Survey Builder and professional templates, you can effortlessly create and customize surveys, add your company brand colors, logo, and more. Measure Customer Loyalty, Customer Satisfaction, and Customer Effort with NPS Surveys, CSAT Surveys, and CES Surveys.
Make your surveys more intelligent with survey logic and add survey languages. Take feedback from customers wherever they are using multiple survey channels - offline survey kiosks, mobile surveys, email surveys, SMS Surveys, Survey Links, QR Codes, and Web Surveys.
View your Survey Responses in a Collaborative Response Inbox, take action to close the feedback loop, and view in-depth analytics to understand customer sentiment and grow your business. Set up custom alerts for your team and integrate with different tools you use to create workflows and do feedback management on steroids.
Features
Fully Customizable Surveys: Ask any questions, add survey languages, edit the theme, add survey logic.

Multiple Channel Feedback: Take feedback on multiple channels - offline using touchscreen devices, online with Survey Links, QR Code, Web Embed and remotely using Email and SMS Surveys.

Integrate with tools you use: Build workflows by integrating with different software including Slack, Google Sheets, Zendesk, Freshdesk, Help Scout, Intercom, Hubspot, Zapier, and more. Use Webhooks and APIs to create your own workflows

Insightful Feedback Analytics: You can analyze the survey responses quickly and efficiently through real-time reports, email digests & instant alerts for new feedback.

Collaborative Inbox - Zonka Feedback's Response Inbox smartly analyzes feedback data that enables you to convert them into tasks and work closely with your team to resolve the issues.

Take Action & Close the Feedback Loop: You can directly or indirectly address all the issues or concerns of the customers providing them with solutions. This helps you to change their perception and close the feedback loop.
Scan to Salesforce is a free app from SaaS pioneer Sansan, Inc. It solves the simple but overlooked problem of getting business card data into the Salesforce CRM (and into Pardot campaigns). Most SFDC users still do this manually.
Features of Sansan:
Instantly and accurately scan business cards and upload them to Salesforce.

Scan up to 4 cards at a time, in 16 language map fields, and process cards in batches.

Validate and normalize addresses associated with Leads with Campaigns and sync them with Pardot.

It's especially valuable for field teams and sales and marketing reps.
System administrators can monitor, manage and control hundreds of Android smartphones and tablets from a single console. And the best part is that IT admins can manage mobile devices distributed across geographies from a remote location.
Features of Scalefusion Android MDM solution
Manage physical security threats with remote wipe capability to delete corporate data and apps from a lost or stolen device.
Troubleshoot devices remotely by using the remote cast and remote control function.
The Android kiosk mode can turn any Android smartphone or tablet into a restricted device with single or multiple apps for work.
The device inventory feature makes it easy to gain device information, location, installed apps, and more.
Rodeo is an app that aligns your team and eases your workflow. Budgets can be prepared and approved with Rodeo, while other features focus on estimates, project planning, and time tracking. Moreover, you can finish up by sending out invoices and gain insights from the reports.
Features of Rodeo App:
Enables you to track the time

Provides a collaborative platform for project planning

Help to plan for Estimates and Budgets

Provides Invoicing in PDF

Ensure real-time Reports
Quickmail.io App consistently achieved 89% deliverability. It helps you to send and manage cold emails from marketing automation tools (Mailchimp) or CRM (Salesforce). This app enables you to send personalized cold emails on a large scale.
Features of Quickemail.io:
Instant notification when a recipient has opened an email.

Unlimited ways to personalize an email.

Warm-up new email accounts (sending emails at a slower rate initially).
Social Status is a Social Media analytics and reporting tool which enables marketers and business owners to understand and report on the ROI of their social media marketing. Social Status supports Facebook, Instagram, Instagram Stories, Twitter, LinkedIn, and YouTube. With Social Status, you cannot only track all your pages and profiles together in one place but also automate social media reports in PDF, PowerPoint, and Google Slides.
Features of the Social status:
Enables you to track all the pages and profiles you have given admin access to.
Allows you to connect your Facebook Ad Accounts and report on your ad performance.
Helps you to benchmark your performance against competitors on social media.
Enables you to track the performance of your influencer marketing.
Export reports to PDF, PowerPoint, and Google Slides
Surfer SEO is a content intelligence tool that allows you to use data to optimize your content. Using sophisticated NLP algorithms and machine learning, Surfer provides you with the best suggestions of keywords based on your competition. This user-friendly and intuitive app offers a far more enjoyable user experience.
Features of Surfer SEO:
Offers content editor that compiles a list of suggested keywords based on one main keyword you put into it.

Provides Content Planner. You just need to enter a keyword, and after a few seconds, you get a complete content plan for months to come.

Ensures Page Audit that helps you to assess whether your page is optimized properly.

Provides SERP Analyzer to analyze and compare your page. This one is largely helpful with competition analysis.
OnePitch takes the guesswork out of pitching. Their patent-pending technology delivers a precise media list for every pitch, every time. This helps you to identify the most relevant journalists to pitch by providing a "Pitch Score" which examines how closely a pitch relates to the articles a journalist has previously written. OnePitch provides a precise media list for every pitch you submit.
Feature of OnePitch:
Whether you are a pitching professional or a startup/founder who is new to the PR space, OnePitch makes it easy to identify the most relevant journalists your brand, or client, should be connecting with.
Zapier is a tool that allows you to connect different apps and automate repetitive processes. This is done by creating workflows - known as zaps - that connect a trigger with one or more search or action steps. By doing this, businesses can save valuable time and money, by reducing time spent on manual operations to zero.
Features of Zapier App:
Provides intuitive Zaps Dashboard

Ensures Zapier Editor to edit, add, or delete the tasks.

Provides a Task History module to track the journey of tasks.

Ensures Zapier Formatter and Custom Logic Paths to improve the workflow.
Amaka provides accounting integration software designed by professional CPAs, tax agents, and certified experts in Xero, QuickBooks, and MYOB. it connects your POS system or e-commerce system to accounting solutions including Xero, QuickBooks, and MYOB. it automatically syncs sales and payments totals to an invoice every day.
Features of Amaka:
Automatically sync sales and payments data to an invoice, no more daily data entry

Easy reconciliation, save hours every week with our extremely simple process

Historical sync, back sync your data to keep your books in check

Group data by-products or categories to get the most out of reporting capabilities

2-Minute Express setup, Advanced setup, and Guide setup (free call with our support team) options.
Slack is a great application that makes team management a breeze as it can be used on almost any of your devices. It's a channel-based messaging platform, however, internal apps within Slack can allow you to do so many things.
Features of
Slack:
Slack makes it a breeze to decide on a specific time for meetings that are ideal for all parties.

Enables you to track employee vacation days, sick leaves, and national holidays.

Allows team managers to easily reject or accept sick leaves or holidays through the app with just a click.

Enables you to effectively assign tasks, schedule meetings, and organize projects all without leaving the application.
SocialTable is a social networking platform that's reimagining Friday Afternoon Drinks to help businesses reengage remote staff. This socialization App helps you to focus on creating and strengthening connections within your employees. SocialTable App has a matching algorithm that tells you to meet people that you 'need' to know. This helps your company to improve employee engagement.
Features of SocialTable:
Remove unconscious bias

Educate through a master-sommelier led tasting

Connect you with like-minded people through our matching algorithm

Share your story, highlighting what makes you unique and special

Create connections across your company globally so that you have a stronger team who are more efficient and feel valued.
isLucid is an ingenious Microsoft Teams application. Based on an AI solution that automatically transcribes conversations from conference calls in real-time. isLucid creates meeting minutes and captures tasks and commitments which then you can integrate into your favorite management software (Atlassian JIRA, Azure DevOps, MS Planner). The application includes 7 Different language recognition: English, Spanish, French, Italian, German, Lithuanian, and Russian.
Features
of isLucid:
Enables you to instantly capture assignments in seconds after somebody mentioned what is important to do.

Helps you to quickly transfer information to Project management tools with a single click, all team members get informed instantly when a task is created.

Provides instant access to meeting minutes to save meeting documents which then can be downloaded and edited.

Ensure complete data security by pausing the transcription on sensitive topics or personal discussions.
Buffer app enables you to manage your social media business activities on different social media platforms that include Facebook, Twitter, Linkedin, and Instagram. Buffer App enables you to easily manage all your business social media activities in a single app and schedule social media campaigns. It also creates paid ads and analyzes the statistics of your posts and campaigns to boost them.
Features of Buffer App:
Helps you to manage the scheduling of your social media posts.

Enables you to create campaigns and schedule them.

Ensure real-time social media analytics to check the performance of all posts individually and optimize them for better results.

Enables you to create short links for your campaigns and posts.
Taskeo's appointment is a better way to get more sales meetings booked effortlessly and manage them the smart way. The fully customizable online appointment scheduling forms allow you to cut out the email shuffle and optimize your meeting management with automated reminders and built-in CRM integration. It offers highly customizable appointment scheduling forms with Zoom, Stripe, Webflow, and WordPress integrations.
Features of Taskeo:
Provides Appointment Scheduling Module that helps you to get more meetings booked faster - through a link or an embeddable widget.

Offers a built-in CRM solution for maximizing client management efforts and increased revenue.

Enables you to save time and energy spent arranging and managing your meetings

Provides other features like Meeting Types, Zoom & Stripe integration, Group Events, Automate & Customizable Reminders, Branding & Personalization.
HubSpot is one of the best business-to-business apps that any business organization should use. It is a huge inbound marketing software platform that offers you multiple tools like a content management system (CMS), a marketing tool, a sales tool, and a customer relationship management (CRM) system. It has integration features for salesforce.com, SugarCRM, NetSuite, Microsoft Dynamics CRM, and others.
Features of HubSpot:
List tool to segregate tasks, leads, and priorities.

Workflows to help organize your team based on tasks.

Pipeline Management to help you stay on top of what deals are currently in the works & how far along they are.

Predictive lead scoring to help figure out which leads will get you the most engagement.
Ganttic is a resource scheduling and project portfolio management B2B SaaS. Use it to manage people, projects, or resources, and create plans with your unique data. Simplify your workflow and enhance transparency with its high-level visual overview. Gantt charts, Kanban boards, reports, and graphs can be updated and shared with anyone instantly- keeping your team, stakeholders, and clients in the loop and on top of changes.
Features of Ganttic:
Ensures a secure and user-friendly cloud-based platform to plan and manage the project efficiently.

Ensure Multi-project planning and overview that helps you to control the workflow and design.

Provides flexibility of scheduling meetings through drag and drop Gantt chart scheduling module.

Provides API and Zapier integrations.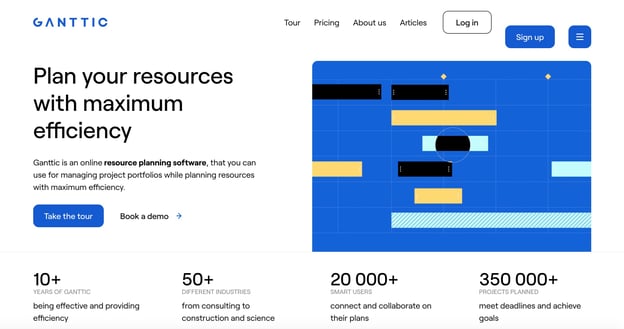 ProofHub is a cloud-based project management and team collaboration platform. The app is loved by more than 85000+ teams and businesses from around the world. As an all-in-one app for managing teams and projects, ProofHub helps managers plan their projects, collaborate with their team members, communicate in real-time, keep track of how they are spending their time, organize their files and notes, set deadlines, and stay on top of everything.
Features of ProofHub:
Custom workflows and kanban boards
Gantt charts
Online proofing
Real-time discussion
Group chat
Unito is a workflow management solution that allows you to build alignment, ease collaboration, and optimize the flow of work across teams and tools. Unito App provides teams with the flexibility to use the tools they want by providing two-way integrations between tools including Trello, Asana, Airtable, monday.com, Jira, Wrike, ClickUp, Teamwork, GitHub, GitLab, Bitbucket, Basecamp, Zendesk, and HubSpot.
Features of Unito App:
Visual workflow designer, with an easy-to-use grid interface, field mapping, rules, automation, and a host of other settings that let you control the flow of information and shape your workflow to fit your unique business process.

Deep integrations that allow you to share as much, or as little information as you need. No-code syncing allows for an easy setup when integrating 2 or more tools.

Enterprise level security, meaning we do everything to ensure our customers' data is safe.

With easy reporting and alignment, with Unito's cross-tool data, managers can manage remote teams better by gaining actionable insights on team activities. Agency: agencies are better able to collaborate/communicate with clients.
The ZoomInfo Mobile App offers ZoomInfo customers extremely accurate B2B contact and company information while they're on the go. It helps your business identify, engage, and close deals faster, no matter where you are. From a scrollable, real-time feed covering changes at accounts to diving into a contact's employment history or colleagues in your department, ZoomInfo reduces the research time for sales teams and provides actionable B2B contact and company information in one convenient place.
Features of ZoomInfo:
Sales teams can also send ZoomInfo's B2B contact and company information from the Mobile App to their Salesforce instance.

It's just one of the many ways ZoomInfo helps businesses grow. With the ZoomInfo Mobile App, take action and cold-call a prospect directly from your phone while on the go or out in the field.
Goodshuffle Pro seeks to be the central nervous system of the events industry. This all-inclusive B2B app covers every step of the event process for event professionals. With Goodshuffle Pro, you can track all the necessary information like inquiries, sales, communication calendars, staff scheduling, rental inventory, and tracking, etc. in a single place.
Features of Goodshuffle:
Control your sales.

Inventory Management Quotes

Contracts Billing and Payments

Team Management
Creatopy.com is a visual content creation platform designed to ease and automate your work. You can create static and animated designs and videos, which you can download in multiple formats to use online and offline, according to your design needs. Creatopy.com has many integrated resources, including stock photos and videos, templates, illustrations, masks, shapes, icons, and presets.
Features of Creatopy:
Enables you to create designs from anywhere, providing easy access to the platform.

Allows you to multiply and scale your designs instantly.

Helps you to organize users in teams, assign them to projects, groups, and add comments.

Helps you to incorporate the essence of your company and its brand identity in every design, environment, and market.
CocoSign is a secured and easy-to-use digital signature app for businesses and individuals. To streamline your business operations such as contract signing and document signing, this electronic signature tool could be a very useful B2B aid. CoCoSign has a well-deployed security mechanism that offers enterprise-grade safety to your business data.
Features of CocoSign:

Encrypted document and signature storage

Easy Drag-n-drop functionality

Share documents and Invite People for Signing

Professional Templates for various purposes
ExactDocs is an intelligent document automation, generation, and template management platform that seamlessly creates documents through customized templates and auto-generated data. This B2B App tackles complex business problems, such as reducing the risks associated with using out-of-date and non-compliant documents, improving brand identity, reducing errors and time wasted on laborious manual processes, and improving collaboration & productivity.
Features of ExactDocs:
Ensures guaranteed compliant documents every time

Enables you to manage and control company templates.

Provides 3rd party data sources and apps, such as Dynamics CRM and the InRule Decisions platform

Helps you to upload bulk data from CSV files.
Treepoints provides an emissions calculator that curates a business's footprint and enumerates it into a profile, where you can see your personalized stats, points accumulated over time, current balance, and the opportunity to refer friends. Also, Treepoints has built an API that can be integrated into external businesses ' websites in customer booking flows either directly or as a Shopify plugin.
Features of Treepoints:
Enables you to determine figures by using a specially designed calculator on the website, powered by data from authorities like the World Bank and the World Wildlife Federation.

Helps you to earn reward points that depend on your chosen plan, and also by referring friends and employers.

Provides API which can be integrated into external business's websites in customer booking flows either directly or as a Shopify plugin.
SimpleMarketing.AI's Content Engine is a web app using the world's most advanced natural language Artificial Intelligence (AI) to generate original and unique marketing content for small businesses that are struggling to attract and engage customers. It helps you to develop high-quality LinkedIn, Facebook, and starter blog posts in seconds from a few key phrases relevant to the business.
Features of SimpleMarketing AI's App
Ensures easy registration and setup that enables businesses to generate original content in minutes.

Provides different content types - blogs, Facebook, LinkedIn, emails, and Inspirations.

Enables you to schedule a content calendar and plan accordingly.

Provides access to a range of video, audio, and text-based training materials to leverage the content.
The LIFE Intelligence app is one comprehensive tool to do and feel your best. A complete employee wellness + development resource, LIFE helps users manage their stress and anxiety, improve work productivity and build healthy, lasting relationships. Using this emotional intelligence app, you can quickly identify and track emotions on a detailed level, then gain expert advice on how to master each mood.
Features of LIFE Intelligence App:
Provides science-backed insights and introspective prompts.

Helps you to understand the feelings of your employees and escape mental ruts in minutes.

Enabling you to manage the moods through cognitive behavioral therapy to handle any situation.
Asana is a great and user-friendly app that allows you to schedule meetings and task deadlines to specific individuals, allowing uploading attachments, having an easy follow the conversation, as well as being able to easily add and remove other employees who need to be looped in for brief periods.
Feature of Asana App:
You can host as many different projects as you need to, further simplifying the layout for employees to find the relevant information to them.
Airtable provides the collaboration usefulness of Google Sheets, but with a user experience and interface that is about 10x better. Airtable provides an all-in-one platform for the content pipeline, project management, and even social media posting schedule.
Features of Airtable:
Enables you to directly comment on items within the spreadsheet.

Provides a cool feature where you can click on a cell within the table, and it will pull up an activity popup, where you can view team members' comments and updates.

Ensures a clean and easy way to collaborate and communicate with team members in real-time.
For any B2B business platform, it is greatly essential to have a secured CRM with them to maintain sales efficiency and productivity. Salesforce can be an unbelievable choice if you need a durable CRM development solution. This application has also created the necessity to hire dedicated developers.
Features of Salesforce App:
Salesforce proposes a desktop version as well as a portable (mobile) version with it so that you can comfortably switch the situations. Its mobile interface ensures that sales are staying successful and profitable.
NuovoTeam PTT is an efficient way to keep your field and frontline teams connected on the go in a quick and hassle-free manner. When working remotely in industries such as construction, mining, logistics, etc. emails and phone calls backstep. NuovoTeam allows users to turn their Android smartphones into walkie-talkies.Make walkie-talkie-like instant push-button PTT calls using cellular networks such as 3G, 4G and WiFi, send important business attachments over the air and leverage an easy-to-use remote communication app for your business.
Features of NuovoTeam PTT:
Push-to-talk connectivity: Simple user interface with easy press-to-transmit connectivity. No hassles of dialing numbers or typing long messages.

1-1 or 1-many communication: Make 1-1 calls to an individual person or create public or private channels to leverage group PTT communication.

Multi-media sharing: Send text messages, images, videos and business documents over the air.

Location tracking: Keep a track of your distributed workforce with location tracking and leverage polygonal geofencing.

Employee management: NuovoTeam offers a comprehensive command console that helps managers to keep a track of their employees' performance, attendance, work hours, etc. remotely.

Desktop PTT: Stay in touch with your field workforce directly from your desktop. Make PTT calls from your desktop, PC, Linux or any machine that has a Chrome browser.

Replay PTT messages: Never miss out on an important message. Replay previous PTT messages and access PTT history.

Broadcast messages: Create broadcast channels to conduct barge calls for emergency or SOS communication.
Building A Business App
We just had a run-through of the top B2B business apps there are in the market. All these apps started with an idea. They were a mere thought before the entrepreneur or the SMB or the enterprise decided to convert it into a full-blown app.
This requires a complete app development process. If you are also planning to build a business app, here is a step-by-step process for the same.
Step 1. Product Ideation & Concept
The first step to building a business app is to start with ideation. This is where one needs to research the app idea that they have and get started with getting validation for the same. This step is essential to ensure that there is a market need for the app.
This is where you analyze the requirements and establish a strategy for the development. You bring together the team of developers, designers, QA engineers, and others to brainstorm the idea. Ensure that the idea is solving a business problem prevalent in the market and there is something the app is offering that makes it stand out.
Step 2. Specifications Planning
The next step in building a business app is about planning the specifications. This step is important as the specifications in the app will determine the technology stack that will be required to build it. You also need to analyze the features that are essentially required in the app, even if you are building an MVP. The first features determine if the app would leave a mark on the early adopters or not. Moreover, this step also helps determine the flow of the app and how the users would navigate after entering the app.
Step 3. Wireframing & Prototyping
Once the specifications are marked out, the next step is to create a wireframe or a prototype. This is the sketch or plan of the business app in black and white. This wireframe enables the app development company and the client to analyze the design and get approval for the same. This sketch is a representation of the actual app. Once this is approved, the designers get started with the design process of the business app.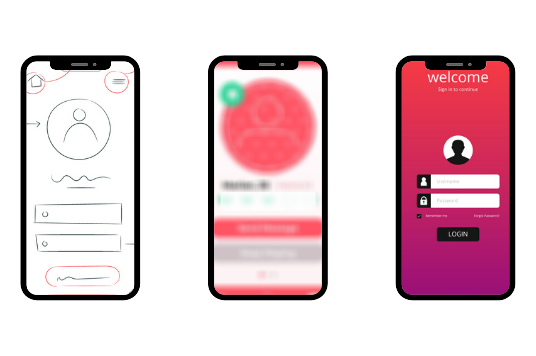 Step 4. UI/UX Designing
While most businesses might feel that the initial development of the app should be simple without any design. They might even ask for a development team without any UI/UX designer as they want a basic minimum viable product. However, that is not how MVP development works. Even the simplest apps need to be intuitive and offer a great user experience. This step assists in that. With UI/UX designing, you work on improving the user experience of the user by enhancing the interface. This covers all aspects like placement of buttons, flow, CTAs, navigation, and much more.
Step 5. Technology Selection
One of the most crucial steps in building a business app is the technology selection. Here, we are not just talking about the latest technologies like AI, data, ML, blockchain, etc. We are also talking about technology selection related to the frameworks and programming languages that you'll need to build the required features and functionalities for the app.
You also select whether you want to go for native app development or hybrid one to get a cross-platform business app. Accordingly, you need to check for the programming language that you want to take. For example, for Android apps, one can choose from Java, Kotlin, C++, C, etc., or hire Reactjs developer, Angular developer, or others for the app.
Step 6. App Development
This is where the work of putting everything together to start a fully-functional app happens. The developers write the codes and get started with the backend and frontend of the application. Make sure you have used the right database and have built a secure and scalable app to futureproof the business.
Step 7. Quality Assurance
Testing and assuring the quality of the app is the next step. Before launch, it is imperative to test the app to find and fix any bugs or errors. Quality assurance is imperative if you are looking to build a long-term relationship with your business app users. Hire QA engineers to help check each aspect of the app and
Step 8. App Launch & Publishing
Once everything is done and tested, you can move ahead to launch and submit it to the playstore. For the apps that are created for public use, these are submitted to the respected app or play store for Android or iOS. If the app is created for internal business purposes, it is handed over to the client. In addition to that, marketing the app is also imperative if it is for public use.
Step 9. App Maintenance
The process is never complete. One needs to continuously monitor the app, get feedback, and keep improvising. Moreover, maintenance of the app is also imperative to keep it functional and bug-free.
Approaches To Build Business App
There are three approaches that any business can choose to build their business app. One can build the app in-house by hiring new developers or setting up the completely new team for app development. The second way is to hire remote developers or remote tech teams to build the apps. The next approach is to outsource software development to reputed offshore web development companies. Let's learn more about the same.
In-House App Development
One can easily hire app developers from their local region and initiate the app development process. However, they also need to set up the right IT infrastructure and offer added paid benefits. Moreover, training of the in-house developers may take even longer. In all, in-house app development takes longer as well as costs more.
There is also a limitation on the talent that you find in the local region. But whatever you do, you will have complete control over the mobile app development team when building the business app in-house.
Hire Remote Developers/Dedicated Teams
The next approach that many take for their app ddevelopment is to hire remote developers or build dedicated teams with another tech company as an extension to in-house teams. One can look for remote developers on various platforms like Freelancer, Upwork, Remote, etc. Moreover, one can also consult companies on Clutch, Goodfirms, etc., to build remote tech teams. These can quickly onboard onto your existing or new app development project and start with the process. This helps in eliminating the geographical limitation and helps find the best talent from the global talent pool.
Outsource App Development
Outsourcing app development to one of the trusted software development companies is a cost and time-efficient way to build a mobile app. One can find software development companies on portals like Clutch, Goodfirms, TheMaifest, Topappdevelopers, etc. In addition to that, there are several blogs citing lists for top software development companies for mobile app development.
You can get in touch with one of these companies and get end-to-end remote product development. Outsourcing software development will help in adding expertise and experience to your project. The company that you hire can help with the entire process from ideation to wireframing to designing to development and maintenance. Moreover, outsourcing saves costs and gets you the best talent while also cutting short the time for development.
Getting Started
Now that we know about the best business apps and also know the process of building one, it is time to get started. above, we discussed the three most popular approaches that businesses take to get their business app built. You can choose from either of the three to launch your app.
If you are looking to hire remote developers for your app, Classic Informatics is a trusted mobile app development company offering experienced developers, remote tech teams, and even end-to-end product development outsourcing.
You can share your idea with the company and it will give a clear view of how the process will initiagte and progress. The company also helps in all steps of the development process - right from ideation to development to launch.