Planning to outsource your next product development? Download our Outsourcing Costs Guide and get the complete analysis of the costs included in the endeavor. It will help you know
outsourcing costs, calculate the cost-benefits of outsourcing, and some tips and strategies to succeed in reducing costs with outsourcing.
No two software projects are exactly the same.
They have different scopes, technology requirements, integrations, and even varying software complexities. Simply put, every business' software requirements vary, just like their goals, ideas, and offerings.
Certainly, no off-the-shelf software can fulfill every business' needs.
Be it a startup, a scaling organization, or an established enterprise, everyone has different visions for their software. Some want to build a breakthrough digital product. Some are looking to build software that streamlines their internal process. Some want to simply take their business into the digital environment.
The only common ground they share is the need for custom software development. However, curtesy the varying requirements, it's quite difficult for anyone to tell the exact custom software development cost.
And that's where this write-up will help you.
It will not just offer you a quick way to estimate your custom software development cost but also explain the factors that can affect it. Additionally, you can also find a brief overview of the average cost of building custom software based on the size of software and different types. So, let's get started.
Factors Affecting Software Development Cost
Every material or virtual thing we intend to buy has costs associated with it. And these costs are generally affected by various factors. It could be external factors not in your control or internal factors based on your choices. In this case, the choices you make for your software.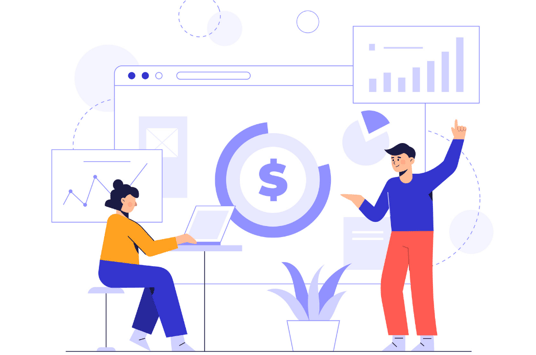 When building custom software, different things can add to the development cost or lower it. It all boils down to your custom software's size, complexity, innovativeness, and app integrations.
Let's read about those in a little detail below.
#1. Size of Software
The most significant factor affecting your custom software development cost is the size of your software. It goes without saying that the bigger your project is, the larger the investment required. The size of your software can give a slight estimate of your development cost.
Startups usually go small and take the MVP development approach to launch their product. Their products are smaller and intended initially for a smaller user base for testing. On the other hand, enterprises require a larger team to build their software. They have complex processes, internal systems, and more required. Other than that, one can also require smaller to mid-sized software for their organization. They might need a website, an eStore, a web app, single page application, or other similar software with not very high requirements.
Depending on the size of your software requirement, you can calculate the cost of custom development.
#2. Complexity of Software
The next important factor that impacts the software development cost is its complexity. By complexity, we mean the number of screens, workflows, automation requirements, process intertwining, dependent/independent paths, and more. The more functionalities you want to enable through your codes, the more complex your software becomes.
For example, if you want to create profiles that let different people create profiles, upgrade them through payments, customize them, and view other profiles, you will need to pay accordingly. The database would increase, and so would the compatibility requirements in terms of upgrades. The same goes for any complicated and complex logic. If you want to add more complex logic and outcomes in your software, it will take more time and thus, will increase your overall cost.
And that's actually why most businesses go with a custom software development company for their development. Because they have complex requirements.
Off-the-shelf software is usually simple and does not fit into their requirements. Hence, they go with the custom approach. And this increases the costs.
Nonetheless, as the complexity of your software increases, the cost of its custom development also increases. You will need more hand-coding for it. Add to that the cost of maintaining a large number of codes.
#3. Creativity & Innovation
Many businesses, especially startups, want to innovate with their software. They want to add new features, show their creativity, and deliver a UI like none before. This is where they need to find an experienced UI developer, graphic designer, and even a team that can brainstorm with them around the innovativeness of the product.
And creativity & innovation don't limit to the UI or graphical elements alone. It also extends to the user experience and the digital custom experience that you want to deliver. There are plenty of costs involved with designing the experience. The more exquisite you intend to go with your software design, the higher it would cost. Of course, you can always go simple!
But most startups don't find any fun in that. So, the more innovative and creative you wish to go, your costs of development would go.
#4. App Integrations
The next important thing that impacts the cost of your custom software development is the system integrations that you require. There are very few software products that can work independently. The majority of the software products require integration, either with third-party applications, APIs, or even integrations with the existing enterprise legacy apps. You may also need to use different APIs to enable data crawling for complete information retrieval when transferring your data from any other app to your new custom software.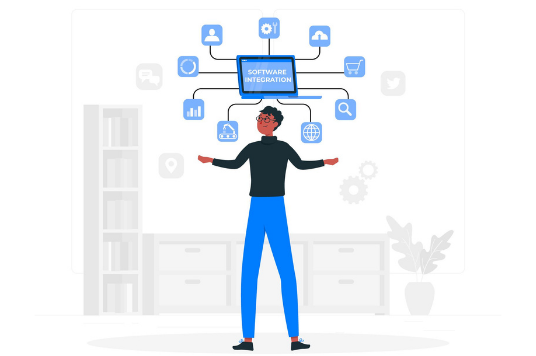 Integrating with third-party apps or popular APIs might not cost as much as it might cost when you want to integrate your custom software with an old legacy application. Moreover, some software might also require building new APIs to integrate them seamlessly. This would also impact the overall cost.
#5. Team Required
This one goes without saying. The more members you need to build your custom software, the higher you'd be paying for its development. It is also directly related to the size and complexity of your custom software.
In case you need a larger enterprise application with multiple new features, several screens, customization options, separate dashboards for different user types, you'd need a larger team. On the contrary, if you want to start with a custom single-page application or even get MVP development to launch the prototype first, a small team would suffice.
Depending on the team requirement, you will have to increase or decrease your overall custom software development budget.
#6. Database Migrations
When building custom software, the teams need to create a backup of the existing data and migrate it efficiently onto the new database that they choose. The larger database that you have, its security requirements, existing vulnerabilities, and other things lead to adding in the cost of custom software development. The software development team needs to handle all aspects of your database migration like validation, data conversion, cleaning, analyzing, securing, profiling, and quality assurance. All of this usually adds to the overall cost of custom development.
#7. Platform Choice
The next and one of the most important factors that affect your custom software development cost is the platform you intend to build for. There are different platforms that you can plan your software for. It could be for mobile users for platforms like Android or iOS. Or, you could want your software to target desktop users for various operating systems like Windows, Mac, Linux, Unix, or any other. While these are broad categories, today you can also find software development requirements for different digital experience platforms, content management systems, and more.
These are some of the common factors that affect your overall software development cost. In the end, it all depends on your choice. You are building the custom software and you need to be aware of all these factors that lower or elevate your development cost.
Calculating Custom Software Development Cost
Let's come to the main part of the blog- discussing how much does custom software development cost!
By now, we are aware of all the factors that impact a software development cost. The next step to take is to understand how much it actually costs to get custom software built. There are different costs involved in custom software development. But before we get started with going into the nitty-gritty, here is a quick overview of the average cost of custom software development based on factors like sizes of software products, types of software, work hours required, and the size of the team.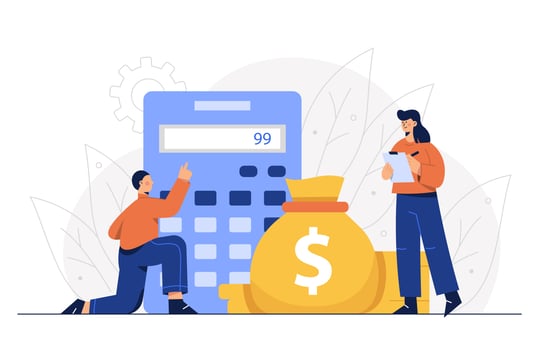 Custom Software Development Cost Based on Size
We all know that software size is a big factor determining the cost of custom software development. The larger software you aim for, the higher it would cost you. But people still have the question- what does custom software cost.
So, depending on your software size, here is a quick average.
Smaller software or Minimum Viable Product: the average cost of building a custom minimum viable product ranges between $20,000 and $50,000.

Medium size software for SMBs and mid-size businesses for a decent size audience could cost anywhere between $50,000 and $500,000.

Any custom software required for a larger enterprise with multiple integrations, multisite development, working for various locations and languages can cost anywhere between $500,000 to $1,000,000.
Custom Software Development Cost Based on Type
We have different types of software being developed today. One could want a CMS, CRM, ERP, website, eCommerce app, SaaS product, and more. And all of these have different involvements and different technology requirements. So, here is an average custom software development cost based on the type:
SaaS Product: $50,000 to $200,000
Web Development: $10,000 to $50,000
Mobile App: $10,000 to $200,000
eCommerce Solution: $10,000 to $500,000
Internal App Development: $1,000,000 - $9,999,999
CMS Development: $10,000 to $50,000
CRM Software Development: $10,000 to $50,000
The bottom line when calculating the cost of custom software development, it all depends on the level of customization, size of your software, and the features you want to add to your software. You can get a custom software built within $25,000 if you are starting with a minimum viable product only. However, it can even escalate to $1,000,000 or even more depending on the size of your software, users required, and more.
Now that we know the average cost of building the custom software, let's dive into understanding the main costs involved in it.
Main Costs Involved in Custom Software Development
We know by now the average cost of building custom software of different sizes and types. Now, let's move on to understanding the main costs that are involved in the development process, especially when you are taking the custom approach. The main costs involved in it are described below. You can calculate the costs accordingly.
Let's get started.
#1. Team Wages
You will always need a team of software developers to build your custom software. And it would not just be those writing your codes. It would also comprise the fees that you'd pay the designers, testing engineers, BI consultants, researchers, and more. An ideal custom software development team comprises two developers (senior & mid-level) for front-end and backend codes, a QA engineer, a project manager, and a UI/UX designer. However, this team size would increase as your project size increases.
| | | |
| --- | --- | --- |
| Team Member | Cost per hour in The US | Cost per hour in India |
| Software Developer (Full-stack) | $63 | $35-$40 |
| Software Developer (Front-end) | $60 | $25-$30 |
| Project Manager | $86 | $45-$50 |
| Business Analyst | $53 | $45-$50 |
| QA Engineer | $57 | $30-$35 |
| UI/UX Designer | $56 | $35-$40 |
Depending on the developers you hire, whether you decide to build an in-house team or hire remote developers from India, Poland, Brazil, or similar outsourcing destinations, your charges would differ.
#2. Technology
The next cost that can be included in your software development is the technology that you will require. You will need specific technologies for your software. And that would add to your overall custom development cost. You can need different technology experts for your front-end, backend, and other requirements. In addition to that, you may even want to add features built using next-gen technologies like Artificial Intelligence, Blockchain, Data Science, Machine Learning, etc. This would add to the overall cost as well.
#3. Features
The next cost that gets added to your custom software development is the cost of features. The more feature-rich you make your custom software, the extra would be the cost. Features like geolocation, automation, payment integrations, chatbots, and more can add to the overall cost as these require new technologies to be implemented.
#4. Hours Worked
The next thing that you need to keep in mind when calculating the cost of custom software development is the number of hours. MVPs and smaller prototype projects can be built within months. Larger projects for enterprises go on for years. This adds to the cost in the calculation. You can get an estimate of the timeline from the software development company for the project delivery and find out the hours worked. Many even choose the hourly pricing model for their custom development. Thus, your cost would also vary with location. So, referring to the earlier table, you might enjoy a lower cost while outsourcing the software development to India compared to when you get your software developed in the US.
#5. Design
We know that the more enhanced design or UI/UX experience you desire, the higher would be your costs. UI/UX designers are not cheap to find in today's age, where experience is everything to make or break a brand. You can always design your software according to your budget. However, if the design holds more priority than the functionalities, make sure to invest rightfully in the design team. Depending on the design requirement, you can reserve as much as 25-50% of your entire budget on designing the custom software.
In addition to that, there are extra costs included in your custom software for the architecture design or designing the information architecture.
These are some of the common costs that go into building custom software. In addition to that, you also need to keep in mind the costs post-launch. These could be the maintenance costs, marketing costs, analyzing/measuring the outcomes, or even scaling the software in case you have built an MVP prototype.
We Can Estimate Your Custom Software Development Cost
Getting custom software development is one of the most crucial decisions that you can make for your business. It can help you have a stronghold on the type of experience you wish to offer. You can build custom software for your internal uses, customer-facing processes, and even to promote and take your business online.
At Classic Informatics, we have been offering custom digital solutions to businesses of all scales since 2002. We have a team of dynamic and experienced technology enthusiasts on board to build your awesome custom software.
You can simply share your rough idea, requirements, or software gist with us, and we can give you a rough estimation of your custom software development. We keep in mind everything around your project to develop software that meets your business as well as user needs. And not just that. By outsourcing software development to us, you can save on the overall costs.
As per our calculations in one of our previous guides on how outsourcing helps reduce costs, we have shown how getting your software developed in India can help lower our costs. You can save as much as $96,720 while building a simple MVP. There are several factors that help in cost savings while outsourcing custom software development.
You find highly experienced developers at lower costs
You save on the infrastructure costs
You save on several IT expenses
You don't have to spend on employee benefits or overheads
With an expansive tech stack comprising awesome web, mobile, software, cloud, and next-gen technologies, we can turn your custom software idea into a reality. Whether you want us to start your software development from scratch or take on existing product development, we can get started pretty quickly.
You can discuss your requirements with us, and we can handpick the best team to build your custom software.