For all those who are planning to outsource, you can Download our Software Development Outsourcing Guide and read it on the go! Check out the guide and find answers to all your questions about outsourcing software development.
For over two decades, India has been a preferred outsourcing destination by many western countries. And it's not just for customer support and BPO as they show in mainstream media.
India is a hub of tech companies.
And businesses across the globe have been putting their faith in Indian IT outsourcing companies for their tech needs. Be it product engineering, crafting digital experiences, growth hacking their way to success, or complete digital transformation, Indian IT companies have been excelling at delivering unmatched services.
And the reasons for this are in bounty.
The quality of IT services delivered, the cost of development, the unlimited talent pool, lower wages, and many more. There are countless reasons that make India the preferred outsourcing destination. And as we are all set to enter 2022, the industry of outsourcing to India is expected to grow. So we thought of compiling a blog that not only highlights the reasons why India should be on top of everyone's mind
is around the corner, we have compiled some of the reasons why India should still be on top of your mind to outsource software development or any other IT service.
Why Businesses Prefer India For Outsourcing
India has been on the top of many listings for the best companies offering software development outsourcing. While everyone has been talking about the cost advantage that they can get by outsourcing development to India, the reason why businesses prefer India are many more. You can certainly ride the wave of digital change and lead the technological advancements by getting support from Indian tech experts.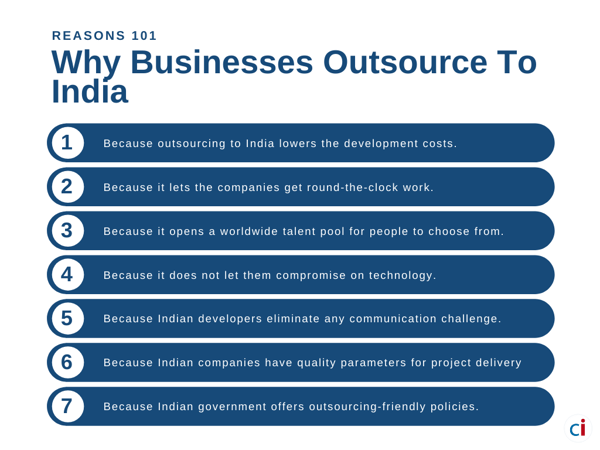 To Lower Their Development Cost
It is a known fact that developed countries have a much higher labor cost compared to developing countries. India, being a developing country, has a much lower cost. Outsourcing can certainly save money. A developer that might charge anywhere between $70 and $150 per hour in the developed countries can be hired at less than half the price. In India, the average hourly salary of developers is around $20-$40 per hour. Moreover, they have different models to choose from for outsourcing product development to India. They can hire individual developers, completely outsource product development, build their development team including developers, project managers, QA engineers, designers, etc.
To Utilize Time Zone Difference & Get Round The Clock Work
Companies in the United States, Australia, Europe, United Kingdom, etc., can leverage the time zone difference that they have with India. The four to eight hours time-zone difference can be used to get round-the-clock work. And the time overlapping can be utilized for project discussion. This means that the project would be completed quicker. You have teams working on your development work round-the-clock.
To Get Development Following Best Quality Standards
When outsourcing software development, more quality standards are maintained than during in-house development. And when you are outsourcing to India, there are many quality assurances that need to be met before delivery. The ever-increasing talent pool in India compels everyone to deliver excellent quality to stay relevant in any organization. Further, most Indian IT outsourcing companies have a project manager and a delivery manager, in addition to the quality tester, to ensure the quality of codes and the overall product before delivery. It is the quality offered by the Indian software development companies that make startups, product companies, enterprises, and other companies come back for all their IT needs.
To Find The Best Talent Across The Globe
With a limited scope, you might start to appreciate the frogs in the well. Once you expand your horizon, you'll start identifying the talent hidden in far corners. Outsourcing software development to India means coming across the best talent and getting it to work on your product. You can find experts, experienced professionals, technology experts, and all others to build your product. You can get experts to work on it from scratch or to get on your project from any part of the development process.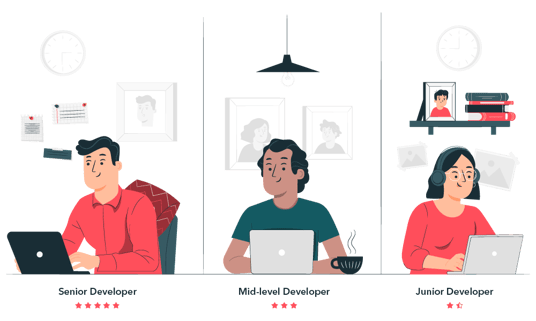 Harriet Chan, Marketing Director of Cocofinder says, "Remote working is becoming the new trend; with remote working as the new normal, outsourcing has become one of the ways of having work done for the businesses. In most industries, remote working will continue after the pandemic due to benefits realized by both the management and the employees. For some departments, the tasks will have to be outsourced to other organizations. Our business had to outsource some tasks and departments such as the human resource department and accounting. Since remote working is the new trend, some tasks can be outsourced to professional businesses that offer the services. This reduces the load the business has and assures quality work."
To Eliminate Communication Barrier From Development
There is a misconception that outsourcing to India would mean a lot of challenges in communication. However, India has the second-largest English-speaking population in the world. More than 125 million people in India have English as their second language and it is very easy to exchange information in the language. One can proficiently communicate with the developers without any hassle. Those in the Indian IT sector are scrutinized based on not just their tech expertise but also proficiency in English so that there's no issue communicating with foreign clients.
To Get The Latest Technologies
When developing a new product, application, or software, many new-age technologies are needed to build the best. However, geographic limitations restrict them from finding the right technology expert. With over 3.1 million young people graduating from top IT colleges every year, India has no shortage of technology fanatics. One can find experts in every te
chnology and development framework to build a cutting-edge product. Be it the latest technology like blockchain, artificial intelligence, virtual reality, data science, machine learning, or any other latest technology.
To Enjoy A Government-Friendly Outsourcing Relationship
Indian government embraces development and is very keen on helping its companies grow through outsourcing. The government has announced several acts and policies for making outsourcing easier and smoother for companies. Be it the IT Act 2000, the Specific Relief Act 1963, the Indian Contract Act 1972, or the Foreign Exchange Regulations, many acts help in outsourcing. There are many acts and provisions announced by the Indian government to encourage outsourcing to India and make India a preferred destination for outsourcing.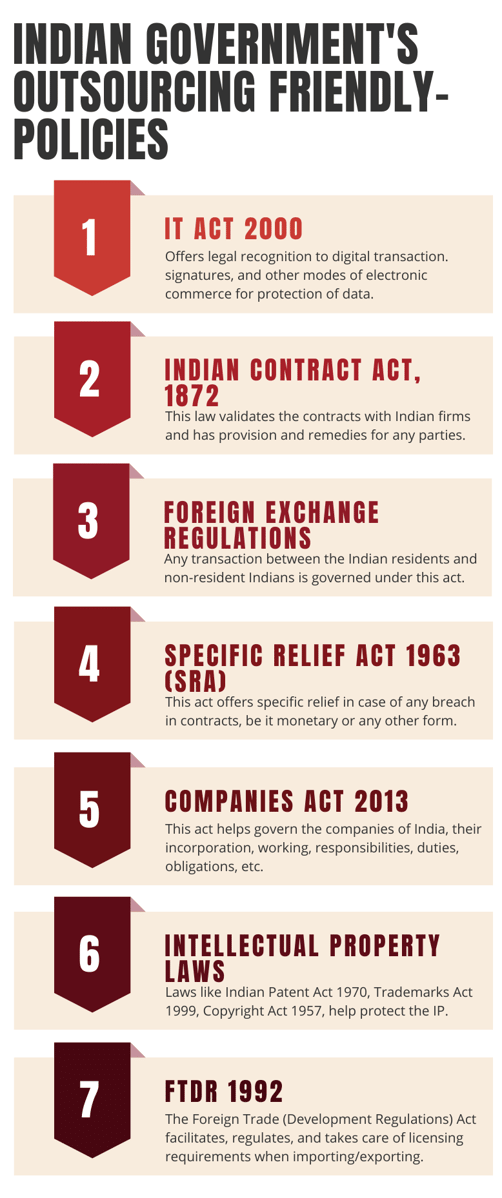 To Scale Without Obstacles
Businesses have varying talent requirements across any particular project. They might need a full team of developers at one time and just a single person at the other. Moreover, you might need technology experts for performing specific tasks in your project at times. They might need to scale the team up and down as per the project's requirements. Developing the software in-house could mean hiring new people when required and finding work for them the project does not require them.
Outsourcing to India means the freedom to scale your teams as and when required. There is unlimited talent in the country, which means you can find experts in no time for your project. Moreover, when you join hands with a software outsourcing company in India, you get to scale without any hindrance. They analyze your requirements and add or reduce team members to ensure everything goes as planned.
Numbers That Prove India Is Better Than The Rest
No country is as advanced and rich as India when it comes to software development. It has a young population that is eager to accumulate all the skills and deliver the best. It has turned into a magnet for companies looking for a development partner, technology partner, or an IT outsourcing company for any other tech need. And all of this is not without any reason. Here are some of the stats and numbers that prove India is better than the rest when it comes to software development outsourcing.
A new Korn Ferry study suggests that India will be the new tech leader by 2030. It suggests that while the world would face a tech talent crunch, India is expected to lead with over 1 million surplus skilled tech workers.

The IT outsourcing industry in India is expected to experience a 7.25% CAGR growth and reach INR 8,830 billion by 2025 from INR 5,649.47 billion in 2019.

82% of the Indian outsourcing companies plan to increase their tech headcount in the coming years as per the 2017 Asia Pacific Occupier Survey Report.

The cost of outsourcing to India is far less when compared to developed countries. One can get developers at an average of $25 in India.

AT Kearney's 2019 Global Services Location Index ranks India in the top spot for attractiveness for outsourcing.

Over 40% of the Indian workforce is expected to enhance their skills and become better assets in the development process by 2022.

India ranks first in the list of countries with the highest ISO-9000 certified software companies and even houses over 75% of the world's CMM Level 5 certified companies.

India is second only to the US in the list of largest English-speaking countries, eliminating any communication barriers.

By 2023, India is expected to overtake the United States in having the most software developers in the world as per a C SharpCorner report.

With over 75% CMM Level 5 Certified programmers, India ranks first in highly skilled and certified developers.

A per the Indian government's Skill India Mission, 40 crore Indians will enhance their skills by the year 2022.
With so many numbers, outsourcing statistics, and studies pointing at the positive aspects of outsourcing to India in 2022, one should certainly consider the country as its next outsourcing destination.
Outsourcing Trends In 2022
Every year sees some new trends shaping the outsourcing industry. Those planning to cut costs and get quality development services from experts look for top IT outsourcing companies in India, Malaysia, Poland, Ukraine, and other countries. However, one needs to be aware of all the upcoming and ongoing outsourcing trends to ensure a successful venture.
Outsourcing Trend #1: Businesses To Increase Their Outsourcing Budget
For companies seeking IT services, quality would trump quantity in 2022 and they would start prioritizing process over price. Hence, the companies have started increasing their IT outsourcing budget in the coming year. The National Outsourcing Associations' reports for 2020 revealed that quality would be the main driving force in any outsourcing decision. They wouldn't shy away from increasing their outsourcing budget.
With the talent crunch in most countries due to the coronavirus outbreak, more companies would look to outsource software development. The existing software developers have increased their hourly rates for development. And in order to get the best talent, companies will need to increase their outsourcing budgets.
Outsourcing Trend #2: Talent Shortage To Increase Outsourcing Demand
As per reports, IT outsourcing spend was expected to surpass the one trillion benchmark. And this would be because of the adaption to the latest technology. However, companies would lack the required tech expertise in-house. The pressure to stay competitive in the industry would force most of the businesses to outsource their IT functions. From cryptocurrencies to cybersecurity to AI, ML, or data science, companies would be looking to get the best talent to build products with such functionalities.
The shortage of tech expertise in their region is leading to an increased demand for outsourcing IT services. They need cutting-edge skill sets that they can find easily at outsourcing destinations like India. However, such skilled software developers will start to raise their hourly rates. Thus, the demand for new technology would also lead to an increased budget for spend.
Outsourcing Trend #3: COVID To Fuel Business's Digital Spend
As discussed above, businesses are looking forward to increasing their outsourcing budget. And it's not just because of the growing competition or the evolving technology. Coronavirus pandemic has forced businesses to digitalize their operations. Whether it is launching a digital product or making their digital products more secure, robust, and scalable, they are focusing on fast transformation and shifting their work platforms online. This would mean that they'll cut back on their spend on the legacy services and increase their digital spend.
"We've seen two years' worth of digital transformation in two months." ~Satya Nadela, CEO, Microsoft
Major names like Microsoft maintained that coronavirus led to two years worth of digital transformation in just two months. More and more businesses would increase their digital spend to catch up with the future of tech. Most businesses are now turning their business model into a digital one and will be increasing their spend to stay competitive in the digital-first era.
OutsourcingTrend #: Artificial Intelligence To Be The Center of Focus
Businesses need to stay a step ahead of the competition And the next-gen technologies provide them the edge. Artificial Intelligence enables businesses to automate the majority of their tasks and deliver an unmatched experience that is data-driven. It can also help reduce the errors and bottlenecks in processes to streamline operations and optimize experiences.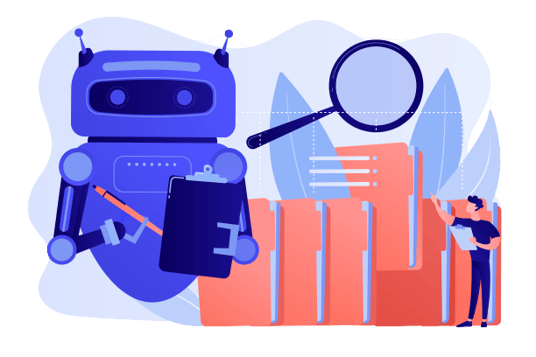 Businesses will be looking forward to incorporating Artificial Intelligence in their systems. And the focus in outsourcing would be on joining hands with companies excelling in the new technologies. Outsourcing service providers would be enhancing their skillsets, adding new technologists and AI engineers in their teams to fetch more projects.
Outsourcing Trend #5: Asia-Pacific To Become Popular Outsourcing Destination
Earlier until 2020, it was certain that new competition was arising in the outsourcing industry. Countries like Ukraine, Romania, Poland, and Belarus were considered to be tough competitors looking to take the spot of India, China, and other leaders from the list of top outsourcing countries. However, the pandemic slowed this transition. As quality trumps price and other factors, companies are looking to shift their attention back to major players in countries they've trusted so far. Companies are moving to countries of the Asia Pacific like India, China, Malaysia, Thailand, Philippines, Vietnam, etc.
Seeing the outsourcing demand and the budget shift, it looks like more and more countries would be turning their attention to Asia-Pacific countries. These countries would continue to maintain their strong foothold owing to their low-cost outsourcing services and high-quality delivery.
Outsourcing Trend #6: Outsourcing Relations To Evolve
A new outsourcing relationship would dawn on the outsourcing realm and give birth to a more evolved form. Earlier, outsourcing relations were based on give-and-take where businesses would buy services of IT outsourcing companies. Now, the role of these outsourcing companies has gradually shifted. They are no longer simple manual laborers offering software development services. They are more involved in software architecture and bigger decisions. These companies are now playing a crucial role in different aspects of the project's decision making including MVP, features, monetization channel, launch, etc.
One of the main outsourcing trends in 2022 would revolve around the changing outsourcing relation. IT outsourcing companies would be seen in full-cycle product development from ideation to development and marketing. They are strategic business partners and their role would become more prominent in the coming years. In the coming year, IT outsourcing service providers would become strategic partners sharing risks aiming at long term relations for better outcomes.
Outsourcing Trend #7: Digital Outsourcing Model To Balloon
If 2020's pandemic taught us one thing, it is that humans are affected by various factors that technology is totally immune to. And so, the world is geared towards a more digital model with the expectation of bots replacing humans in different aspects of work. 2022 will continue to see businesses turning towards digital outsourcing models to safeguard them from any unforeseen change like this pandemic. As Robotic Process Automation, Artificial Intelligence, Machine Learning, and Data Science take over the techno world, businesses in the outsourcing realm would also be disrupted by Business Process Automation.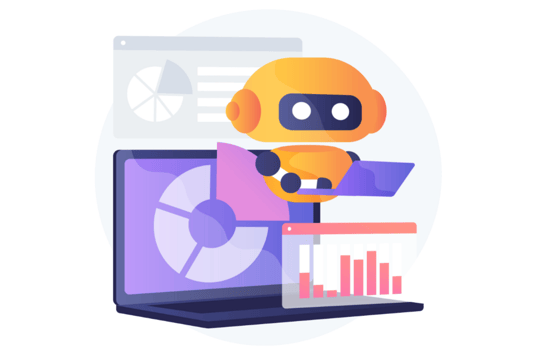 Veronica Miller, Cybersecurity Expert, VPNoverview says, "This outsourcing model has so far relied on individuals providing services and tools to help them. However, this conventional model is beginning to crumble, and a more technologically oriented model is emerging, in which services are provided by digital tools, and people then support the efficient operation of these tools."
Advanced working models would erupt that would focus on reducing human efforts in the development world. With technologies becoming ubiquitous and taking over several forms of work, business outsourcing would become digital with business process automation. Not just that, emerging technologies like visualization and grid computing would also allow for the utilization of cloud by innovators and adopt the standardized IT infrastructure.
Outsourcing Trend #8: Rise Of Standardized Services Instead Of Custom-Model
As the outsourcing vendors start having an upper hand in the outsourcing relations, there would be an increasing rise in standardizing services. The outsourcing trends in 2020 showed more emphasis on having custom services that suited the project needs. As companies need quicker digital solutions for their business, they'll be looking to get standardized services. Such services would not just give them a faster time to market but also lower their development cost.
Custom solutions turn out to be much more expensive. As most businesses are changing their business models, they need money for acquiring new customers and entering the market. Looking to optimize their business models, businesses with limited funds would look forward to optimizing their business strategy. Smaller businesses would take more interest in standard services or service packages offered by IT outsourcing companies to curb their IT expenses.
Businesses would be looking to adopt the single-vendor approach when looking for technology partner. According to ThiloHuellmann, CEO, levity.ai, "A company that wants to outsource its technology creation will look for a single vendor with a good track record in that field and hire them for multiple projects. Alternatively, they should seek out vendors who specialize in each project form and negotiate individual contracts with them."
Outsourcing Trend #9: Demand For Companies Following Agile Model
Instead of focusing on the price of the development, 2021 would be more driven towards the process. The focus will be on the working approach as it will enable them to strengthen their development as a whole. And the best approach that a majority of the businesses are focusing on today is agile. Over 71% of the businesses are already following the agile development approach and need the same flexibility in their outsourcing relations as well. This would help them reap the many benefits of outsourcing like less overhead cost, round-the-clock work, better communication, and timely delivery.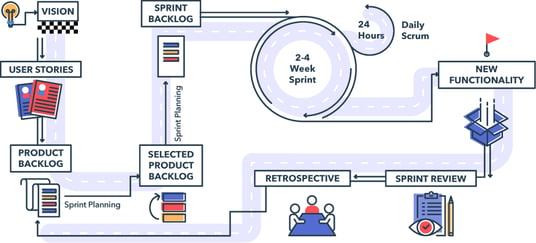 Now, companies are looking for IT outsourcing firms that follow the agile model and can share their expertise with the clients as well. They want remote agile teams as they have been more productive in getting work done faster. It won't take the focus away from the development priorities and can get even a small change implemented in a sprint instead of investing time in functional capabilities.
Wrapping Up
The pandemic has caused a lot of apprehension among people around outsourcing. It changed the way people looked at outsourcing and how they employed people for the same. IT outsourcing was totally shaken up after the pandemic. But as most businesses are scaling and speeding-up their digital transformation initiatives, IT companies in India are winning new deals. Thus, the Indian IT outsourcing industry is certain to see a rise in revenue.
If you are also planning to outsource your IT operations, India is a leading destination for getting such services. Classic Informatics, is a leading IT company based in India. It has been rated highly by various platforms like Clutch, GoodFirms, etc. It has been offering customer-centric development services along with standardized services to suit the needs of all clients.