Managing a new venture is a constant hustle.
Entrepreneurs need to put 200 percent effort into creating value from the limited resources they have access to.
When handling remote teams, the responsibilities go a notch higher. No wonder, 60 percent of business owners feel stressed while managing remote work.
What's the solution?
The first thing you can do is get your team aligned with your business goals. After all, team performance is a critical determinant of business success.
In this post, we have shared the best strategies for hiring remote developers, managers, business heads, and more and building a remote team that delivers results.
#1: Maintain Constant Communication
Communication is the key to creating efficient and productive workspaces.
It fosters a happy work environment, keeping the team's morale high to ensure success.
But unlike a traditional office setting, a remote team doesn't have the privilege to walk to their senior's desk for queries or challenges.
So, maintaining constant communication with remote employees is crucial.
It helps entrepreneurs understand and resolve their work-related challenges. Whereas, it makes them feel empowered and connected, regardless of the distance.
Here are a few tips for establishing clear and constant communication -
Observe how they've used Google Calendar and prepared the monthly meeting schedule. This strategy can save time while boosting communication.
Organize virtual Q&A sessions to keep all team members on the same page. Confirm that no one is facing challenges with the assigned tasks.
Plan one-to-one meetings for discussing agendas and deadlines.
Most importantly, be available on emails and online communication channels, such as Slack or Trello. Check out all the remote working tools at regular intervals to offer a timely response.
These tips will encourage your team to share their thoughts and imbibe a sense of trust.
Constant communication will promote innovation and healthy professional relationships in the long term.
#2: Define Work Processes and Set Tangible Goals
This principle is a must for all forms of work.
Defining work processes and goals help companies establish standard methods to deliver expected outcomes. For example, if you are an agile practitioner, make sure that your team is also on the same page as you in terms of working methodology. They help stakeholders work in synchronization and get things accomplished without any hassle.
What's more?
They reduce the team's dependency on managers while helping them complete their tasks.
Here are the best strategies to goals and create standardized work processes.
Analyze and identify the gaps in the current work processes.
Take the opinion of the team about the work processes and challenges.

Implement tools for automating repetitive work to save time and effort. For instance, notice the following screenshot of Zoho People.
From employee onboarding to managing their daily attendance logs and leave reports, this software can help automate crucial activities of HR professionals. Implementing such automation tools can maximize your team's performance.
Analyze the work output reports of each member. Note their work strengths and weaknesses.
Set a SMART goal (specific, measurable, attainable, relevant, and time-bound) for the team.
Set quality parameters and maintain strict work deadlines.
Track the results for a few months and identify the progress. If results are not up to the mark, revise the work processes and plans.
Such step-by-step mapping will improve the productivity of your remote team.
#3: Equip Team with Essential Technology
The right technology and tools ensure the accuracy of work, helping professionals deliver exemplary performance.
So, equipping everyone with essential technology should be a priority.
Besides communication and collaboration tools, entrepreneurs should invest in core technology.
Here is a list of technology and tools to consider -
Laptop - It is a basic need yet needs consideration. For instance, a remote developer may need a system with a memory specification of 32 GB. So, employers need to take care of such details to help them work with high efficiency.

SaaS Tools - Besides the laptop, equip the remote team with profile-specific tools. For instance, a graphic designer may need SaaS tools like Adobe InDesign or Canva. So, the HR professionals can speak to senior team members and make a list of essential software.

Noise-Blocking Headphones - Quality headphones can improve the team's focus.
Decide a budget for such productivity-enhancing tools to achieve the best output.
#4: Celebrate Team Achievements
Appreciation has a lasting and powerful impact on employees. Implementing service awards programs can be an effective way to acknowledge and appreciate the long-term dedication and contributions of employees, fostering a sense of value and encouraging a positive work environment.
Recognizing the team's effort can nurture a positive work culture, strengthening leader-employee relationships.
The opposite is also true.
A cold attitude can kill the remote team's efficiency, leading to burnout. A report stated that lack of appreciation made 79 percent of employees quit their job.
The lesson?
Make sure to celebrate the achievements of your team. It helps them feel valued for their effort.
But, the appreciation should be sincere and backed by facts. It will ensure fair play and encourage other team members to give their best.
Here are some tips for expressing gratitude to the remote team -
Observe how they have appreciated the best performer. Writing such heartfelt and simple emails can help you build a dependable team.
Organize a virtual meet to express gratitude.
Offer incentives to the top performer.
Leave an appreciation note and tag the best employees on social media.
Offer them a day off to rejuvenate.
Give away accessories like coffee mugs, t-shirts, and more.
These small gestures can go a long way, cultivating a team with a productive mindset.
#5: Encourage Your Team to Learn New Skills
Keeping up with new technologies is vital for any firm's success.
It allows companies to stay relevant and gives them a competitive edge.
Speaking of the employees, upgrading their skillset can open new career horizons, skyrocketing their professional growth.
Thus, it's a win-win for both.
Here are a few tips to motivate your remote team to learn new skills -
Offer frequent constructive feedback.
Create an internal cross-training program and extend coaching opportunities.
Invite industry experts and organize skill-building workshops.
Encourage your team to be a part of informative conferences and webinars.
Besides, you can also offer high-pay packages and positions to passionate employees hustling for quality. These tactics will ensure high employee engagement, transforming your venture into a massive success.
#6: Build a Culture That Supports Work-Life Balance
Some industries, such as IT, need remote teams to work more than standard timings.
This practice can blur the lines between personal and professional life.
Remote employees, as a result, may not be able to clock out until late at night. It can lead them to burnout, impacting their productivity. They may also be neglecting their diets or losing sleep.
So, as an entrepreneur, make sure your employees are not burdened with work. Allow them to take frequent breaks and work when they feel energetic. Focus on providing work flexibility and essential support to ease their everyday activities.
Get inspired by giants like Amdocs, who have introduced a new work model that allows their team to take unlimited vacation days.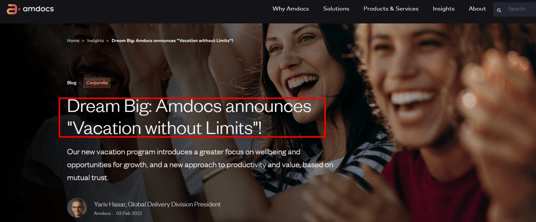 Source
The prime reason is to provide a work-life balance to the team. You may also introduce policies that offer such benefits to your remote team.
To Sum Up
The late Steve Jobs once quoted -
"Great things in business are never done by one person. They're done by a team of people."
This statement implies the role of a team in the success of any business.
But managing a team, specifically, a remote one is draining. Implementing the shared strategies can ease your journey. They can streamline work and improve the productivity of your team.
So, go ahead and put the golden strategies into practice!