Alibaba, AppSumo, GitHub, Slack, and Skype; there are so many names that have outsourced their development tasks to climb the ladder of success. Some didn't have the funds to hire full-time developers. Some wanted to get expert developers to compete with market giants. Some even outsourced their core product from scratch.
No matter what the case, these big names were able to reach the top because they realized the gap at the right time and outsourced their development work.
So, how do you know outsourcing is the right choice for your business? And more importantly, how do you assess the gap and find out if it is the time to outsource?
Is outsourcing the right choice for every task? Or are there some particular situations when you should opt for outsourcing?
This write-up will answer all your questions around the 'when' factor of outsourcing!
But before we find out the right time to outsource, let's first find out what compels companies to outsource.
Why Do Companies Outsource?
Without getting into technicalities so quickly, let's understand this with a simple situation!
You are a working professional living alone in a city. You don't know how to cook or clean. You are still trying hard to manage your professional life and handle all the domestic chores as well.
At the end of the day, you feel extremely exhausted and slowly you start losing focus. What do you do? Do you continue to exhaust yourself OR do you hire help? Obviously, you look for a cook and a maid to help you take the extra work off your shoulders.
Now imagine the same situation but in the corporate context.
You have a team that is working on a project, which is very crucial for your organization. Simultaneously, there is more work incoming your way. It could be:
A new client project that you have taken over

A new technology that you want to explore in the existing project

A fully managed team for a smaller project

A new module to be added to your product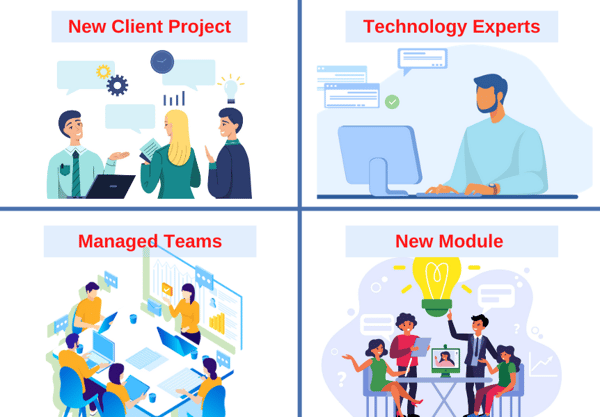 There could be 'n' number of situations where you may feel your existing team needs external help. We are going to explore all these situations in the latter part of the write-up. Before that, let's point out the reasons why most companies outsource.
#Reason 1: Reduce Operational Costs
The biggest reason why businesses join hands with an outsourcing software development company is to reduce their costs. They need to expand their team. But hiring in-house means salary plus employee benefits, health insurance, paid leaves, expansion of infrastructure, and much more. This is not feasible for many companies.
Outsourcing in such cases comes out as a cost-effective solution.
#Reason 2: Unlock Access To Global Talent
Many projects require the involvement of technology experts. As the digital environment keeps churning out new technologies, hiring tech specialists from your local area is not possible. This lack of talent could lead to the loss of many projects.
Outsourcing in such cases can help find experts from the global talent pool.
#Reason 3: Focus On Client Satisfaction
Several companies delivering cutting edge technology are ahead of their competitors in every way possible. Yet, they are not able to satisfy their customers. They have been so engrossed in developing a hi-tech product that they couldn't focus on their customer satisfaction.
Outsourcing in such cases takes off the burden of product development and help you focus on customer satisfaction.
#Reason 4: Faster Delivery Of Services
There are many cases when you need to deliver a product within a limited time or you might be out-competed. However, your team is already exhausted working on the project yet they are pushing the deadlines.
Outsourcing in such cases comes out as a quick way to deliver in a short time.
#Reason 5: Flexibility In Scaling & Cutting Down
While hiring an in-house team, you onboard a person for a long haul. There is no flexibility of hiring for a specific project or time, and scaling down when the project is over. They are hired for a longer period and it isn't ethically correct to hire and fire.
Outsourcing in such cases offers complete flexibility to scale the team up and down as and when required by the project.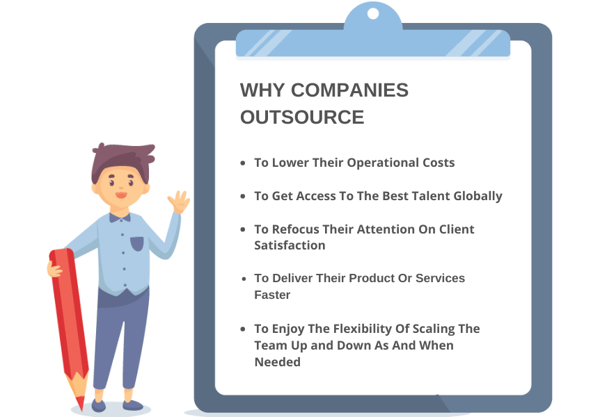 What Are The Signs That Tell You To Outsource?
Well, we know the major reasons that compel companies to outsource software development!
But many are still unsure about outsourcing. If these reasons weren't enough for you, we have something more.
Here are some visible signs you can see in your company, team, processes, and operations, which are enough to tell you - this is the right time to outsource.
Missing Deadlines Is Not New: You have so much on your plate that it is not something new that you have missed on deadlines. You are usually running late and have to come up with new excuses or broken commitments on timely delivery.
Satisfied Client Is A Rarity: No matter how much you try, your clients or customers are never satisfied with your service. They are complaining about the quality of work, late delivery, or impersonal approach.
Multitasking Gets Your Work Done: The one thing that's getting your work done is multitasking. You can see that your teammates are always exhausted, stressed, or overworked with so much on their plate.
Innovation & Creativity Has Left The Room: The same concept, design, and functionalities are being repeated in every single project that you are undertaking and there is no new idea popping up.
The Existing Funds Are Repleting: The existing funds are not allowing you to scale your team, infrastructure, or digital capability. You need new technologies and teams for that but there is a shortage of funds.
Materializing New Ideas Is A Far-Fetched Dream: The team is not coming up with any new ideas. Even if they are, they are so over-worked with the current projects that they don't have the time or energy left to materialize them.
Lack Of Technology Expertise Is Taking Away Good Projects: New projects are coming your way but they require the latest technology and experts that aren't available at your geographic location.
Migration To A New Platform Is On Cards: There is a new, more advanced platform available and you need to upgrade your existing software to it. However, it is very new and you do not have the expertise required for seamless platform transfer.

Demands Have Suddenly Surged: There is a sudden increase in the demand from your customers that you are not able to cater to. You need more teammates to handle the extra work.
For all those who are still unsure about outsourcing, these signs can help them make a sure decision. If you are experiencing any of these signs or all of them, outsourcing software development might just be the right solution for you.
However, you cannot simply jump in because you see these signs, can you? To make things even clearer, let's delve into some situational examples.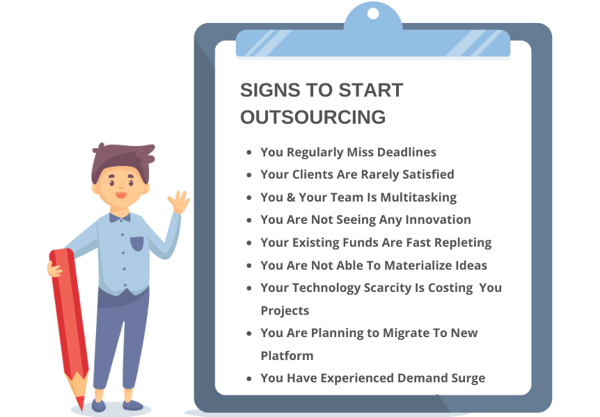 Situations When Outsourcing Works In Your Favor
While we know many reasons that compel people to outsource, the signs also help in making a more informed decision. So, let's move ahead and look at some situations where outsourcing can be extremely beneficial. These are some of the cases when companies usually find an external vendor for their work and can help you answer the question 'When To Outsource?'.
#Case 1: The Project Is Too Big
The first situation where companies should feel it is the right time to outsource is when they are given a much bigger task. This project cannot be completed with the team that you have in your office.
It requires more members and experts to complete the project. Moreover, adding new members to your team might go out of your budget as well. It might also be too risky to create a whole new team for a project so initially.
This is a great situation when outsourcing can come to your assistance. You can not just delegate the complete task to an outsourcing company but even hire dedicated developers or a complete teams sitting in an offshore location to work on the project.
For example, your company has grabbed a project for the complete development of an ERP system from start to finish. You can simply hire an outsourcing company and they would work as an extension of your team or take up the complete project, no matter how big to deliver quality in time.
#Case 2: The Project Is Only One-Time
Another situation when most of the companies get remote product development is when they are faced with a one-time project. They might need a technology expert or a UI/UX Designer for a particular project that isn't available at their disposal. Or, they have a team but that is busy in another project, and hiring a complete team for this one-time project seems impractical.
Joining hands with an outsourcing company turns out to be the feasible option here as you can get the project completed by experts without having to expand your infrastructure or team. The entire project can be managed by an external team and delivered within the required time.
For example, you have recently closed a deal with a client that requires a website. This is a one-time thing as the client only needs the website for a seasonal campaign. Instead of hiring a full team for the project, you can easily get the website developed by experts outside your office.
#Case 3: The Project Requires Speedy Development
As discussed, one of the reasons why most companies outsource is because they need the project to complete quickly. They either have to outweigh the competition, complete a time-sensitive project, meet client deadlines, or simply delight their target audience. No matter what the reason, they need a speedy development and launch. In-house teams might take up greater time to complete the project.
Outsourcing is a time-saving solution in such situations. Remote teams have the expertise and experience it takes to deliver and launch software quickly. Working on many projects, they know the process very well and can complete the task much faster and efficiently. They work with agility to deliver quick results.
For example, the platform powering your existing product has become obsolete and you need to migrate it to a more advanced platform like Drupal. You want this to be quick so that you do not lose any more of your customers.
#Case 4: The Project Needs Technical Expertise
The majority of the companies tend to outsource when they lack technical expertise within their in-office team. Information Technology is a very dynamic and complex field that keeps advancing each day. You cannot have all the skills and technologies available in-house. The project you are working on may require new technology, advanced language, or greater experience or expertise. There can be a lack of expertise in a specialty niche. The technology challenges can be many.
Outsourcing can be very efficient in such situations. You can easily hire an expert with technical expertise from across the globe. When the technology requirement is too advanced and your local IT market is devoid of such technology, expanding the horizon and searching for a remote developer is a feasible choice.
For example, you are an e-commerce firm and your development team specializes in e-commerce platforms, integrations, etc. However, you need Artificial Intelligence integration. You can hire AI experts to develop the module.
#Case 5: There Is Difficulty Scaling
With major businesses already performing in the digital ecosystem, digital transformation is the aim of most organizations. And that's when the issue of scaling effectively crops up. Many enterprises have failed at their digital transformation initiatives. While your team is efficient with the development or IT part, you need continuous expert support for maintenance, security, and various other issues.
Outsourcing can be very advantageous for companies in the long run as well. They can join hands with a technology partner for all their IT requirements during the digitalization. A software development outsourcing company can not just provide the software to become advanced with the latest technologies but also continue offering IT support to help them scale.
For example, you are in the auto insurance sector and have already digitized your processes for filing claims. However, now you also want to incorporate the Internet of Things with IoT-enabled sensors for claim reviews. An outsourcing digital technology partner can help you scale by offering wearable devices to monitor customer habits in auto insurance and much more.
Summing It Up
You don't always need to take care of all your projects in-house. Instead of bombarding your teams, exhausting your funds, and still ending up with subpar results, you can always join hands with an expert in the niche.
An IT outsourcing or software development outsourcing company can come in when you want high-quality work in a limited budget and within a constrained period of time.
We discussed some of the reasons for outsourcing, signs that tell you to outsource, along with some situations when outsourcing services is the right strategy. If you also feel that outsourcing can help you succeed, all you need to do is find an experienced outsourcing company and strategically engage with them. Depending on your project or business needs, you can outsource a small part of your project, get complete task management, hire remote developers, get a dedicated team or managed team, or even join hands for digital transformation.
---
Published On: 21st September 2020